Film about Pedophile Priest to Go out Unrated

CNN
September 21, 2006

http://edition.cnn.com/2006/SHOWBIZ/Movies/09/21/film.lionsgate.reut/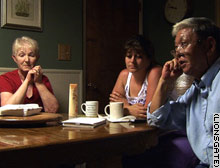 A still from "Deliver Us From Evil," scheduled for release on October 13.


Los Angeles, California (Hollywood Reporter) -- Lionsgate will release its upcoming documentary about child molestation scandals in the Catholic Church without a rating after the trailer garnered a restrictive tag from the Motion Picture Assn. of America.

"Deliver Us From Evil" focuses on a northern California priest, Father Oliver O'Grady, who admits on camera to being an active pedophile who was harbored by the church for more than 30 years. Lionsgate will release it on October 13.

However the independent studio's marketing plan received a setback when the MPAA gave the film's trailer a redband rating -- a label that effectively excludes the trailer from playing in many commercial theaters.

In a letter sent to Lionsgate, the organization said "the content is adult in nature, with overt comments about child molestation throughout." The MPAA declined to elaborate on the specifics of the decision.

Under MPAA policy, redband trailers are allowed to be screened only before movies rated R or NC-17, but most national exhibitors enforce much stronger policies in their theaters, refusing to screen redband trailers at all. One fear exhibitors have is that a redband trailer might accidentally screen before a less restricted movie, alienating some patrons.

"Our policy, and it's a pretty strict one, is we don't play redband trailers, nor do we play unrated films," Cinemark spokesman Terrell Falk said.

As a result, marketers have argued that a redband trailer is not an effective marketing tool for their films.

Because Lionsgate is not an MPAA signatory, it has the option of releasing its films without ratings, and it now will rely on individual theater owners to decide whether to play the film or its trailer.

"We strongly disagree with the MPAA's decision to redband the trailer, but we respect their right to do so," Lionsgate president Tom Ortenberg said. "We're not looking to pick a fight with anybody. We're looking for the most cost-effective way to market a movie that needs to be seen. We owe it to our filmmaker, Amy Berg, and to the film to do whatever we can to get this movie seen."