Abuse Victims Seek Release of Accused Priests' Names

By Janet I. Tu
Seattle Times
October 4, 2006

http://seattletimes.nwsource.com/html/faithvalues/2003287973_jesuit04m.html

At a news conference Tuesday near the entrance of Seattle University, victims of abuse by priests, and victims' attorneys and supporters, urged local Jesuit leaders to disclose the names of all Jesuits in the region with solid accusations of abuse against them.

They called on the leaders, including the Rev. Stephen Sundborg, president of the Jesuit university, and a former head of Jesuits in the Northwest, "to finally, simply, once and for all come clean," said David Clohessy, executive director of the national Survivors Network of those Abused by Priests (SNAP).

"We believe this simple step ... will go very far" toward safeguarding children and helping heal those who've been abused, Clohessy said.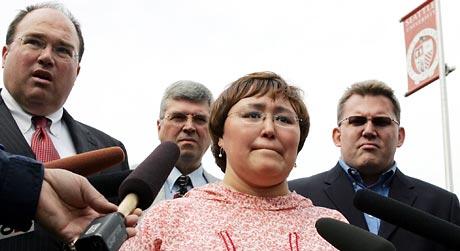 Elsie Boudreau, 38, speaks at a news conference Tuesday in front of Seattle University. The Anchorage resident said that she had been abused by a Jesuit priest and urged Jesuit leaders to disclose information about past abuses.
Photo by Ken Lambert / the Seattle Times


Seattle University issued a statement saying it "will always disclose the names of any priest, living or deceased, whom we have reason to believe has sexually abused minors. ... There are no Jesuits on this campus who have been alleged or accused of child sex abuse."

The university is aware of two priests — both deceased — who taught there and are accused of abuse. One is Michael Toulouse, who died in 1976 and is the subject of a lawsuit currently in federal court in Seattle. The other, whom the school said it learned of very recently, is accused of abusing a child in California. Seattle University said it would release his name once the affected parties are notified.

Sundborg said it is up to the provincial — or leader — of the Oregon Province whether to release the names of all accused Jesuits in the area. The Oregon Province is one of 10 Jesuit provinces in the United States and covers Washington, Oregon, Idaho, Montana and Alaska.

The Very Rev. John Whitney, provincial of the Oregon Province, said he is trying to figure out a process for releasing names. "I'm not trying to keep anything secret," he said. "We've released information as it's come up. I've never asked for nor enforced any confidentiality agreement with any survivor."

Whitney recently disclosed that John Leary, the now-deceased former president of Gonzaga University, had sexually abused boys and young men in the 1960s and that such allegations had been buried by the order's leadership for decades. Whitney also disclosed information about Toulouse more than a year ago, he said.

"We take seriously every allegation of sexual abuse of minors and have removed any Jesuit from active ministry who has been accused of such abuse — even as investigations may be ongoing," Whitney said in a statement. "Those Jesuits who are found to have been abusive in the past, we maintain in secure environments, with clear safety plans and appropriate supervision."

The province has about 30 to 50 open claims of sexual abuse against about a dozen Jesuits, Whitney said. Including closed cases, the province has handled 70 to 80 claims since 2002, and spent about $8.5 million to settle claims.

Elsie Boudreau, 38, of Anchorage, said at the news conference that she had been abused by a Jesuit priest and urged Jesuit leaders to disclose information about past abuses.

Had they done so in the past, she said, "we would not be standing in silence believing we are the only ones."

Janet I. Tu: 206-464-2272 or jtu@seattletimes.com