Palm Beach Diocese Has One of Nation's Worst Records

By Thomas Hargrove and Michelle Sheldone
TCPalm [Florida]
October 5, 2006

http://www1.tcpalm.com/tcp/local_news/article/0,2545,TCP_16736_5043108,00.html

The Catholic diocese for Palm Beach County, where former U.S. Rep. Mark Foley lived almost 40 years ago when he said a clergyman sexually abused him, has one of the nation's worst records of sexual misconduct by priests and bishops.

The Diocese of Palm Beach, which includes Martin, St. Lucie, Indian River and Okeechobee counties, is the only diocese in the United States to suffer the forced consecutive resignations of two bishops — Keith Symons in 1998 and Anthony O'Connell in 2002 — following disclosures of inappropriate sexual contact with boys or young men.

Criminal complaints and sex abuse-related lawsuits have named another nine priests who served in the Palm Beach diocese, according to BishopAccountability.org, a Boston group that monitors abuse claims against Catholic clergy.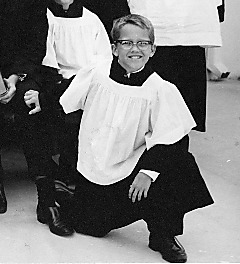 This photo from the early 1960s, provided by a family friend, shows former Rep. Mark Foley as an altar boy at Sacred Heart Catholic Church in Lake Worth. Foley said through his lawyer Tuesday that he was sexually abused by a clergyman as a teenager.


"Palm Beach is certainly among the most troubled dioceses in terms of clergy sex- abuse cases," said David Clohessy, director of the Survivors Network of those Abused by Priests.

"Most victims never disclose their victimization. Those who do, often make their disclosure in a crisis," Clohessy said.

It certainly was an atmosphere of personal crisis Tuesday when Foley, through attorney David Roth, announced that he had been molested by "a member of the clergy" when he was 13, 14 or 15 years old.

Foley, under investigation by the Justice Department following release of Internet messages showing sexually explicit exchanges he had with male House pages, did not name either his alleged assailant or identify the church where the abuse was said to have occurred.

His molestation claim — and the fact two priests were recently accused of misappropriating $8.5 million in money at Delray Beach's St. Vincent Ferrer Catholic Church — is the second jab for the diocese in a matter of days.

"Does every little crisis we hear around the world somehow cast a shadow on the Catholic Church?" asked St. Vincent Ferrer Pastor Tom Skindeleski. "It might. We're very, very human. We have our weaknesses.

"What bothers us sometimes is we feel we are the targets more than other denominations."

The Republican, an active Roman Catholic, was an altar boy at Sacred Heart Catholic Church in Lake Worth, where he also attended parochial school.

He attended Cardinal Newman High School in West Palm Beach during his 1969 to 1970 freshman year and then transferred to Lake Worth High School.

'CLOUD OF SUSPICION'

Town of Palm Beach Commissioner Bill Brooks was a Cardinal Newman guidance counselor at the time Foley was a student.

"I never knew he was sexually abused until Mr. Roth dropped that bombshell yesterday and then never told who it was," Brooks said. "It passed a cloud of suspicion over everyone in the clergy 35 years ago.

"My stance is, 'Name him (the alleged offender), and let the legal process take place.'"

Brooks remembers Foley as an extroverted Cardinal Newman student with great verbal skills. When he was a freshman, Foley served as treasurer of his class.

A former classmate at Cardinal Newman on Wednesday said he remembered picking on Foley in the lunchroom.

"I don't remember him getting into trouble, doing anything wrong," William Arsenault said from his home in Daytona Beach. "I thought he was kind of creepy. He was a nerdy kid ... a wimp." Arsenault had eight other brothers and sisters attend the Catholic high school around the same time as Foley.

PRIESTS VISITED HOME

Arsenault's mother, Joan, who lives in North Palm Beach, said she used to visit the Foley's "nice, middle class" home in Lake Worth after football games. Foley's father was an assistant football coach and hosted parents and priests at their home after games, she said.

"The Foleys were friendly with all the priests at the schools," she said. "The times I went to their houses, there were one or two of the priests there."

Sacred Heart and Cardinal Newman referred calls to the Palm Beach Gardens-based diocese. Alexis Walkenstein, a spokeswoman for the Diocese of Palm Beach, refused to comment on Foley's claim or to provide any information about priests assigned to parishes and Catholic schools that Foley attended.

Staff writers Suzanne Wentley, Lily Ladeira and Kelly Tyko contributed to this report.