Uhde: 'Victims Are Not the Enemy'

By Ann McGlynn
Quad-City Times [Davenport IA]
October 15, 2006

http://www.qctimes.com/articles/2006/10/15/news/local/doc4531c6db7c9bd079393944.txt

Michl Uhde stood on the sidewalk outside of Sacred Heart Cathedral in the blustery wind.

It had been five decades since the sex abuse he accused Monsignor Tom Feeney of began in the stately cathedral behind him. It had been three weeks since a jury awarded him $1.5 million for the abuse he suffered at the hands of a priest.

It had been one day since the Diocese of Davenport filed for bankruptcy.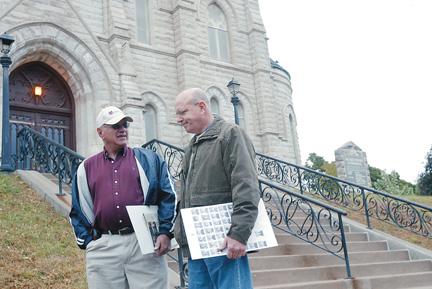 Al Burke, left, and Michl Uhde, both victims of abuse by priests, talk outside Sacred Heart Cathedral in Davenport last week following a news conference where concerns were expressed about the Davenport Diocese's filing of bankruptcy.
Photo by Jeff Cook / Quad-City Times


"Victims are not the enemy," Uhde said while speaking about his reaction to the bankruptcy filing. "We are your sons, your brothers, fathers, uncles, nephews, friends, neighbors. We did not ask for money. We asked for answers. We asked the diocese to help us find out why this happened to us and why the priests and bishops responsible were never punished, but instead in many cases, they were promoted."

Uhde's was the first sex abuse case against the diocese to go to trial.

It probably will be the last.

The diocese's bankruptcy filing in the wake of its outcome essentially halts all pending legal action: four lawsuits and an appeal. Rand Wonio, the attorney who has represented the diocese through the approximately 75 sex abuse claims and lawsuits, said the Uhde verdict and another trial that was scheduled to begin Oct. 23 spurred the bankruptcy filing.

"Losing that case and looking at the prospect of another case combined to make the (bankruptcy) decision an easy one," Wonio said. "The diocese had already determined to take both of those cases to trial. We picked both of them as potential winners. When we didn't win Uhde, we decided we probably wouldn't win any of them."

The case, he said, "taught us our lesson."

The diocese was to go to trial on Oct. 23 on a lawsuit filed against it and retired Bishop Lawrence Soens by Florida resident Michael Gould. It was delayed Friday.

A lawsuit filed in August 2005 by Dennis Allen will be dismissed because Allen died of cancer recently, said Craig Levien, the attorney who has represented most of the men who have accused priests of sex abuse. A lawsuit filed in January by Don Kloss for alleged abuse by Feeney and a lawsuit filed in August by Patrick Cannon, Gene Burns and 11 unnamed plaintiffs claiming abuse by Soens will be indefinitely delayed, attorneys said.

One lawsuit, dismissed by a judge in Lee County, is awaiting appeal.

Forty-six claims have been settled, topping $10 million, Wonio said.

Twenty-five claims remain against Soens and the deceased Feeney, William Wiebler and Carl Meinberg, Levien said.

"We certainly know there are many more victims," said Levien, who was joined by Pat Noaker on Uhde's case. Noaker works for a Minnesota firm that specializes in priest sex abuse cases.

Levien took his first client in 2003, a man who remains anonymous to this day. He suffered abuse at the hands of the now-defrocked Father James Janssen when he was a priest at the tiny Sugar Creek parish.

John Doe IA vs. Father James Janssen and the Diocese of Davenport was filed in May 2003. It was settled in June 2005.

"He was one of the most deeply hurt men I represented," Levien said.

The case, Levien said, caused a "ripple effect" that led dozens of other men to come forward. Asked why he chooses to represent them, he said, "They are some of the most honorable people I've ever known."

Wonio thinks the diocese made the right decision on taking the Uhde case to court, he said. All of the cases, as a group, he said, had to be dealt with differently from most legal action.

"We realized you couldn't just batten down the hatches like you do in a normal lawsuit," Wonio said. "People in the diocese deserved answers. That's why we issued such a report in February 2004.

"This is a hot-button issue in society. It is difficult to deal with these issues."

Diocese leaders "learned hard lessons along the way not only in court, but in how we handled victims," he said. "Sometimes, we did a bad job of that and tried to get better.

"It horrified everyone at the diocese. We didn't know how to handle it. I am the father of six sons. Anybody did that to one of my kids, it wouldn't be a happy day for them.

"We also thought the diocese had a right to exist and perpetuate its missions and not be a place where people are spending their time on claims from 30, 40, 50 years ago."

He does not agree with victim advocates who say the men have not been treated fairly by the diocese.

"This idea that this never had to happen if the diocese hadn't stonewalled people is just absolutely false," he said.

Uhde continues to work in sales. He is on anti-depressants and a medication to "stop the nightmares," he said.

His own 2002 bankruptcy has been reopened because of the $1.5 million verdict.

If he does receive any money after the legal wrangling is through, he will use it to pay for therapy, Uhde said. The day he stood in front of the cathedral last week was his wedding anniversary.

His settlement proposal before his case went to trial remains his goal. His requests included lifelong mental health care for victims and their families, an investigation by an outside party and the removal of religious titles from the gravestones of credibly accused priests who have died.

Uhde attends church occasionally at St. Mary's in Tipton, Iowa. It is the parish of the most outspoken priest on the subject, the Rev. David Hitch.

Uhde's best hope for the diocesan bankruptcy is that more victims will come forward, he said. He also hopes a list of the credibly accused priests will be made public as part of that proceeding.

"I thought I was the only one. I really did," he said. "When I heard that it happened to another, doors opened, sirens went off."

Ann McGlynn can be contacted at (563) 383-2336 or amcglynn@qctimes.com.