Ex-Lodi Priest Convicted of Abuse Allegedly Fleeing to Canada

By Ross Farrow
Lodi News-Sentinel
October 18, 2006

http://www.lodinews.com/articles/2006/10/18/news/2_ogrady_061018.txt

Women who say they were sexually abused by former Lodi priest Oliver O'Grady said Tuesday they were outraged and concerned that the priest has reportedly fled Ireland and could be making his way to Canada.

The Irish Independent newspaper reported this week that O'Grady may have left Ireland and possibly went to France on his way to Canada. According to the Independent, Ireland's national police service, known as An Garda Síochína, believes that O'Grady has left the country.

O'Grady, 61, who served at St. Anne's Catholic Church from 1971 to 1978, was deported to his native Ireland after being paroled from state prison in 2000. A movie about his long history of abuse, "Deliver Us From Evil," will debut at Lodi Stadium 12 on Nov. 3.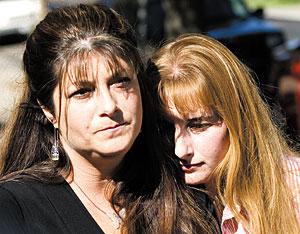 Clergy abuse victims Nancy Sloan, left, and Crystal Shaw speak out Tuesday afternoon outside of the Stockton Diocese office about convicted child molester Oliver O'Grady, who is rumored to have fled Ireland for Canada.
Photo by Brian Feulner/News-Sentinel


Several women who said they were abused by priests attempted to deliver a letter to Stockton Diocese Bishop Stephen Blaire at his office, but a receptionist said Blaire was in Chicago on Tuesday. He is expected to return to Stockton today. The letter called on Blaire to do whatever he can to help alert parishioners that O'Grady may be returning to North America.

Sister Barbara Thiella, the diocese's victim assistance coordinator, said she cannot comment on the letter because it is addressed to Bishop Blaire, not her. She also said she wouldn't comment on rumors.

Nancy Sloan, 41, a Fairfield resident who appears in the upcoming movie about O'Grady's sexual abuse when she was a child, said she is concerned that O'Grady might be flying to Canada to gain access to see friends and supporters in California.



Oliver O'Grady


"Not knowing where he is — is horrible," Sloan said at a press conference filled with TV cameras outside the diocese office. "I don't understand why his passport wasn't taken away from him."

The letter, on letterhead from Survivors Network of Those Abused by Priests, a clergy abuse support group and advocacy organization, asks Blaire to publicly inform parishioners in the diocese that O'Grady may be coming back to North America, turn over all information about O'Grady to governmental authorities immediately and encourage other victims and witnesses to come forward to their local police.

*

"We are convinced that because of O'Grady's extensive crimes, he might face new criminal charges any time, especially if more victims or witnesses come forward now," according to the letter delivered to Blaire.

O'Grady pleaded guilty in 1993 to four counts of sexual abuse with children under 14 in Calaveras County, where he was a priest at the time. The Stockton Diocese has settled several lawsuits involving O'Grady.

The same letter was hand-delivered to Cardinal Roger Mahony, bishop of the Los Angeles Archdiocese. Mahony was bishop of the Stockton Diocese from 1980 to 1985, when O'Grady was a priest there.

After leaving St. Anne's in 1978, O'Grady was a priest at parishes in Stockton, Turlock, Hughson and San Andreas.



O'Grady movie coming to Lodi

The 101-minute documentary, "Deliver Us From Evil," will debut on Oct. 27 at the Tower Theater in Sacramento and on Nov. 3 at Lodi Stadium 12.

The movie features comments by former Lodi priest Oliver O'Grady about his years of sexual abuse along with comments by some of O'Grady's victims.
Source: Lionsgate


Also speaking at the press conference was a woman who identified herself only as Becky M., a Calaveras County resident who said that O'Grady sexually abused her as an adult and abused her son, and two members of SNAP, Crystal Shaw and Jennifer Chapin, who were reportedly abused by priests outside the Stockton Diocese.

In an e-mail sent to the media Tuesday morning, Thiella said the diocese cannot comment on "Deliver Us From Evil" because of ongoing litigation.

Thiella invited any victim of childhood sexual abuse within the Catholic church, or knows of anyone who has been a victim, to contact the diocese so it can offer help in the healing process. For more information, call Thiella at 466-0636, or see the Web site, http://www.stocktondiocese.org, and click onto "protecting our children."

Contact reporter Ross Farrow at rossf@lodinews.com.