Abuser Ex-Priest Disappears
His Comments in a New Film Outraged Many

By Jennifer Garza and Jonathan Pinkerton
Sacramento Bee [California]
October 18, 2006

http://www.sacbee.com/101/story/41283.html

A former Stockton priest who speaks candidly about molesting children in a new documentary is believed to have left his home in Ireland, and his victims are calling on Roman Catholic Church leaders and law enforcement authorities to help find him.

Oliver O'Grady reportedly has left Ireland, where he had lived the past five years, amid outrage in that country surrounding the documentary "Deliver Us From Evil."

The film, which has rallied victims of clergy abuse and angered church officials, opens Oct. 27 in Sacramento.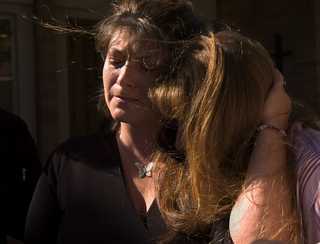 At a press conference Tuesday in Stockton, Nancy Sloan, above left, and Crystal Shaw support each other after Sloan said she was sexually abused at age 11 by thenpriest Oliver O'Grady.
Photo by The Sacramento Bee/Jay Mather


"Not knowing where he is is horrible. Thinking of him coming back here, thinking of the people who defend him to this day, saddens me," said Nancy Sloan at a press conference Tuesday in front of the Stockton diocesan headquarters.

Sloan, who says she was abused by O'Grady when she was a child, is now active in Survivors Network of those Abused by Priests, or SNAP.

In "Deliver Us From Evil," O'Grady admits -- and graphically describes -- sexually abusing numerous children throughout the Central Valley during his time as a priest in the Stockton Diocese, where he served for 20 years beginning in the 1970s.

In 1993, O'Grady pleaded guilty to four counts of lewd and lascivious acts with minors. He served seven years in prison and was deported to his native Ireland upon his release. He is no longer allowed to work as a priest.

The documentary, which was directed by former television producer Amy Berg, is receiving widespread attention because of O'Grady's chilling accounts of the molestations and his claims that his superior knew about his crimes.

"I should have been removed," O'Grady says several times in the movie.

He says that he was able to continue to abuse children in part because his supervisor, then Bishop Roger Mahony, moved O'Grady from parish to parish.

Mahony, now a cardinal, is considered one of the most powerful men in the U.S. Catholic Church. He is head of the Archdiocese of Los Angeles, the largest Catholic diocese in the country.

Los Angeles church officials deny O'Grady's claims that Mahony knew about the abuse and moved the priest from parish to parish.

"That is false, and there are documents to prove it," said archdiocese spokesman Tod Tamberg. The filmmaker "left out anything that didn't fit her thesis."

Tamberg said diocesan officials do not know where O'Grady is now. "We have no idea."

He added, "All this film does is prove what we've said all along: O'Grady is a liar and a child abuser who is not to be trusted."

While church officials lambaste the documentary, victims-rights advocates say it is a chilling reminder of how pedophiles work and shows the long-term repercussions of clergy sexual abuse.

"I hope this movie makes parents more cautious, Catholics more skeptical and law enforcement more aggressive," said David Clohessy, national director of the Survivors Network of those Abused by Priests. "This shows what a monster (O'Grady) is and how church leaders should do everything they can to let people know where he is."

In a letter to Stockton diocesan leaders Tuesday, SNAP called on the church to "warn your flock" about O'Grady, turn over any information on the defrocked priest to government agencies and encourage other victims to come forward.

Officials with the Diocese of Stockton released a statement saying they are unable to comment on "Deliver Us From Evil" due to ongoing litigation.

In the film, which won first place in the documentary category at the Los Angeles Film Festival, O'Grady speaks matter-of-factly and without remorse.

He discusses his attraction to children and how he abused them. His victims included boys and girls. At least twice, he seduced mothers to obtain access to their children.

Berg said it took her five months to persuade O'Grady to talk in front of the camera. When he did start, his frankness surprised her.

"I was just taking it in, recording it," Berg said by phone. "My impression is that he was very disconnected to what he had done."

Interviews with O'Grady's victims and their families, were conducted in their homes and took more than six months to complete "because they were draining," said Berg.

In the movie, parents describe how they befriended the priest and saw him as a holy man. One man describes how O'Grady often spent the night with his family and how glad he was to see the priest the next day.

"He was here saying morning prayers. During the nighttime he's molesting my daughter," Bob Jyono says in the movie. He then corrects himself and begins crying. "Raping her. Not molesting her -- raping her. At 5 years old."

Mahony appears in taped depositions, including one from 1997, the result of a lawsuit filed by two brothers who sued the Stockton diocese alleging that bishops knew about O'Grady's past abuse and failed to prevent him from having contact with minors.

In the excerpts from the deposition shown in the film, Mahony denies knowing O'Grady was a pedophile. He also says he didn't know the former priest well. Mahony looks uncomfortable when presented with a friendly letter he had written to O'Grady.

Church officials say such a portrayal is unfair and assail Berg's tactics.

Tamberg points to reports this week in the Irish Independent newspaper that parents are upset that the faces of their children -- playing in a schoolyard -- were shown in the film without proper permission.

In the movie, O'Grady is shown walking near a playground, and at one point, he peers over a fence to watch children play.

Berg said her only agenda was to "shed light on pedophilia and show how people's lives were destroyed."