Former Del. Priest Arrested in New York
Man Was Accused Here of 1960s Sex Abuse

By Beth Miller
The News Journal [Wilmington DE]
October 22, 2006

http://www.delawareonline.com/apps/pbcs.dll/article?AID=/20061022/NEWS/610220368/1006/NEWS

A former Diocese of Wilmington priest, allowed to retire in 1993 after allegations of child sexual abuse surfaced, was arrested last week in Syracuse, N.Y., on the same charges.

Francis G. DeLuca, 77, a priest in Wilmington for 35 years, left in 1993 when former Bishop Robert E. Mulvee removed him from the ministry and allowed him to retire early.

DeLuca then moved to Syracuse, his hometown.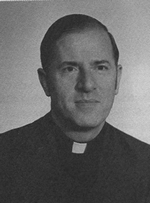 Retired priest Francis G. DeLuca served in the Diocese of Wilmington for 35 years.




DeLuca now is charged with sexually abusing a Syracuse boy for several years, from the time the boy was 12 or 13 until the boy told his mother when he was 17, according to published reports. He is now 18.

DeLuca was arrested Thursday and charged with one count of second-degree sexual abuse, two counts of third--degree sexual abuse and two counts of endangering the welfare of a child, Syracuse police Lt. Joseph Cecile said. DeLuca was given an appearance ticket and released, Cecile said.

All are misdemeanors, and each count is punishable by up to one year in prison, Cecile said.

"Even the victim doesn't know how many times" he was fondled, Cecile said. "But he stayed over there quite often and whenever he did stay over there it usually happened. It's been continuing, but he finally told his parents after the last incident."

DeLuca did not return messages left at his home.

"It breaks my heart to learn that someone in Syracuse may have been victimized by a removed priest of our diocese," Diocese of Wilmington Bishop Michael A. Saltarelli said in a statement released Saturday. "My sincere apology and pledge of continued prayers go out to this young man and to all victims and their families."

Diocese spokesman Robert G. Krebs said church officials got a report in 1993 that DeLuca had sexually abused a child in the 1960s. After the report was confirmed, Mulvee removed DeLuca from the ministry, barred him from functioning publicly as a priest, sent him for a psychological evaluation and allowed him to retire to Syracuse.

DeLuca's conduct was never made public by the diocese until Saturday when the news of his arrest in New York was published in The Post-Standard, a Syracuse newspaper.

The sexual abuse allegations against DeLuca were not reported to the Delaware attorney general until 2002, after the national scandal of child sexual abuse by priests emerged in the media.

Diocese officials said they heard from other victims of DeLuca after the reports.

Later that year, the U.S. Conference of Catholic Bishops adopted new policies on how dioceses should respond to and report assaults and how they should prevent them.

Since then, officials have acknowledged that more than 60 people were victimized by priests in the Diocese of Wilmington, which includes more than 220,000 Catholics in Delaware and the nine counties of Maryland's Eastern Shore. They have acknowledged credible allegations against 30 priests, some dating back more than 50 years, but have refused to release all the names of the priests.

Many have died. Some have retired in the area. The whereabouts of others are unknown by church officials.

None remains in ministry in the diocese, Krebs said Saturday. A 2006 audit showed the Diocese of Wilmington was in full compliance with the 2002 policies adopted by the nation's bishops, he said.

DeLuca never faced prosecution for previous alleged assaults, in large part because the statute of limitations has expired in Delaware.

State Rep. Greg Lavelle, R-Sharpley, and state Sen. Karen Peterson, D-Stanton, sponsored legislation last spring to change the statute of limitations, but time ran out before a bill was passed.

That effort will continue in the next legislative session, said a spokesman for Voice of the Faithful, a lay Catholic group that serves as an advocate for victims. Delaware has two chapters of the group.

Bill Pare, spokesman for the northern chapter, said Mulvee was right to take action in 1993. Mulvee, who went on to serve as bishop of Providence, R.I., retired in 2005.

"At least he took him out of the ministry," Pare said.

Diocese officials urge anyone victimized by a priest, deacon or layperson to report the abuse to the state attorney general or the appropriate Maryland State's Attorney. Instructions and information about counseling services are available at the diocese Web site: www.cdow.org.

E-mail: bmiller@delawareonline.com