Perv Priest Leaves Prison, Will Fight Treatment for Abuse

By Danielle Williamson
Boston Herald [Massachusetts]
October 24, 2006

http://news.bostonherald.com/localRegional/view.bg?articleid=163845

A retired Bellingham priest convicted last year of abusing 18 altar boys decades ago was released from prison yesterday and will return to court this winter to learn whether he can skip mandated sex offender treatment.

The Rev. Paul Desilets, 82, was sentenced in Worcester Superior Court to 12 to 18 months at MCI-Cedar Junction after pleading guilty to six charges of assault and battery and 26 counts of indecent assault and battery.

The former Our Lady of the Assumption Parish priest served 17 months before being freed and placed under the supervision of a Canadian cleric, a spokesman with Worcester County District Attorney John Conte's office said.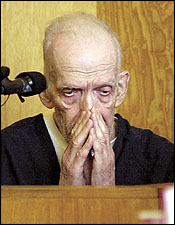 Convicted pedophile priest Paul Desilets in court in 2005 in Worcester.
Photo by The MetroWest Daily News / Allan Jung


Desilets, who is going back to his retirement home in Canada, signed a waiver of extradition and is scheduled to return to court Dec. 22, the spokesman said. A judge will decide at that hearing whether to grant Desilets' request to be excused from sex offender treatment because he is ill.

Desilets' lawyer, Dennis J. Kelly of Boston, could not be reached for comment yesterday. In previous interviews, he has said his client suffers from problems including vertigo, anemia and effects of childhood polio.

One of Desilets' victims expressed displeasure yesterday that his abuser may not complete treatment as originally ordered. Joseph Fleuette, 42, of Bellingham, who was an altar boy for Desilets, said, "You have to pay for the crime you committed, I don't care if you're 17 or 90."