Del. Diocese Had Warned N.Y. of Priest
In Wake of Scandal, Letter Sent in 2003

By Beth Miller
News Journal [Wilmington DE]
October 25, 2006

http://www.delawareonline.com/apps/pbcs.dll/article?AID=/20061025/NEWS/610250364/1006/NEWS

The arrest of a former Delaware priest on child sexual abuse charges in New York last week removed the hope some church officials held that such abusive behavior was a thing of the distant past.

Francis G. DeLuca, 77, was charged with repeated sexual abuse of a Syracuse boy. The abuse, prosecutors say, occurred after the scandal of child sexual abuse by priests emerged nationally in 2002, after the U.S. Conference of Catholic Bishops adopted stronger policies to protect children and improve reporting practices.

The time frame is also after Wilmington diocese officials notified Syracuse diocese officials of DeLuca's residence there.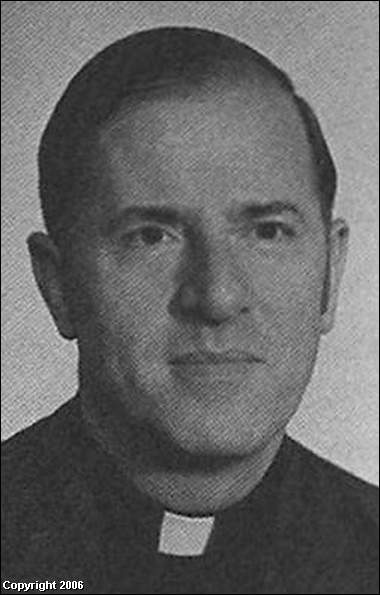 Francis G. DeLuca, 77, is accused of sexually abusing a boy from Syracuse, N.Y.


"In the 4 1/2 years I have been doing this, it was always some consolation that the most recent complaints of abuse we were aware of was 20 years old," Tony Flynn, attorney for the Diocese of Wilmington, said Tuesday. "That Father DeLuca may have abused someone now is just awful."

DeLuca was removed from ministry after 35 years and "allowed to retire" to his hometown of Syracuse in 1993, after 1960s-era cases surfaced in Delaware, Wilmington diocese spokesman Robert G. Krebs said.

Diocese informed in 2003

A December 1993 letter from former Bishop Robert E. Mulvee notes the bishop accepted DeLuca's retirement from active public ministry as a priest for "reasons of health." Later in the letter, Mulvee said he remembered DeLuca's "years of faithful service" and that only DeLuca could agonize more than Mulvee "over the tragedy that your actions of so many years ago has caused you and the Church."

But it was another 10 years before the Wilmington diocese told Syracuse church officials about his past. Bishop Michael A. Saltarelli notified Syracuse officials in an October 2003 letter that DeLuca had been removed from active ministry because of "credible allegations of the sexual abuse of minors." The letter was sent in compliance with reporting requirements adopted in 2002. Those requirements, adopted by the bishops conference, were intended to end the practice of moving predatory priests from one parish or diocese to another.

Saltarelli sent DeLuca a letter in September 2003, putting in writing the diocese's "understanding" with the priest that he would not celebrate Mass publicly or administer the sacraments, that he would not wear clerical garb or present himself publicly as a priest.

DeLuca was not serving as a priest during the period of the most recent allegations, Wilmington and Syracuse church officials say.

He was not charged in previous alleged cases, so authorities did not monitor his behavior and contact with children.

The Syracuse accuser, now 18, told his mother he was molested by DeLuca from the time he was 12 or 13 until he was 17.

Chief Deputy Michael Kerwin, of the Syracuse police department, said it bothers him that sexual predators may be living in his jurisdiction without his knowledge. "We are always concerned -- whether it's a paroled bank robber or a paroled rapist or a paroled child molester. ... Part of our job as cops is to keep track of folks."

'Preying on innocent boys'

At least four people have made allegations about DeLuca to the Wilmington diocese, Flynn said Tuesday. The wife of one alleged victim made an anonymous report, Flynn said, and it was unclear whether that man was among the four who came forward.

One Delaware man, who said he was a victim and asked that his name not be published, said he fears there are many more.

"I think a pattern was developed back in the '60s by this man, by preying on innocent boys in the 11 to 14 age range and every few years preying on someone new," said the man, who said he was victimized about 40 years ago. "If true, there must be a great deal of men who are suffering alone with what was perpetrated on them by Francis DeLuca. They most likely will never come forward because of embarrassment and fear of being found out by their friends and family.

"I know because that is the way I feel and why I will not divulge my name. I have been in and out of counseling for 20-some years, and talking with professionals has helped me deal with the pain of my adolescence."

A lawsuit filed a few years ago in Indiana dates one alleged victim's abuse to 1958-60. The suit was dropped, as was an attempt to prosecute DeLuca in Maryland, where he was accused of abusing in the 1960s a different boy on a trip there.

Maryland has no statute of limitations for felonies such as child sex abuse, said Elizabeth Ireland, assistant state's attorney in Wicomico County, where DeLuca once served at a parish in Salisbury. But the acts DeLuca was accused of were not considered felonies then.

"It would be a felony now," Ireland said, "but back in 1962 and 1963, the law in Maryland didn't make the nature of the abuse he engaged in criminal. That's how unenlightened we were."

Ireland said that victim still suffers -- and she wishes she could do more for him. "I hate it that there's no redress for this man," she said. "My victim is in his late 50s and is daily impacted by this breach of trust. There's nothing I can do about it, and it's very frustrating."

Contact Beth Miller at 324-2784 or bmiller@delawareonline.com.