The Double Life of John Leary
The New College Founder Is Promoted As a Visionary. the College Should Openly Admit the Jesuit Priest Was a Pedophile

By Matt Smith
SF Weekly [Spokane WA]
October 25, 2006

http://www.sfweekly.com/Issues/2006-10-25/news/smith.html

"I sometimes think that if the time ever comes when I lose all sexual desire, I'll probably be nothing but a blob or stone. I will have lost my pizzazz."

— Jack Leary, answering the question of whether he had ever been tempted to form a romantic relationship. From the book Jebbie: A Life of John P. Leary, S.J.

In 1965, an 18-year-old freshman at the Jesuit Gonzaga University in Spokane, Wash., learned he'd landed a plum assignment.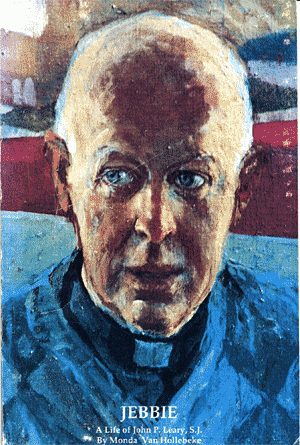 Rev. John Leary, the captivating teacher with the penetrating eyes.


The boy was from a Washington family of committed Catholics. He was considering a vocation in the priesthood. And he'd been given the task of chauffeuring to and from a speaking engagement Gonzaga President John Leary, a luminary intellect and personality in a Jesuit order glimmering with charismatic, brilliant priests.

Leary was the polymath philosopher and ordained priest with penetrating eyes who'd been Gonzaga debate coach to U.S. House of Representatives Speaker Tom Foley. Leary was the pedagogical visionary who went on to found the experimental university New College of California in San Francisco. He was a mesmerizing raconteur who combined the common touch of a coal-miner's son with an urbane vocabulary, boundless curiosity, and a mischievous wit that caused many students decades hence to remember their hours talking with Leary as the highlight of their lives.

The idea was that the Gonzaga student would drive Rev. Leary to a town across the state where the university president was speaking. They'd rent separate hotel rooms, spend the night, and drive back to the university. According to the boy's now late-middle-aged recollections, he fell asleep in his own bed. Leary stripped naked, got on top of the sleeping boy, and tried to penetrate him. Leary wasn't extremely violent, but he was forceful, persistent, and the boy had to fight Leary off. Eventually, Leary relented and made up an excuse for his behavior.

The next day Leary persisted, this time talking about sexual matters, embarrassing the young man. The few hours' drive home was excruciating, he recalls, according to Doug Spruance, a Washington state attorney representing the former student in possible litigation over the alleged attack. Because of the nature of the case, Spruance did not name his client, nor make him available to interview.

The young man became depressed. His grades plummeted. He dropped out, and remained bitter during the next 40 years that he'd been unable to complete his college education.

The teenager wasn't Leary's only attempted conquest that year, according to an attorney representing a client in a Washington state sexual abuse lawsuit expected to be filed in November. Also in 1965, Leary spotted a young adolescent boy of around 12, who lived in the neighborhood near Gonzaga University, riding his bicycle by the school. Leary lured the boy into his office and molested him. University officials found out about it somehow and called a meeting with the boy. They asked if Leary had done anything inappropriate. He explained what happened, said attorney Michael Pfau, who is representing the alleged victim in the planned lawsuit.

According to Pfau, the officials said, "Don't tell your parents; we'll take care of it."

And take care of it they apparently did, orchestrating a stunning cover-up that allowed Leary to expand his pedagogical legend despite allegations that he'd abused several boys. He left Spokane, and Gonzaga in 1969 at the private insistence of the Spokane police. The university said he left for "health reasons."

Leary went on to found New College of California in Sausalito in 1972. He later moved New College to San Francisco, where, during the next 34 years, the school evolved into Bay Area academia's left-wing social conscience.

Officials from the Jesuit order and Gonzaga said that while responding earlier this year to requests for documents connected to a priest-abuse lawsuit not involving Leary, they found files detailing a 1969 agreement among the university, the order, and Spokane police under which Leary wouldn't face charges of molesting victims if he left town within 24 hours.

The announcement of the 1969 cover-up by the Jesuits, the police, and the university spawned articles in the Spokane Spokesman-Review, the Seattle Times, the New York Times, and the International Herald Tribune.

But in San Francisco, and at New College, where Leary's legend has been used as a core recruiting and fundraising tool, and where, prior to the September announcement, officials were preparing to name a refurbished classroom the "Father John Leary Room," there's been silence.

"What, if anything, is the college doing to reach out to people who may have been hurt by him?" asked David Clohessy, national director of Survivors Network of those Abused by Priests. "In our experience, the practice of the Catholic hierarchy is to sit by the phone and pray it doesn't ring. For a university, we think the morally responsible approach is to send letters to alumni, and former staff, and really aggressively be proactive."

The answer for New College, which is not affiliated with any church, is that the school has no plans to alert the former students to whom Leary had access. There are no specific plans to alter recruiting materials, which currently state, falsely, that Leary left Gonzaga because he was inspired by passion to create an educational experiment such as New College. There has been no effort to address the issue beyond private conversations between the handful of remaining college officials appointed by Leary during the 1970s.

In talking with New College President Martin Hamilton, who was hired by Leary as an instructor in 1977, and who later invited Leary to preside over his wedding, I got the sense that news of Leary's secret criminal life had stunned him into inaction.

"I haven't put out anything because I haven't felt ... ," Hamilton said, failing to complete his thought, then moving on to another: "I'm revealing to you the deep angst this has caused me."

The news of Leary's criminal past, Hamilton noted, revealed that New College of California exists thanks to an extraordinary irony.

"If [Gonzaga] had done what they did now, then," and announced in 1969 Leary's history of allegations of sexual assaults on boys, "Jack wouldn't have started New College," Hamilton said.

We're now occupying the era of Mark Foley, during which the Republican Party is conducting an investigation to find out who knew about a congressman's predatory behavior toward young pages, having already tracked down and notified generations of former pages who may have had contact with Foley. It's an era in which schools such as Boston College High School, where priest instructors faced charges of sexual abuse, three years ago notified parents, students, and 11,000 alumni announcing a help-line for abuse victims who hadn't yet come forward. This type of reaction is now considered protocol in cases of institutions whose officials engaged in sexual abuse. At Gonzaga, in conjunction with the announcement of the 1969 cover-up, the school sent letters to 55,000 alumni, and issued statements urging additional victims to come forward.

"That's not what I'm doing," Hamilton told me. "Nobody's ever contacted me [about possible sexual abuse while Leary was at New College in the 1970s] and I haven't decided to write to alumni to say anything about Jack. I don't find that's a necessary obligation on my part. I don't know why there's an assumption that's an obligation on my part. If there's anybody who's been hurt, I'd be happy to talk to them," Hamilton said.

"I'm certainly sensitive about the issue of priest abuse of children. Anybody who's Catholic or a human being at this time is," he added. "But I don't see that it affects New College."

When it comes to owning up to the abusive sexual past of one of their leaders, the Republican Party and New College of California don't seem to be on the same, well, page.

And that's too bad, because a real analysis and accounting of Leary's role as a pedagogical Johnny Appleseed could be interesting as well as instructional. He spent the '70s and '80s launching, or attempting to launch, cutting-edge programs of study in San Francisco, Reno, New York, and Santa Barbara with great fanfare, before leaving each place suddenly for reasons never fully explained. Investigating it can only make New College a more intellectually honest, and fascinating, place.

Leary's seemingly incompatible dual lives pose the kind of intellectual puzzle that, were the topic anything other than his own criminal sexual history, the Socratic-minded Jesuit would have attacked with relish.

"There's nobody who more reveres Father Leary than I do," said New College's official historian and archivist, Steven "Kush" Kushner. "He was tenacious about getting into matters. He was Socratic in his way of trying to get to the bottom of things. I think Father Leary would urge a kind of investigation according to what I've learned from him.

"He, for me, is the quintessential Jesuit intellect. Truly, he was a commanding intellect. And I don't think he would let go of such a matter or let it lie like it is," added Kushner, who was hired by Leary in 1976 as a faculty member.

During the first week of September, just as he was preparing for a trip to South America, Hamilton received a phone call from the Oregon Province of the Society of Jesus, the Jesuit order in the Pacific Northwest. Hamilton has been a New College administrator since 1978, when a "collaborative leadership" team of Hamilton, Mildred Henry, and Peter Gabel took over to run the avant-garde college occupying the former site of an orphanage on Valencia Street in the Mission.

"Thirty years ago, Jack Leary set out to create a college that would embody his ideals of teaching and learning," according to promotional materials on the school's Web site. "Jack, a Jesuit priest and teacher of philosophy, had recently resigned as president of Gonzaga University in Washington state because of his dissatisfaction with the current American model of undergraduate education. He wanted to start over. And so New College of California began as a handful of students and teachers meeting in Jack's Sausalito living room."

Hamilton's caller had phoned to warn him that Gonzaga and the Jesuits would announce the next day that New College's founding myth was false.

"Leary was a bad guy," the Spokane Spokesman Review quoted John Whitney, the Jesuit's provincial superior based in Portland, as saying, after the Jesuits and Gonzaga University issued separate public statements on Sept. 8 describing the 1969 cover-up.

The Jesuit order has settled with two of Leary's victims for a total of about $400,000, according to the order. Gonzaga University sent statements to school alumni who were students while Leary was at the school, and braced for more victims to come forward, stating that,"today we desire not self-protection but the protection, especially, of those who are most vulnerable."

After receiving the call, Hamilton didn't announce the news to the school at large. A few days later, he left on a two-week trip to Brazil.

"Most of us knew Jack, and it was shocking to learn this. I'm trying to balance my own feelings of my history with Jack and my history," Hamilton said a month and a half later.

As an institution that has floated for years from scandal to turmoil and back, barely above financial peril all the while, there's a certain logic to hoping news that the college's founder and enduring philosophical beacon was a sexual abuser might fade quietly away. The school's recruiting strategies seem centered around an appeal that by attending the college, students will join a higher moral purpose.

New College offers bachelor's and master's degrees in "activism and social change," a "green MBA," and a Leary-brainchild, the "oldest public interest law school in America." It had Julia Butterfly Hill deliver a commencement speech by cellphone while up in her tree, and otherwise, in the words of the school's promotional materials, attempts to live out the vision of Jack Leary, a Socratic scholar of first order given to hours-long discussions about the nature of the truth.

In this spirit, the school is guided by the notion that "the truth shall set you free," an alumnus said during a New College recruiting presentation I attended earlier this month.

It's possible to fear it would be bad for fundraising and recruitment to contact alumni, and reveal the truth about Leary's past, inviting additional victims, if there are any, to come forward. Perhaps it would tarnish the school to write a revised New College history in which a powerful man who Gonzaga and Jesuit officials say molested boys, got away with it, and created a university that for a third of a century helped seed the San Francisco progressive mindset.

But it's also possible that during the almost 30 years Leary disciples Hamilton, Mildred Henry, and Peter Gabel have spent running the school they've lost a sense of perspective.

"The Bible says the truth shall set you free. Not 50 percent of the truth. Not 80 percent of the truth," notes Clohessy, the abuse victim's advocate. "We can be irresponsible and passive, and assume that somehow Leary was magically cured before he stepped foot in San Francisco. Or we can be prudent and responsible, and assume what history, common sense, and psychology tell us, that it's merely a matter of time before one or more victims surfaces.

"It fundamentally comes down to whether you're going to err on the side of full truth or partial truth," Clohessy added.

In that spirit, Kushner's unusual insight, that thoroughly investigating, and publicizing within the extended New College community Leary's criminal past, would be true to the best of what the man represented and actually makes a sort of elegant sense.

Leary's life in full, the heroic educator and the vile sexual predator, is the sort of impossible quandary that science, philosophy, psychology, literature, art, and academia were created to grapple with.

Surely the school can accommodate a new founding legend about a priest who skipped mysteriously from town to town enriching the intellectual lives of hundreds of youth, pausing to sexually abuse a few during at least one point along the way.

Hamilton's reaction, of bewilderment and defensiveness, is one I've become accustomed to during three weeks of telephoning alumni and former teachers who knew Leary at New College during the 1970s and giving them the bad news. Most people Leary knew seemed to have deep, fond impressions of the man, and were utterly confounded by the idea he was a child molester.

A few had heard dark rumors, but they were in the minority.

I told John Reid, a former English instructor who taught at New College during the 1970s and early '80s, about last month's revelations of the real reason why Leary left Gonzaga.

"I heard the same thing when Leary left here," Reid said. "I heard he'd had a very strange exit from Gonzaga, shrouded in mystery, in which there was some kind of malfeasance."

Tom Mack, now a professor at the University of the District of Columbia School of Law, in the early 1970s started up a New College Law School at Leary's behest.

"There were rumors that he was gay, but not that he abused anybody," Mack said. "He led me to believe that if I started a law school there, he would take care of the financing. That all turned out to be bullshit. But he was just an intensely interesting guy. Here was this guy who was president of Gonzaga, and could do anything in the Jesuit system, and he chose to create this flakey idea of New College, a very liberalized notion of education, when he could have been seeking comfort in the Jesuit organization. As you're revealing, it wasn't quite like that. But that's what I thought it was at the time, and it was very appealing."

Above the subterranean seep of rumors regarding Leary's departure from Gonzaga was a surface story of a man whose gift of gab could get him pretty much anything he wanted, at least for a period of time, before things would somehow repeatedly fall apart.

After he left Gonzaga in 1969, Leary briefly went to Utah, where he was assigned to formulate a grant proposal for education of Native American boys.

In 1970 Leary took a post as vice president for university relations at the Jesuit Santa Clara University. The next year he created a proposal for an experimental college in which students would take time out from the ordinary school curriculum for a year of Socratic seminars on subjects such as Sex and Love, Death and Loneliness. Santa Clara University's education programs committee voted it down. But the idea didn't die.

Leary and a departing Santa Clara professor named Bob Raines plotted together to create a new school untethered from the concepts of physical location, or mainstream university bummers such as sacrificing wisdom for skills, traditional grading systems, faculty tenure, boredom. The new campus was to be "conveniently located inside" students heads, according to an early college bulletin cited in a Leary biography titled Jebbie: A life of John P. Leary, S.J.

The new grading criteria would include "how you measure up against your former self."

"If a young person can climb into the well-tutored head of a professor and see out through his eyes, the reality which is everything, then light-years will have been traversed," Leary wrote in a letter to parents describing his planned new college.

In 1971 more than a dozen students showed up to register for classes that ended up being held in Leary's Sausalito living room.

Leary convinced a group of wealthy Bay Area friends and acquaintances to put up a few thousand dollars, and he began hiring instructors, favoring sharp applicants who bucked convention. In 1972 the school moved into a Sausalito warehouse. And in 1975, Leary acquired a former mortuary at 777 Valencia.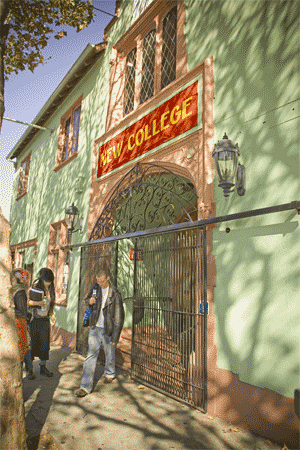 The school at 777 Valencia that uses the Leary legend as a recruiting tool.
Photo by Paul Trapani


Norman Dayron, who, while a producer at Chess Records had recorded Muddy Waters, Howling Wolf, Paul Butterfield, and other legends, signed on as what he says was Leary's first New College professor.

"We were interested in providing education that would not necessarily be new, but not new for the sake of being new, but allow a wider variety of students access to the great humanistic traditions — art, literature, and even the natural sciences," Dayron said.

Philosophy Ph.D. Ann Kreilkamp got a job at New College by saying she'd turn education on its head.

"I said that as a college teacher, I would help undo in students everything I'd been taught. The New College people loved it," recalls Kreilkamp. "The school at that time had this wonderful, wonderful practice. They had a community council meeting every Monday morning from 9 to 12. All the students and faculty could attend. There were 100 students, and 50 or 60 would come. We debated everything there."

The debates — in which teachers and students argued over what it meant to have a communally run school, over whether there was really a difference between teaching and being taught — eventually expanded until they seemed to imperil the school.

Started with a few thousand dollars in trustee donations and student tuition, the school never moved far from insolvency.

The hours of talk of community governance, of blurred definitions between teachers and pupils, of the meaninglessness of old academic labels such as "bachelor's degree" and "credits," led a number of students to believe they could learn what they wanted by hanging out with the school community, and not paying tuition.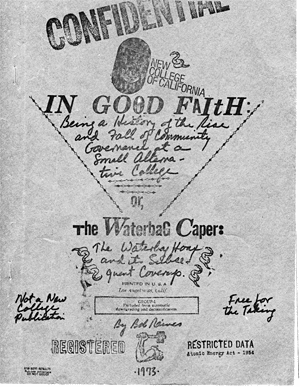 Pamphlet by former teacher Bob Raines offering his take on New College in the '70s.
Photo by Matt Smith


This, in turn, led to more arguments between teachers and students, described in "The Waterbag Caper," a pamphlet printed by New College co-founder Raines, to protest his 1973 firing: "If I don't pay tuition," the student says, "you mean you wouldn't see me anymore? You don't care about me as a person? Money is all there is to it?"

Around 19 students of similar mind either stopped paying tuition, or cut back to part time, creating a $23,000 deficit. Trustees gave Leary an ultimatum. He had to broaden his fundraising base beyond true believers, fire the most radical of his professors, those with a thin belief in accreditation, teacher authority, and other formalities.

In 1974, in a pattern that was to repeat itself, Leary was eased out of his post as New College president, without a coherent explanation given as to precisely why. (However, I'm not aware of any allegations of sexual misconduct by Leary after he left Gonzaga in 1969.)

The school hired a man named Les Carr, who brought the first big dose of media attention to the school by offering for sale honorary Ph.D. degrees at $25,000 each, home delivery included.

Amid the ensuing publicity and renewed financial crisis, Leary left town in 1977, this time to lead a self-styled program called New College's "Academic Year in New York."

Like the first days of New College, this consisted mostly of seminars in a home Leary rented, attended by fewer than a dozen students with fond memories of Leary.

"He never spoke of himself as brilliant or highly intelligent. But he was," recalled Frank Manasia, a former teacher who lives on Staten Island.

"The best way to describe it was sort of like sitting at the foot of an intellect, and peeking in at all that he had to offer," says Scott Warmuth, a Southern California attorney who also attended the year in New York program.

After a couple of years, Leary returned to New College. Having the old president and founder come back as an employee was awkward, however, and it just didn't work out, was how one New College teacher described it to me.

New College pressed on without their founder, seemingly forever in a battle against scandal, debilitating ideological or labor strife, financial crisis, or some combination of these. Hamilton, Henry, and Gabel somehow kept the institution afloat, gradually replacing Leary's original hires, until today they and Kushner are the sole remnants of the old guard, who were hired during the 1970s when Leary was still at the school.

With New College behind him, Leary set out to start another experimental education program, this time in Reno.

In 1980, with the help of the gambling magnate who brought Keno to America, and with a trustee of a Reno-area boy's club, and other Reno business leaders, Leary founded what was to be an even purer culmination of his progressive education ideas in Nevada called Old College. Once again, he kicked his charisma, and fundraising prowess, into high gear.

"He was very good at befriending people," recalls Manasia, who served as admissions director at Old College.

Among the new friends was Reno businessman Paul Havas, currently owner of the Havas Subaru car dealership.

"The New College experience in California carried with it a great reputation, and we tried to replicate it in Nevada," recalled Havas, who served on the Old College board of trustees.

The school raised millions of dollars, got a major building, held classes, gave out degrees, and was chugging along when, in 1985, the board of trustees held an urgent meeting in which an unopposed vote was called to ask Leary to leave.

Warren Nelson, the Keno pioneer who owned the Club Cal Neva and chaired the board of trustees, recalled the day of Leary's ouster. Warren dodged the question when Jebbie author Van Hollebeke asked the reason behind Leary's ouster.

"We had a meeting. Someone called for a vote and moved that Leary be asked to resign, immediately," Van Hollebeke cited Warren as saying. "Every man voted 'Aye.'"

The publicly stated rationale for Leary's departure was the same as it had been at Gonzaga University: "health reasons."

I know of no evidence, however, that Leary was forced out of Old College for the same reasons he left Gonzaga.

Havas told me he did not recall Leary's firing from Old College, nor the reasons behind it. Other trustees from that time did not return calls requesting an interview.

I asked Van Hollebeke, who was personally close to Leary and interviewed him extensively for her self-published book, if she'd talk to me about her research. Her writing seemed to insinuate that she wondered why Leary kept leaving town without explanation.

She said she'd rather not talk to me, instead e-mailing a statement.

"All who loved Jack Leary, his friends and family, are feeling drenched in shame right now," she wrote. "He never told me about his tormenting flaw, even though I asked him many times why he left Gonzaga so abruptly. I knew he was hiding something. But I guess he knew I wouldn't be able to handle knowing what it was."

Either that, or he knew he wouldn't be able to handle the abrupt lifestyle change that accompanies being exposed as a child molester.

New College, however, needn't fear such peril. Seeking out alumni who had contact with Leary, with the intent of ferreting out additional victims, wouldn't harm the college's reputation. It would enhance it because anything less is irresponsible and inhumane.

"The idea is to encourage witnesses, and to encourage victims to get help," said Clohessy, the national director of the abuse victims advocacy group SNAP. "We view abuse as like a cancer. If you're to have real chance of recovering from cancer, you have to dig in and root it all out."

Modifying the Jack Leary myth, from the uplifting yet bogus account of pure human triumph to a tale about the twisted pied piper of experimental academia, likewise wouldn't dull the allure of his greatest achievement, New College.

In my view, it would make the place more interesting and true to itself.

For a temple of inquiry such as the one at 777 Valencia St., could that be such a bad thing?