Catholic Sex Abuse Case Reaches $10M Settlement

CBS 2
October 27, 2006

http://cbs2.com/topstories/local_story_300082916.html

(AP) Los Angeles The Los Angeles Archdiocese and a Roman Catholic religious order will pay $10 million to several people to settle allegations of clergy sex abuse.

Lawyers say the Carmelite order will pay most of the settlement to seven people, including two who said they were sexually molested at Crespi Carmelite High School in Encino.

A church spokesman says the archdiocese will contribute about five percent.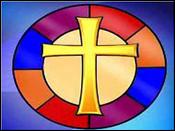 The Carmelite order will pay most of the settlement to seven people.
Photo by The CBS


The defendants in the case include Dominic Savino, a 67-year-old Carmelite priest, who spent several years as a teacher and administrator at the high school.

Former school principal John Knoernschild was also named, along with two other members of the order not associated with the school.

A lawyer for one of the victims says he compliments the Carmelites "for stepping up and doing the right thing," but that no amount of money could make up for the damage inflicted by the sexual abuse.

Related Stories
• Coalition Asks Mayor To Cut Ties With Cardinal