Johnston Trial to Move

By John Ford
Neosho Daily News [Missouri]
October 30, 2006

http://www.neoshodailynews.com/articles/2006/10/30/news/04johnston.txt

Trial for George Otis Johnson, the Granby pastor facing 17 felony sexual abuse counts in Newton County, could move as far away as Sikeston or St. Joseph.

During a pre-trial conference today before Circuit Court Judge Timothy Perigo, defense attorney Andy Wood asked for a change of venue with a 200-mile minimum distance from Newton County. The change of venue was automatically granted in accordance with the Missouri Supreme Court, said Perigo.

Wood requested the distance stipulation because of publicity in the case, which has garnered national and international attention.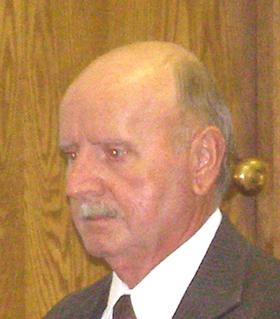 George Otis Johnson


"The court is aware of the case," Wood said. "We would like to have a fair and impartial jury."

Bill Dobbs, assistant prosecuting attorney for Newton County, said a 75-mile minimum was probably sufficient. However, Wood argued since several Springfield-area news outlets, including KY-3, have covered the case, a 200-mile minimum was warranted.

The Associated Press' Springfield bureau has also reported on the case, and news outlets nationwide have picked up the story, as have outlets in the United Kingdom.

Perigo said he would check with judges in Jefferson City, Springfield and St. Joseph about possible locations. Wood said he would not see any problems with a location in Jefferson City or St. Joseph. Other possibilities may include Clinton, Harrisonville, or Cape Girardeau.

This morning, Wood also filed a motion for a fair and speedy trial, with trial to come as early as January. The trial is expected to last two to four days.

The trial would focus on eight felony sexual abuse charges stemming from allegations made by a 17-year-old woman who says Johnston molested her from the time she was eight years old until shortly after her 17th birthday, when she left Grandview Valley Baptist Church's commune, located on Hebron Road a mile from East Newton High School. Johnston is the church pastor.

Johnston faces nine other felony counts ranging from child molestation to first degree statutory sodomy based on allegations made by a 20-year-old former church member who says the pastor fondled her breasts and genitals at least once a week for several years while she was a child. An arraignment is set for 1:30 p.m. Thursday in that case.

Johnston also faces a Class A felony charge of first degree child molestation in McDonald County, where is accused of kissing an 11-year-old girl with his tongue and fondling her. A preliminary hearing has been set for 9 a.m. Nov. 9 in McDonald County Associate Circuit Court Judge John LePage's courtroom in Pineville.

Johnston is one of six leaders of two area churches facing child sexual abuse charges, including sodomy, rape, child molestation and child endangerment.

Others charged include Johnston's nephew, Raymond Lambert, 51; his wife, Patty Lambert, 49; two church deacons, Paul Epling, 53, and Tom Epling, 51, who are Patty Lambert's brothers; and Tom Epling's wife, Laura Epling, age unavailable. Raymond Lambert is the pastor of Grand Valley Independent Baptist Church of Washburn, and the Epling brothers are deacons in that church, which was founded by their father, the late Cecil Epling.

Newton County Division II Associate Circuit Court Judge Greg Stremel is presiding in that case after McDonald County Associate Circuit Court Judge John LePage was disqualified. The McDonald County cases have not been bound over for trial, as Stremel is currently reviewing legal documents in the cases against the Lamberts, while the Eplings' cases are pending a Missouri Supreme Court decision on an unrelated case.

A motion to dismiss a Class C felony count of sexual abuse against Raymond Lambert has been filed by defense attorney Robert Evenson. Meanwhile, Evenson has also filed a motion to dismiss a Class B felony count of child endangerment against Lambert's wife, Patty. No action on these motions has been taken as of Monday, according to documents filed on CaseNet, the Missouri Courts Administrator's Web site.

Seven felony counts were recently dropped against the Epling brothers after the defense argued that state law at the time of some of the alleged offenses imposed a statute of limitations on some of the charges. The brothers were accused of child sexual abuse incidents dating back to 1977. Five felony counts remain.