Patient Speaks out about Accused Psychologist
Priest-Turned-Counselor Has Troubled Past

WPXI [Pennsylvania]
November 2, 2006

http://www.wpxi.com/news/10222995/detail.html?rss=burg&psp=news

Kittanning, Pa. -- A Catholic priest with a tainted past went on to become a psychologist.

Now he is accused of sexual misconduct.

In court Thursday afternoon, psychologist Stephen Forish waived his right to a preliminary hearing and the case will now go to trial.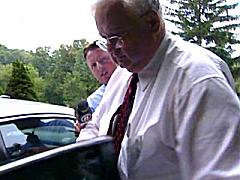 Priest-Turned-Counselor Has Troubled Past


A patient who trusted him broke her silence only to Target 11.

The former patient agreed to talk Target 11 as long as her identity was concealed.

The woman said she's angry and upset, because she feels betrayed by the man she trusted to help her with her fears and anxieties.

The woman put her trust in Forish for more than a year.

She made weekly visits to his office in Kittanning to get help with her anxiety attacks.

The woman said she felt shame and embarrassment after watching a Target 11 investigation in September about her psychologist.

Target 11 reported that he had been arrested in Greensburg in August for allegedly propositioning a man for sex.

Target 11 also uncovered details about his past, details his patients and others didn't know anything about.

He's not only a registered psychologist in Pennsylvania. but he's also a Catholic priest with a troubled past, a priest and counselor who the patient told about all of her fears of sexual predators.

"I told him that was my biggest fear sending my child to school because of predators," said the woman.

Ten years ago, while a monsignor at a church in the Allentown Diocese, Forish was arrested and charged with promoting prostitution.

He was placed on leave.

The case went to a jury trial, and Forish was found not guilty.

He was then reinstated as a priest, but he left the Diocese to pursue his doctorate in psychology.

For the past year, he's been living at a Benedictine Monastery in Greensburg while working at a psychological practice in Kittanning.

"We made progress. I think I have a lot of anxiety issues, and we just made progress slowly. He was never judgmental or anything. Never lead on that he was a priest. I think that's why it surprised me the most," said the woman.

After the Target 11 report, Forish left the practice.

The woman is now seeing another psychologist, but she has a lot of questions about how Forish managed to obtain his position.

Target 11 checked with the state licensing agency and fount out Forish is listed as a registered psychologist since February 2005.

His license is in good standing with no disciplinary actions.

The former patient said she will be careful next time about who she tells her innermost thoughts and she plans to do her own background checks too via the Internet.

"Believe me. I'll screen the next doctor. I will. I'll type the name in the Internet because you get more information off the Internet than you do the criminal record," said the woman.

Previous Stories:

• Priest Cleared Of Sex Charges Now Accused Of Harassment, Disorderly Conduct, September 14, 2006