Priest Has Plea Deal in Harassment Case

By Bob Stiles
Tribune-Review [Pennsylvania]
November 3, 2006

http://www.pittsburghlive.com/x/tribunereview/news/westmoreland/s_478061.html

A Roman Catholic priest accused of asking a man for sexual favors on a Greensburg street waived his right to a preliminary hearing Thursday.

The Rev. Stephen Thomas Forish, 61, of McAdoo, Schuylkill County, a priest of the Diocese of Allentown and a psychologist who practiced in Armstrong County, had been scheduled to appear yesterday before District Judge James Albert, of Greensburg, on charges of harassment and disorderly conduct.

State police Cpl. Gregory Sullenberger, of the Greensburg barracks, confirmed yesterday that Forish had reached a plea agreement with prosecutors, but he declined to reveal the terms. Sullenberger also wouldn't say what Forish allegedly said, but confirmed the alleged victim is a man.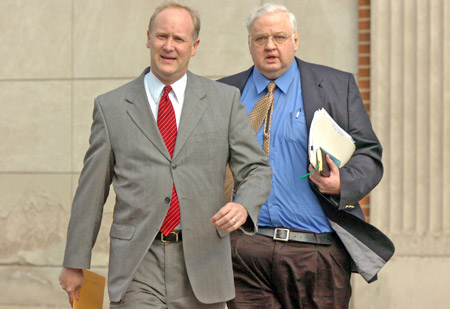 The Rev. Stephen Forish, right, crosses Main Street with his attorney, John Sweeney, on Wednesday in Greensburg.
Photo by Eric Schmadel/Tribune-Review


Forish was acquitted of similar charges in the 1990s in eastern Pennsylvania.

In an affidavit of probable cause, Sullenberger said that shortly after 1 a.m. Aug. 8 on East Pittsburgh Street, Forish made the suggestive statements.

"(Forish) used obscene language and asked the victim for sexual favors," the affidavit said. "Forish engaged in a course of conduct that involved the same type of activity with three other subjects shortly before and after the encounter with the victim."

Authorities found Forish about 20 minutes after the incident, based on a description given by the alleged victim, Sullenberger said.

Police didn't identify the victim or the others referred to in the court papers. The area of East Pittsburgh Street where the incident reportedly happened is part of the 7th Ward neighborhood that includes the state police barracks and the Catholic Diocese of Greensburg pastoral center.

At the time of the incident, Forish was staying at St. Emma's Monastery and Retreat near Greensburg, church officials said. He worked as a psychologist for Family Psychological Consultants in Kittanning, medical records showed.

A county judge must accept a plea agreement before it can take effect.

Matt Kerr, spokesman for the Allentown Diocese, said Forish is a priest but is no longer involved in active ministry.

In 1998, Forish, who holds the title of monsignor, was acquitted by a Northampton County jury of propositioning a man for sex, according to newspaper reports about the trial. That man, according to the reports, was a known drug abuser.

After those charges were filed, Forish was reassigned within the Allentown Diocese, then became a psychologist, church officials said.

Forish received his doctoral degree from Lehigh University earlier this decade, records showed.

Forish's latest state license to work as a psychologist was issued in early 2005 and is due to expire in late 2007, according to records with the State Department's Bureau of Professional and Occupational Affairs. No disciplinary actions were listed against him with that department.

Department spokeswoman Cathy Ennis said the involved licensing board reviews alleged misconduct matters on a case-by-case basis. She said possible penalties for misconduct include a license suspension or revocation, or a fine.

Bob Stiles can be reached at bstiles@tribweb.com or (724) 836-6622.