Convicted Milford Priest Facing Sexual Assault Charges Again

By Pamela Sroka
Courier News [New Jersey]
November 4, 2006

http://www.c-n.com/apps/pbcs.dll/article?AID=/20061104/NEWS/611040325

The former Milford priest convicted of sexually assaulting a child pleaded not guilty Friday to a new set of charges of similar offenses.

John M. Banko, who already is serving 15 years at the Adult Diagnostic and Treatment Center in Avenel, had been indicted on one count of first-degree aggravated sexual assault and one count of second-degree endangering the welfare of a child.

Hunterdon County Public Defender David Hamilton, who represented Banko on Friday morning, entered a not-guilty plea for the former priest during the arraignment in Superior Court in Hunterdon County .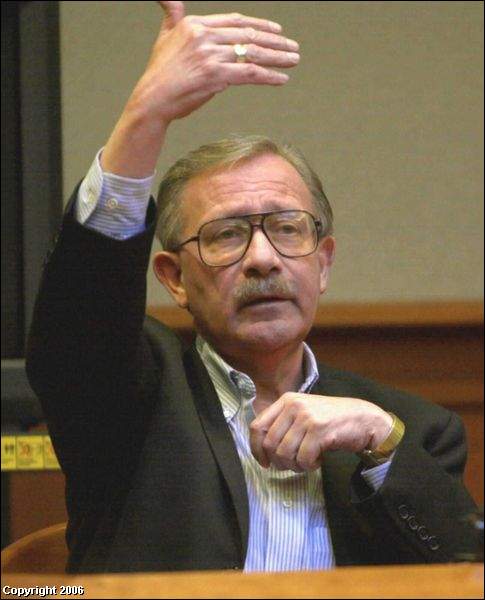 John M. Banko


Banko, dressed in tan prison garb, shackles and handcuffs, answered "yes" when Superior Court Judge Roger F. Mahon, sitting in Flemington, asked if he would be applying for a public defender to represent his case. Banko remained silent the rest of the hearing.

The indictment, returned in September, came after the Diocese of Metuchen provided authorities with information that was not immediately specified by the prosecutor's office. The indictment, however, claims Banko sexually assaulted a child younger than 16 between Sept. 1, 1994, and May 15, 1995, while Banko was serving as pastor at a church not named by the prosecutor's office.

"We have not received any formal word," said Joanne Ward, spokeswoman for the Diocese of Metuchen Friday about the arraignment. "This is the first we're hearing about it."

Ward declined further comment but said a letter written by Bishop Paul G. Bootkoski was read aloud to parishioners at St. Edward Parish in Milford on Sept. 8, 2006, and discussed the new charges filed against Banko.

The Diocese of Metuchen, which encompasses more than 100 parishes in Middlesex, Somerset, Hunterdon and Warren counties, also had released a prepared statement in September, stating the underlying allegations against Banko were first reported to the Diocese of Metuchen. Then, in accordance with the diocese's protocol, the allegations were immediately referred to the Hunterdon County Prosecutor's Office.

Banko was removed from ministry April 6, 2000, at which time he was prohibited from exercising priestly ministry, the diocese had said.

Known to parishioners as "Father Jack," Banko was convicted in December 2002 of molesting a former altar boy on two consecutive Sundays after Mass at St. Edward the Confessor Roman Catholic Church in Milford sometime from September 1993 to September 1994.

During the jury trial, Banko testified in his own defense and maintained his innocence during sentencing before Superior Court Judge Anne R. Bartlett.

Testimony during the trial included the recollections of a 39-year-old Baltimore man who told the court Banko molested him repeatedly during a 10-year period starting around 1972. Two other men said Banko took them to upscale restaurants, where he often offered them alcohol, and that they would play racquetball with him before bathing nude in a hot tub at a health club.

Both men testified they stopped contact with Banko after the pastor grabbed their buttocks. One of the men testified he was befriended by Banko as a teenager attending St. Charles Borromeo Church in Montgomery, where Banko was pastor from 1982 to 1989.

In June 2005, the state's Appellate Division rejected Banko's request to overturn his 2002 conviction. The state appeals panel ruled that Bartlett's decision to allow such evidence was appropriate at Banko's trial and affirmed his conviction, Hunterdon County Assistant Prosecutor Dawn Solari had said. The panel also rejected arguments by Banko's attorneys that the 18-year sentence was excessive.

Saying her ruling should show the court will not tolerate a crime that robs a young boy of his innocence and faith, Bartlett ordered Banko to serve a higher sentence than the recommended 15 years.

If convicted of the new charges, Banko faces up to 30 years in prison and fines of $350,000. Banko is scheduled to return to Hunterdon County Superior Court for a hearing at 10 a.m. Dec. 1.

Pamela Sroka can be reached at (908) 707-3155 or psroka@c-n.com.