The Rev. Stepek Denies Sexual Abuse Allegations
Burbank Pastor Was Suspended Saturday

By Courtney Greve
Daily Southtown [Chicago IL]
November 6, 2006

http://www.dailysouthtown.com/news/125268,1NWS1-06.article

The Rev. Robert Stepek believes silence implies guilt when a Catholic priest is accused of sexual abuse.

That's why the former pastor of St. Albert the Great Parish in Burbank decided to speak up Sunday, the day after allegations against him were deemed credible and he was removed from ministry by the Archdiocese of Chicago.

"I want to make it very clear that I am innocent," he said. "The allegations are unfounded and completely false."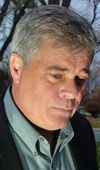 The Rev. Robert Stepek
Photo by Matt Marton/Daily Southtown


Plenty of St. Albert parishioners believe Stepek.

A petition in his support circulated outside the church Sunday, and the parish billboard read, "We demand our pastor back!"

"If you know him, it's impossible for many of us to believe he's guilty," parishioner Michael Looney said. "I hope and pray he is innocent. If not, he should be removed from the priesthood and put in jail."

Stepek is accused of abusing two altar boys while assigned to St. Symphorosa in Chicago's Clearing community in the 1980s.

He claims the charges were fabricated and that he is being forced out of the priesthood because of politics.

"I think the people making the decisions would rather err on the side of the accuser rather than face media scrutiny," he said. "What about the priest who is innocent?"

Barbara Blaine said it is common for accused sex offenders to "deny and minimize" allegations against them.

"That's a classic response when a predator is exposed," said Blaine, founder of the Survivors Network of those Abused by Priests. "I have no reason to believe the archdiocese is going to begin removing priests willy-nilly without adequate evidence."

After the allegations surfaced in May, Stepek voluntarily removed himself from St. Albert while an archdiocesan review board investigated the claims.

A letter was read to parishioners during six Masses over the weekend revealing the results of that inquiry.

"The Board determined that there is reasonable cause to suspect that sexual abuse of minors occurred," the letter said.

Archdiocese spokeswoman Susan Burritt declined to comment further or respond to Stepek's statements.

Stepek -- who also served at St. Christina in Chicago's Mount Greenwood community and at St. Joseph in Homewood -- said he was shocked by the decision.

"Only three people know the truth: these two men and myself," he said.

Stepek said two brothers fabricated the claims of sexual abuse because they sought revenge over past disputes and they wanted to embarrass him on his 25th anniversary as a priest.

One brother held a grudge because Stepek refused to give him a recommendation when he wanted to enter the seminary. The other brother, who owns an air conditioning company, disagreed with Stepek about how much money he was owed for doing a job at St. Albert, the priest said.

Stepek declined to identify the men who accused him of acts he called "intrinsically evil."

Stepek said he thinks the men, now in their 30s, lied so they could win a large financial settlement.

"I believe they want to get off the money train now but they don't know how," he said.

Stepek said an Illinois Department of Children and Family Services report determined the claims of abuse were unfounded.

"It said I was of no danger to any child, of course, because I've never abused anyone," he said.

DCFS spokesman Kendall Marlowe declined to comment about the report. He said more facts may be available today.

The Cook County state's attorney's office, which was notified of the allegations in May, could not be reached for comment on possible criminal charges against Stepek.

For now, Stepek will reside in private setting under supervision, according to the archdiocese.

The investigation will be turned over to officials at the Vatican, who will make the decision as to whether Stepek should be defrocked.

Stepek said he will ask Cardinal Francis George to reconsider the review board's recommendation or call for another investigation.

"I want my name, my reputation and my parish back," he said. "Too many people have been hurt in this (charade). It needs to end."

Courtney Greve may be reached at cgreve@dailysouthtown.com or (708) 633-5983.