Priest Disputes Sex Abuse Allegations
Father Robert Stepek Says Allegations Are Part Of A Vendetta

Mike Parker
CBS 2 [Burbank IL]
November 6, 2006

http://cbs2chicago.com/topstories/local_story_310194759.html

(CBS) Burbank A suburban priest is fighting back against allegations of sexual abuse.

The Archdiocese of Chicago suspended Father Robert Stepek over the weekend. Now Stepek is speaking out to CBS 2's Mike Parker.

"I'm very angry," Stepek said.

Unlike most priests who have been accused of sexually abusing minors, Stepek is disputing the charges in public. The priest, who was removed from his duties at St. Albert the Great Parish in Burbank, says the allegations are lies and are part of a vendetta.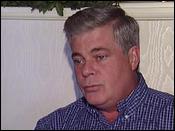 Father Robert Stepek
Photo by the AP



"I firmly believe that they wanted to ruin my 25th anniversary," Stepek said.

Two brothers have accused Stepek of abusing them in the 1980's. He says it is because he wouldn't help one of them get into a specific seminary.

"When I told him I wouldn't give him the letter of recommendation, right then and there a couple of expletives, 'you'll get yours,'" Stepek said. "He said, 'you'll get yours.'"

Years later, Stepek says, the other brother threatened him over payment for some work he had done at St. Albert's. In May, the two men made their accusations.

On Saturday, the archdiocese declared, "there is reasonable cause to suspect that sexual abuse of minors occurred."

Stepek says that while most of his parishioners support him, in the eyes of his church, he is guilty until proven innocent. And he says all priests now live in fear.

"I believe they're all running for cover. They're all waiting for the same phone call that I received. And what does it take to remove a priest from his ministry? A simple phone call -- the 3 words - you touched me," Stepek said.

The lawyer for the two accusers say, in claiming a vendetta, Stepek wants to re-victimize and demonize the men.

And despite Stepek's claim that the two want to get aboard "the money train" as he puts it, the attorney says his clients are not seeking damages. He says they simply want to stop the priest from doing it again.