Compensating for the sins of the fathers
Existence of Spokane diocese threatened as bankruptcy battles drag on
By Michael Newall
National Catholic Reporter
November 10, 2006
http://ncronline.org/NCR_Online/archives2/2006d/111006/111006a.php
On a warm Wednesday last May at Assumption of the Blessed Virgin Parish here, carefree kids in short pants and skirts file out of ranch-style school buildings. They walk down the shrub-lined walkway and into the dimly lit church. The weekly student Mass begins with the sound of an organ and off-key singing. Some kids daydream; others whisper. The altar girl bites her lip in laughter. Soon, a flush-faced upperclassman races through a reading from the Acts of the Apostles: "God has overlooked the times of ignorance but now he demands that all people everywhere repent."
Deacon Kelly Stewart, in his soft, reassuring tone reads the Gospel according to John.
"I have much more to tell you, but you cannot bear it now."
A breeze blows through the rangy pines as the kids shuffle back to class. Parents chitchat about carpools and camping trips. The conversation turns to whispers when someone brings up the bitter bankruptcy battle threatening the existence of Assumption Parish, threatening the existence of the entire Spokane diocese.
"We sympathize with the victims and feel they should be compensated," said Linda Morse, who has two children in Assumption School, wringing her hands and speaking in the same anguished voice that would surface so often during interviews here.
"But where does it all stop?" she continued. "When is enough enough?"
Three other mothers nodded in agreement.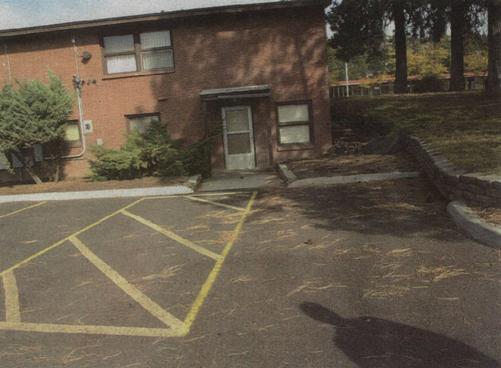 Terry Corrigan's shadow falls near the rectory that William Skylstad and Patrick O'Donnell shared in the 1970s. The rectory's back door used to lead from O'Donnell's bedroom to a school playground. Corrigan's son Tim was one of the boys alleged to have been abused by O'Donnell. —MCT / Thomas James Hurst.
AT A GLANCE
"When is enough enough?" asks a Catholic fearful that settlement payments to victims of clergy sex abuse will destroy the ministries of the Spokane, Wash., diocese. "It was a desperate ploy to avoid accountability," is the way a former prosecutor describes the diocese's decision to declare bankruptcy. Those are but two of many points of tension tearing at the church in Spokane and outlined in the following report, which includes material from depositions and extensive interviews with people involved in all angles of the story.
"We don't want to lose what's ours," one of the other mothers said, her words wrapped in resentment. "We don't want to hurt the next generation of kids. Our kids didn't do anything wrong. This is not their fault."
Just a short walk across the parish lawn live Terry and Ann Corrigan. They purchased their modest ranch house, the backyard of which adjoins the school ball field, as newlyweds in the early 1970s, thrilled to be raising their children so close to the church.
"If you ripped the skins off our bones, they'd say Catholic," said Terry Corrigan, a tall, soft-spoken man with white hair and doleful eyes. "The church was our spiritual and social connection."
The Corrigans both served as Eucharistic ministers. Terry was chairman of the parish council and in charge of sending greeting cards marking the birthdays and ordination anniversaries of all diocesan priests. Ann volunteered at the school, distributing lunch milk. The two boys, Mike and Tim, were in the altar guild, and when the charismatic young priest, Fr. Patrick O'Donnell, arrived in 1974, the Corrigan's immediately invited him, and the popular pastor, Fr. William Skylstad—now bishop of Spokane—over for supper. The Corrigans were honored when O'Donnell took such an interest in their boys, picking them up in his jeep for day trips to the lakes.
This past Palm Sunday, Terry and Ann sat on opposite edges of their bed after yet another night of restless sleep since the death of their son Tim, who committed suicide on a late summer's day in 2002, hours after telling his wife that O'Donnell had molested him.
"I can't go to church today," said Ann.
"Neither can I," said Terry.
The Corrigans now say their prayers in the privacy of their home or with other former Assumption parishioners at Voice of the Faithful church reform meetings.
"There's too much silence on the part of parishioners when it comes to the abuse issue," said Ann, clutching photos of Tim, whose death sparked the wave of lawsuits at the center of the bankruptcy battle. "I felt like every Sunday we were sitting in solidarity with them, and that was too much to bear."
"I can't pray there with those people anymore," added Terry. "I've come to the sad realization that the hierarchy of the Catholic church cares more about money and assets than it does the souls of young people. The institutional church has begun to look more to me like—somebody once said—the mafia. And I think the only way to change it is by force."
He wipes his eyes.
"Realizing that was second only to losing my son," he said, "which was the worst pain I've felt in my life."
A church divided
Spokane is a church divided. The competing sentiments of spiritual anger and anguish lie at the heart of the bitter bankruptcy proceedings here, which recently entered into final stages of mediation. If mediation fails, Spokane could become the first diocese to be liquated since the sex scandals erupted nationwide in 2002, and the first since a collection of dustbowl parishes collapsed in Salina, Kan., during the Great Depression. Unprecedented legal battles tackling such issues as parish ownership and individual parishioner culpability play out here in a seemingly never-ending procession of court hearings, parish hall gatherings and backroom board meetings. Parishes, friends, even families, have been torn apart as Spokane Catholics confront, with unparalleled urgency, the question of how to compensate for the sins of the Fathers without compromising the future of the children.
The extent of the problem, as well as the deep divisions and questions puzzling the diocese, became apparent in material gleaned from legal depositions as well as dozens of interviews with those involved, including priests, parishioners, church workers, victims and relatives of victims.
While wealthier dioceses, such as Boston and Dallas, have emerged from costly victims' settlements diminished but intact, the Catholic ministry in Spokane, a relatively poor diocese of 93,000 people spread across Eastern Washington's winding river developments, few small cities, rustic prairie towns, lakeside villages, and old lumber hamlets, could be radically diminished. Many of its 83 parishes and 15 parochial schools could possibly be mortgaged or sold off.
"I've heard the phrase 'death spiral' quite a number of times," said one priest. "There's a growing belief that something cataclysmic could occur."
Bathed in the shadows of a rambling mountain range and intersected by the Spokane River and sprawling lakes, there seems here a serene spirituality rooted in the beauty of the natural surroundings. People are mild-mannered, reserved. But Spokane is already reeling from recent sexual abuse scandals involving former Mayor Jim West and other high-profile citizens. Recently officials from Gonzaga University admitted that in 1969 school officials conspired with the Spokane Police department to cover-up allegations against the university president for sexual abuse of boys. And now Spokane struggles to adjust to its new reality as a focal point in the legal battles of the Catholic church scandals.
Ping-pong court rulings, what some see as head-scratching diocesan mismanagement and deception, steadfast victim attorneys and deep-seated mutual mistrust have resulted in an intractable situation. As the bankruptcy drags on, and the diocese hemorrhages hundreds of thousands of dollars in legal fees each month, Catholic organizations like Catholic Charities, Catholic Cemeteries, and Morning Star Boys Ranch, a home for troubled youth, are closing ranks to protect their own finances.
"Spiritual turfism," is how one church employee described it.
There is a growing, if somewhat subtle, anger toward victims as churchgoers fret over the future of their parishes.
"We're doing everything we can to ensure that Catholic mission in Spokane is not compromised," said attorney Ford Elsaesser who represents the Association of Parishes, an organization of churchgoers and priests aiming to protect parish interests in the bankruptcy. "Our goal is to protect the blood, sweat and tears of parishioners, people who saved pennies, nickels and dimes to get these churches built."
Some view the association—which formed about two months before the bankruptcy and contains members from every parish—as a diocesan-encouraged creation to manipulate public opinion against victims.
"I can understand their concern about their parishes," said victim Randy Coston, "But where were they when victims first stepped forward? Nowhere. It's only after their assets were threatened did they band forces."
Many priests—who've all taken a $100-a-month pay cut and whose retirement fund has been dipped into for legal fees—are becoming crackerjack accountants, skilled at explaining complex settlement "matrixes." (A victim anally penetrated deserves x amount, while a victim manually ejaculated deserves only x amount.) And some men of the cloth here say things like, "I don't refer to victims as 'survivors.' I think 'legal claimant' is a better phrase." Or, "I suspect many of them will get these large settlements and fritter through them in a few days."
Emboldened by recent court decisions, angered by diocesan hardball tactics and alarmist posturing, and feeling shunned by what they perceive as a lack of parishioner support, victims are considering the unprecedented course of suing individual parishes and even individual churchgoers in parish leadership positions.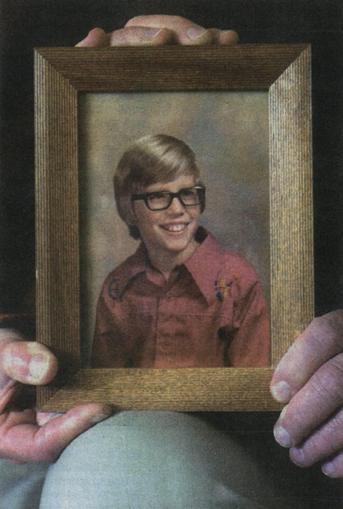 The Corrigans hold a photo of their son Tim at age 11. He was 39 when he committed suicide. —Thomas James Hurst / The Seattle Times
"There are no warm and fuzzy feelings here," said attorney Tim Kosnoff, who represents 101 Spokane victims. "With an exception of maybe one or two people, I don't think any of my clients would lose sleep over a parish being bulldozed and replaced with a 24-hour fitness center."
The once popular Skylstad has been vilified by many who blame the failing bankruptcy on his poor leadership skills and penchant for following terrible legal advice.
"Shakespeare once advised we shoot all the lawyers," said Fr. Edgar Borchardt, an executive member of the Association of Parishes, with a half-hearted laugh, echoing the frustration of many priests and parishioners interviewed. "I'm beginning to think we should view the bishops in the same way."
Bankruptcies are typically ugly affairs, with multiple lawyers representing competing interests. But with the backroom tussling and ever-shifting alliances (diocese/Association of Parishes versus victims; diocese/victims versus association; victims versus victims) events here read like the seedy descriptions of old machine-town politics found in a William Kennedy novel.
And, as each day passes, Spokane's abuse victims continue to live in what some describe as a painful suspension, their healing interrupted by the endless court dates.
"This particular chapter of my life has lasted four years," said victim Mike Corrigan. "I want nothing more than to end it. It's been a nightmare. Every day is an open sore."
"It's been a terrible roller coaster," adds Molly Harding, director of the Spokane chapter of the Survivors Network of those Abused by Priests, SNAP. "They stonewall you for months, give you a little bit of hope, and then pull it right away."
Harding first approached Skylstad in 2001, telling him of her desire to form a Spokane SNAP group.
"Oh Molly, please" she remembers him saying. "We don't have that problem here."
Spokane will no doubt provide new precedent—and probably an excellent road map on how not to proceed—for other dioceses grappling with clergy abuse compensation. (A dozen states, including Colorado, Massachusetts, Pennsylvania, Florida, and Ohio, are considering eliminating or temporarily suspending the statutes of limitations on child abuse, which would allow victims to pursue civil suits. Church officials are vigorously fighting those efforts.)
"Everybody is looking out west right now," said Villanova University Professor Charles Zeck, an expert in church finance. "What happens there could have a tremendous impact on how the issue of victim compensation plays out in the years and decades to come."
'It's nobody's fault'
The morning began like any other.
Cheryl Corrigan awoke before dawn for her daily walk through the winding streets of Pacific Heights, a town of modest ranch homes located six miles north of the Spokane River falls. It was late August 2002, and it was peaceful walking in the cool morning. Her husband, Tim, was at the kitchen table when she returned.
"Look who's in the paper," he said in his usual unemotional voice.
Cheryl met Tim at the Pizza Haven 22 years earlier. He was 17; she was 20. He was slender with blonde hair and a boyish face. She was attracted to his quiet, steady demeanor.
In 16 years of marriage, Cheryl said she had seen Tim become overly emotional only twice. Once, when a superior at a school where she taught groped her. And, then in 1986, when the first article mentioning sexual abuse allegations against Fr. Patrick O'Donnell appeared.
Newlyweds at the time, they were visiting Tim's parents. Ann Corrigan's voice cracked when she asked her sons if O'Donnell had abused them when he taught at Assumption Parish in the mid 1970s.
Tim's older brother Mike said little that day, telling his devoutly Catholic parents only how O'Donnell would make them stand naked after gym class and scrub their genitals with a washcloth.
Tim said nothing.
"I'm going to put a sign on his door reading 'child molester,' " ranted Cheryl during the car ride home.
"No, you can't," she recalled Tim yelled. "You won't."
Back in the kitchen, Cheryl picked up the paper, which had a picture of O'Donnell on the front page.
"Read it," said Tim.
Cheryl glanced over the words.
"Finish it," shouted Tim.
An elderly couple from another parish claimed O'Donnell molested their son when he was 12 years old—the same age Tim was when O'Donnell took him and his friends swimming and boating. The couple's son put a gun in his mouth in 1990. He left a note reading, "What happened to me destroyed me."
Tim put his bowl in the sink.
"Why'd you make me read this?" asked Cheryl, her mind racing. "Were you abused by Father Pat?"
"No."
"Did you get naked in front of Father Pat?"
"Yes."
"Did Father Pat touch you in the privates?"
"Yes."
"That's abuse, Tim."
Tim nodded and walked out of the room.
Cheryl's mind raced.
"I couldn't believe what he'd told me," she said, during an interview last spring. "I figured if I pretended we didn't say anything, he'd make it through his work day and we'd talk when he got home."
Tim collected his brown bag lunch and Cheryl hugged him as she normally did.
And later that afternoon, when Cheryl returned from her three-year-old daughter's kindergarten orientation, and the waiting police chaplain told her Tim had lain down on the railway tracks, Cheryl refused to believe it.
The chaplain dialed a policewoman at the scene who read from a hastily scribbled note found in Tim's truck, which said, simply, "It's nobody's fault."
'It's just little old me'
Randy Coston was driving along Interstate 195, heading home to Spokane from a sales trip to Palouse, an area of prairie lands in southeastern Washington, and the details of the latest O'Donnell article swirled in his head. Coston remembers looking at the dashboard clock; it was 12:10 p.m. and unknown to him, his childhood friend, Tim Corrigan, was at the railway clearing making the last pained decision of his life.
Coston and Tim weren't the closest friends of the group but they were the most similar, both equally withdrawn and unemotional. Whenever O'Donnell's name would come up over the years, usually at a birthday or a wedding with one of the guys uneasily joking about the nude swimming or the jockstrap checks, Randy and Tim were the ones who would go quiet and stare uncomfortably into their drinks.
Coston had told his secrets to no one, not even his wife. It was his burden to carry: O'Donnell with his big, toothy Howdy-Doody smile gleefully steering the cabin cruiser up to Rockford Bay, where he'd pull up the terry cloth shorts of the scared 12-year-old and molest him. Or the time O'Donnell left him alone on the boat with George Robey, a man who later killed himself amid child abuse allegations. He'll never forget that next morning, sitting in a diner booth turning over a cold ham and cheese omelet, as Robey and O'Donnell laughed like fraternity brothers over the latest conquest.
Driving back from Palouse, thinking about the O'Donnell article, Coston decided he'd lived long enough with his secret. He promised himself he'd do something, he wasn't sure what, maybe contact the authorities or the diocese, but something, anything, to begin to move past the pain.
So, later on that day when he received the call about Tim, he drove to Mike Corrigan's house and told his secrets. He also told Mike about the time O'Donnell brought him and Tim to a lake cabin with a hot tub. O'Donnell told the boys to take off their shorts so the laundry soap their mothers used would not ruin the water. O'Donnell sat next to Tim, his hands underneath the water.
"I understood why Tim did what he did," Coston told Corrigan. "He acted on the feelings I had for so many years."
Over the next few days, as Tim was mourned and buried, Coston and Mike Corrigan, and a handful of other childhood friends, broke their individual silences and shared their stories of molestation at the hands of O'Donnell, which mainly consisted of fondling and genital touching. Soon, they contacted the abuse attorney Kosnoff. Washington's statutes of limitation prohibited criminal charges, so civil suits were filed instead. The lawsuits brought forth a wave of headlines and dozens more victims. About 90 civil suits were filed in the following months. Nearly 20 Spokane priests have been named in complaints, but O'Donnell and Fr. James O'Malley account for about two-thirds of the complaints. O'Malley allegedly abused children in a rural parish during the 1940s and 1950s.
SPOKANE DIOCESE AT A GLANCE
Population: 97,665 Catholics among 715,452 total population
Personnel: Diocesan priests, active, 42; retired or inactive, 34; Religious priests, 74; Brothers, 1; Sisters, 4; Lay ministers, 36.
Institutions: Parishes, total, 82; Parishes with resident pastors, 42; Parishes without resident pastors, 40; Missions, 2; Elementary schools, 15; High schools, 4; Universities, 1.
Welfare: Hospitals, 7; Homes for the aged, 11; Residential care for children, 1; Specialized care facilities, 7.
Source: The Official Catholic Directory 2006
Kosnoff's investigation unearthed decades of diocesan mishandling and cover-up of sexual abuse allegations.
O'Donnell received his priestly training at the St. Thomas Seminary in Kenmore, Wash., run by the Sulpicians. The Sulpicians sent O'Donnell to sexual deviancy treatment for having molested two teenage boys at the seminary. (He was treated with aversion therapy with his doctor advising him to think of feces when sexual thoughts of children filled his mind.) The seminary faculty board recommended O'Donnell for priesthood saying: "He may well be very effective as a confessor especially in youth of whom he has a special interest. He has however been cautioned about an over interest."
The Sulpicians didn't inform then-bishop of Spokane, Bernard Topel, of the extent of O'Donnell's sexual struggles. But just two weeks after O'Donnell's ordination in June of 1971, Topel received a complaint that O'Donnell had molested a young student at the Mater Cleri Seminary outside Spokane. Still, the diocese named O'Donnell director of the Catholic youth ministry and allowed him to serve as chaplain to the Boy Scouts. He arrived at Assumption Parish in 1974 after abuse complaints arose at another parish. Skylstad, then pastor of Assumption, has denied knowing of those allegations. (Although parishioners have long marveled at Skylstad's ability to recall names and faces, the bishop used variations of the phrase "I can't remember" or "I cannot recall" over 500 times during his three days of court deposition.)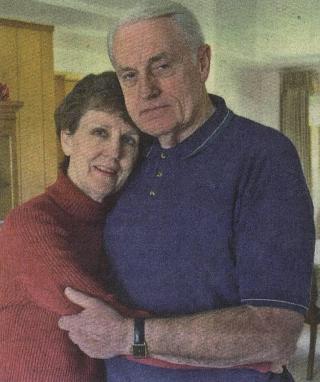 Ann and Terry Corrigan's son, Tim, committed suicide in 2002 a few hours after telling his wife that Fr. Patrick O'Donnell had molested him as a boy. "We first grieved for our son Tim, then we came to grieve for the loss of faith in the church we've loved our entire lives," Terry Corrigan said. —MCT / Thomas James Hurst
In his deposition, Skylstad said he "remonstrated" O'Donnell when notified by a parishioner that the priest was having the boys stand on the auditorium stage and wash their naked genitals after gym class. The two men shared cramped living quarters in the parish rectory. O'Donnell slept in the basement.
"It's just little old me," numerous victims remember Skylstad saying when he'd return home upstairs.
"I was completely unaware of the activity he was engaging in with the boys," Skylstad said recently of O'Donnell at a meeting of the Diocesan Pastoral Council. "In those days he was a priest who was a pied piper with kids, was highly admired."
Skylstad, now president of the U.S. Conference of Catholic Bishops, left Assumption in 1976 to become Spokane's chancellor. Within months, his replacement at Assumption notified him of an abuse complaint against O'Donnell, who was then transferred to St. Paul's Parish in Seattle for treatment.
The civil authorities were not notified of the abuse. Nor were the parishioners at Assumption and St. Paul's made aware of O'Donnell's past.
The law on mandatory reporting in Washington required clergy to report sex abuse (unless disclosed in the confessional) prior to 1975, according to attorney Don Brockett, Spokane's former prosecutor. In 1975, the word "clergy" was removed from the list of mandatory reporters. That period, said Brockett, would have covered the years when Skylstad was pastor of Assumption Parish, with O'Donnell as his assistant.
"In 2003, after the scandals had broken, Skylstad had a series of meetings with parishioners to explain what was happening with the revelations about Fr. Pat," Brockett recalled in a recent interview.
"I asked him why he had not reported the abuse. The bishop's answer was that at that time they were not legally required to report the abuse. My answer was that I thought they had a moral obligation to report, even if they did not have a legal obligation to do so," Brockett said.
While receiving treatment in Seattle—which included more aversion therapy—O'Donnell collected a paycheck from the Spokane diocese and pursued studies at the University of Washington, earning an advanced degree in youth counseling. His dissertation topic: "Evoking trust between adults and adolescents."
At least eight men say O'Donnell molested them during his time in Seattle.
Upon returning to Spokane in 1979, a glowing notice of O'Donnell's academic achievements was printed in the diocesan newspaper. No mention was made of his treatment. Within months, O'Donnell is alleged to have molested at least three more boys.
When the new bishop, Lawrence Welsh, was notified of these complaints, he transferred O'Donnell to Holy Rosary Parish in Rosalia, Wash. Again, parishioners weren't notified of O'Donnell's past. It was there that O'Donnell allegedly abused Chris Tate, whose suicide Tim Corrigan read about on the morning of his own death.
O'Donnell continued to abuse children until he left active ministry in 1986, when newspapers began reporting on the allegations. In court depositions he has admitted to molesting several boys as a priest. In total, 56 men have filed sexual abuse suits against O'Donnell, making him the most prolific priest-abuser in the region.
O'Donnell, who ran a private psychology practice counseling teenagers in Bellevue, Wash., until he was forced to surrender his license two years ago, could not be reached for comment.
Skylstad declined repeated requests to be interviewed for this article.
'It was a boondoggle'
For two years, diocesan attorneys filed motion after motion to dismiss the civil suits and protect the diocese's "secret archive" on abusive priests, kept in a gray file cabinet in Skylstad's office. (Bishop Lawrence Welsh purged many of the files in the 1970s, having them burnt in the chancery basement.)
Just days before the first trial was scheduled to begin, Skylstad, flanked by his attorneys, held a news conference announcing mediation with victims. If a settlement could not be reached, said Skylstad, bankruptcy would likely follow. Negotiations quickly fell apart, said Kosnoff, when the diocese offered victims settlements in the low tens of thousands of dollars, figures drastically below national averages.
"It was a boondoggle," said Mike Corrigan, "a public relations tactic to shift the blame of the bankruptcy onto the shoulders of victims."
One day before the opening of the first trial, Skylstad took the controversial step of entering the diocese into Chapter 11 Reorganization in Federal Bankruptcy Court, becoming only the third American diocese to do so since the sex scandals erupted nationwide in 2002. According to federal law, the diocese must submit a reorganization plan, which includes financial settlements with all sexual abuse victims before it can emerge from bankruptcy. If settlements cannot be reached, a federal judge dissolves the bankruptcy and creditors head back into state court.
Skylstad defended bankruptcy as a way to "provide fairness, justice and equity for everyone—for the victims, and for the diocese as a whole."
Victims viewed it as a bad faith effort to undercut their resolve, further manipulate public opinion, reduce monetary payouts, and protect church secrecy—and Skylstad's career—by avoiding costly and embarrassing trials.
"It was a desperate ploy to avoid accountability," said former Spokane County prosecutor Brockett, an Assumption parishioner now attending Voice of the Faithful meetings.
Successful negotiations between church officials and abuse victims in the Tucson, Ariz., diocese led to a swift resolution of Chapter 11 proceedings there in the summer of 2005. Many Catholics hailed what was done in Tucson as an example of how to protect the financial viability of a diocese while ensuring fair compensation, and hoped it would provide a model for other dioceses choosing bankruptcy as a way to financially atone to sexual abuse victims.
"Bankruptcy can be a productive way to deal with compensation," said Charles Zech, a Villanova University professor, who studies church finance. "Many dioceses do not have the pot of gold or rainy day fund, to pay out all the settlements. In bankruptcy, the diocese is essentially saying 'Here's what we have. Let's make it work.'"
Moreover, said Zech, bankruptcy treats victims fairly.
"In civil trials, it's a race to the courthouse with the first victims there getting all the money," he said. "It should not be based on first come, first served, but rather treating all victims fairly as a group. This way everybody is considered."
Zech points out that Tucson hashed out a settlement plan with victims before entering into bankruptcy, which, he said, was essential to the speedy resolution of Chapter 11 there. Moreover, Tucson church officials maintained a healthy and productive dialogue with victims.
That has not been the case in Spokane, or in the Portland, Ore., diocese, which in 2004 became the first American diocese to declare bankruptcy. Portland also faces severe financial consequences as Chapter 11 proceedings there in April when, after two years of similar legal wrangling over parish property, U.S. Bankruptcy Judge Elizabeth Perris cleared the way for 130 civil cases to head back to state and federal court. The first case, scheduled originally for mid -October, has been postponed to allow federal mediators to continue to work on the matter.
Spokane's plan heading into the bankruptcy seems to have been twofold: First, stack the committee representing victims with church loyalists, and second, get a federal judge to uphold the untested and shaky legal premise that although individual parishes are listed in the bishop's name, they're actually separate entities owned by parishioners, a ruling that would drastically reduce the size of the bankruptcy estate and therefore reduce the size of settlement payouts.
In December 2004, the U.S. Trustee Ilene Lashinsky appointed five individuals to the committee in charge of picking the victim's legal representation, three of whom were diocesan insiders appointed only after hard lobbying from the diocese, said Kosnoff. One appointee had written a glowing testimonial of Skylstad's pastoral skills. Another had ties to the law firm representing the diocese.
"The diocese and its lawyers were so arrogant," said Kosnoff, "so cocksure they had eviscerated us, marginalized us and cleared the way to a sweetheart deal."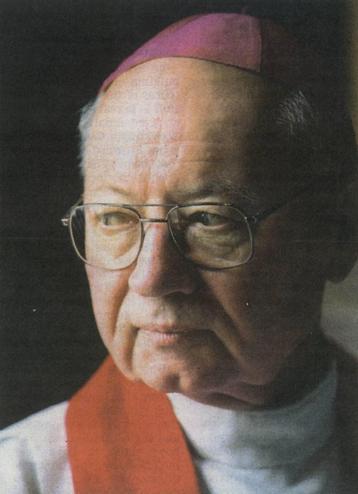 Bishop William S. Skylstad: "I was completely unaware of the activity he was engaging in with the boys. In those days he was a priest who was a pied piper with kids, was highly admired. —CNS
Victims protested in outrage, flooding the U.S. Justice Department with phone calls and e-mails, resulting in the formation of a second committee consisting of victims with active suits against the diocese. If the diocese did indeed lobby for the initial committee, it was a costly error since the U.S. trustee did not disband the initial committee. Rather she directed it to represent victims who have not yet sought legal action. So now, the cash-strapped diocese—which is by federal law responsible for all creditors' legal fees—is paying tens of thousands of dollars a month to lawyers representing a group of victims that exist only on paper. Moreover, the initial committee members opposed the diocese's eventual $45.7 million settlement offer, which did not include compensation for victims who have yet to come forward with claims.
'Looking forward to dying'
With their new committee intact, victims hired the high-profile Los Angeles-based bankruptcy attorney James Stang, who immediately filed a motion seeking to fold parishes, schools, social centers, and priest retreat centers into the financial estate of the diocese, teeing up the central issue of this case: asset ownership.
Lead diocesan attorney Shaun Cross argued that, according to church law, parishes are independent entities owned by parishioners. This separation is based in a convoluted, centuries-old canon law business structure, which establishes that the bishop is a one-person corporation or corporation sole, holding the parishes in trust, but is not the actual owner of their assets, he said.
Cross also raised the specter of violation of separation of church and state, arguing that examining canon law under the lens of civil judicial scrutiny violated First Amendment freedom of religion constitutional protections.
Canon law should supersede civil law, argued Cross.
"That's their great hope in this bankruptcy," said Kosnoff, the victims' attorney, earlier this summer. "That they could somehow convince a federal judge to overturn 200 years of federal jurisprudence, which holds that no one, including religious institutions, is above civil law."
It's indeed a shaky, untested premise, and one that drew fire from many church watchers and finance experts, knowing that a decision here would set precedent for dioceses across the nation.
"The decision to put the issue of parish ownership in play was a terrible, even indefensible, strategic decision," said Sam Gerdano, executive director of the Virginia-based American Bankruptcy Institute. "They exposed themselves to the very real risk that they would be subjected to an adverse court decision trumping canon law."
Pursuing the parish ownership issue was the product of "very bad" legal advice, said Gerdano, echoing the belief of many in Spokane. "It's a disaster."
If the court found the bishop is not the sole owner of diocesan assets, parishes would gain an unprecedented amount of individual autonomy, overturning hundreds of years of traditional church governance. But, said Gerdano, individual parishes would then become liable for specific abuse complaints. In turn, if the court ruled in favor of victims, settlement prices would explode and all parishes would become liable.
"Now you're putting in jeopardy some tiny parish 200 miles away from Spokane, that may have never even had an abuse complaint," said Gerdano.
Cross—who has become a lightning rod for some Catholic anger in Spokane—defended the decision to file for bankruptcy as "the only option" considering the hundreds of millions of dollars in damages the diocese was facing in abuse claims.
Some in Spokane's largely Catholic legal community—many products of Gonzaga University, a Jesuit University in Spokane—are providing pro bono legal counsel to the parishes.
"The legal strategy has been bungled from day one," said one attorney. "It would have been much wiser to try and fight the individual suits one by one, losing some claims, and picking off others along the way. Instead, this whole thing has turned into a nightmare, with legal fees in the tens of millions, parishes in legal limbo, and no end in sight."
Spokane's legal strategy was probably motivated by desire for secrecy, said David Clohessy, national director of the Survivors Network of those Abused by Priests.
"Trials were never an option for Skylstad," said Clohessy. "Only one bishop—Bishop Law in Boston—has been brought down due to the scandals, and his demise came from the airing of church records. That's what Skylstad is trying to prevent here: long, drawn out trials, in which the church's secrets would be laid out for everyone to see."
In August 2005, bankruptcy judge Patricia Williams dismissed the diocese's contention that the bishop did not own parishes.
"It is not a violation of the First Amendment to apply federal bankruptcy law to identify and define property of the bankruptcy estate even though the Chapter 11 debtor is a religious organization," Williams wrote in her 50-page ruling. "Nor is it a violation of the First Amendment to determine the nature and extent of the debtor's interest in property by application of state law rather than internal church doctrine."
A similar decision soon followed in Portland.
Attorneys representing the diocese and the Association of Parishes quickly filed an appeal. It was after this decision that the diocese offered victims the $45.7 million-settlement, of which parishes were expected to raise $15 million-$20 million. Parishes served as collateral if the diocese defaulted on payment and were offered no assurance that they would not be closed or mortgaged even if they met individual fundraising goals.
Priests and parishioners reacted in uproar.
"They were out of their minds offering that much, said Fr. Jim Kuhns, an association member and pastor of Our Lady of Fatima Church in Spokane's affluent South Hill community. "That's six hundred and ten thousand a claimant, an unreal individual average, and certainly not an appropriate number for the very limited resources of this diocese."
When entering bankruptcy, the diocese listed assets of $11.1 million and liabilities of roughly $81 million. The $45.7 million offer, would severely drain the diocesan's priestly retirement fund, from which $3 million has already been taken.
"Right now, I'm looking forward to dying," said Fr. Borchardt of the association, "and in the afterlife, in the mystery of God, I hope it will somehow become clear to me how we were expected to pay that settlement."
Borchardt is the pastor of Sacred Heart Parish in Pullman, Wash., a parish of 400 families located near Washington State University. Last year's parish budget was roughly $250,000, he said. As the case with all parishes, funding came directly from the pews and parish endowments.
"Even if we somehow raised double that for this settlement," said Borchardt, "we'd still be at risk of being liquated. How could I sell that to my parishioners?"
Attorney Bob Hailey, a folk choir leader at St. Mary's Presentation Parish in Deer Park, a bedroom community 20 miles north of Spokane, who serves as the financial counsel of the Association of Parishes, said the parishes can only realistically be asked to contribute about $8 million to the settlement. That would be the same amount parishes raised for a capital campaign to construct and support a new seminary.
In recent years, St. Mary's raised about $1 million to build a new parish church, since the present one is too small for many parish functions. The money was placed for safe keeping in the diocesan deposit and loan account, which was then frozen in the bankruptcy, and which would be used to fulfill the $45.7 million-settlement offer.
"We have no idea if we'll ever get the money back to build our new church," said Hailey. "And we could lose the church we have now."
During an interview in his law office overlooking downtown Spokane, Hailey spread breakdowns of national victims' settlements across the table.
"Six hundred ten thousand would fall within the top 11 percent of all settlements nationwide," he said. "Those dioceses had considerably more money than we do, and were mostly states that allowed for punitive damages, which greatly increases the sizes of the payouts. The average settlement nationwide is $291,000."
He then pulled out a matrix sheet of Seattle's victim settlement, which Kosnoff negotiated.
"Seattle settled 65 cases for an average of $270,000 per victim," he said. "If we did it the Seattle way we have a total settlement of about $31 million, a figure we could probably handle."
If parishioners raised $8 million for a new seminary, they could surely cough up more for a victim settlement, argued Cross.
"The very future of their church is at stake here," he said. "I'm sure they would donate more for that than they did for a seminary, which represents only one very specific element of the ministry."
A survey conducted by the Washington, D.C.,-based Foundations and Donors Interested in Catholic Activities (FADICA) asked parishioners in Spokane and Portland if the effort to include parishes and schools as part of the settlement would affect their weekly donations.
Only 11 percent said they would give more, while 26 percent said they would give less and 63 percent said it would have no bearing.
(Studies show that only 20 percent of any given diocese's parishioners donate to their parishes.)
Frank Butler, the director of FADICA, pointed to Boston, where church officials last year disclosed to parishioners a $46 million deficit and made a plea for donations. Collections rose the next Sunday by 15 percent, said Butler.
"What we saw there was a good faith effort on part of the church to communicate with parishioners and the parishioners in turn responded," said Butler. "So, yes, many of these court cases have been devastating for dioceses. But if the diocese tries to openly engage the hearts and minds of parishioners, there is no reason to give up hope here."
Call it purgatory
In May, Bankruptcy Judge Williams rejected the $45.7 million-settlement offer, ruling that the amount provided compensation only for the original 75 victims and not the 55 who came forward after the bankruptcy was filed. Nor did it include a settlement plan for the victims who've yet to come forward, represented on paper by the initially appointed victims committee.
The Association of Parishes rejoiced at the opinion.
For its part, the diocese maintained that it was committed to the offer and would include it in the next submitted plan for reorganization. But then in June, in yet another profound turn of events, U.S. District Judge Justin Quackenbush reversed the earlier ruling that the diocese owns parish property, setting up a possible appeal that could eventually wend its way to the Supreme Court. Both sides were urged to enter into final mediation in a last ditch effort to save the bankruptcy.
Again, the association rejoiced.
Victim attorney Kosnoff met face-to-face with Skylstad.
"I said, 'Bishop, we have been very aggressive, very critical of your leadership, and to the extent I was over the top, I apologize,' " Kosnoff recalls saying. "I do think you had moments to listen to your heart rather than your lawyers and all this could've been avoided. Victims are fed up and in pain and just want this to end. Do we still have a deal?"
"I'm sorry, but this is political," Kosnoff said the bishop answered.
"We don't have a deal, then?"
Silence.
"The bishop stabbed us in the back," said Kosnoff. "We negotiated in good faith but he refused to crack the whip and reign in the renegade priests of the Association of Parishes and now we are where we are: The fight continues. I can't go back to my clients and say, 'He double-crossed us and now you have to accept less."
Kosnoff countered with a $60 million settlement plan—for all victims, not just the original 75—with 30 million coming from money the diocese has raised through asset sales, insurance providers, and donations from Catholic Charities and Catholic Cemeteries, and the rest coming from parishioners. Kosnoff calls this settlement offer the "latte-a-day" plan, since it can be financed if 20,000 of Spokane's 93,000 Catholic's chipped in $2.05—less than the cost of a latte—every day for two years. Moreover, 40 of the diocese's most valuable real estate holdings were recently appraised at about $64 million." (The diocese countered with its own appraisal of about $24 million.)
"We're not asking for anything that can't be done," said Kosnoff.
If the diocese does not accept the offer, Kosnoff said the victims will consider suing individual parishes—a route opened up by the courts, reversal of the parish property issue—or consider pulling out of the bankruptcy mediation and restart trials.
"This whole notion of parishes being sacrosanct is nonsense," he said. "We'll go back to court and start pulling $10 million settlements, and when we're done they're won't be one stick of parish property left."
Meanwhile, the legal bills continue to pile up.
"The legal fees total over $10 million already," said Ford Elsaesser, who represents the Association of Parishes pro bono. "That's $10 million that will not be spent on homeless shelters, low-income housing—it will not be spent on missionaries in Guatemala. It will be spent on college tuition and Beamers [BMWs]. People need to ask themselves if that is what the Founding Fathers had in mind in setting up a uniform bankruptcy system: that money from the collection plate would line the pockets of bankruptcy attorneys."
"We live in a very imperfect world," said Jesuit Fr. Thomas Reese, author of Archbishop: Inside the Power Structure of the Church. "The people who say make them pay for the cover-up need to realize who is paying. Believe me, no archbishop is eating less or living in any less luxury because of these suits."
The diocese recently sold its downtown chancery building—an ornate, white three-story building that houses the offices of the bishop and his staff—to real estate developers, Centennial Properties, for $2.05 million. Centennial Properties is owned by the family that owns The Spokesman-Review, the local newspaper that has been hammering away at the diocese's handling of the scandal.
Catholic Charities is publicly distancing itself from the diocese and fretting over contributions. Catholic cemeteries reluctantly contributed $2 million to the settlement pot.
The Morning Star Boys Ranch, a Spokane institution that has for decades been a refuge for troubled boys, is cutting back programs.
The Boys Ranch is fighting its own legal battle as eight former residents have alleged they were victims of physical and sexual abuse there. Two boys claim to have been molested by the longtime director of the ranch, Fr. Joseph Weitensteiner, a local icon whom many call "The Father Flanagan of Spokane." The two boys say they were molested in separate incidents in the 1970s and '80s during boating trips along Lake Coeur d'Alene. Another boy's family says their son, Timmy Everts, put a gun to his head in the 1980s, rather than return to the ranch, where O'Donnell had molested him. O'Donnell wasn't employed by the ranch but sometimes brought kids up there to play basketball and go boating.
On a recent trip to the ranch, a sprawling site of 224 acres in the foothills of the Spokane Mountains, Weitensteiner, admitted to being a strict disciplinarian but denied ever knowing of or engaging in abuse.
"I cried when I heard those allegations," he said. "It's been terrible for me. In a way, just by being accused, everything you stand for goes down the drain because some people will probably believe it and that is terrible."
Many of the ranch's alumni have rallied in support of Weitensteiner, who voluntarily took—and reportedly passed—a polygraph test when the allegations arose. His lawyer refused to supply the test results, since trials are pending.
"My comment to the attorneys is, 'We're going to court,' " said Weitensteiner. "We're not going to pay anybody money who is lying. I will stand by that to my death."
The ranch has already spent about $65,000 on its own legal battles, and a spokesman for the ranch said legal fees for the coming year could reach $500,000. To raise money for the bankruptcy, the diocese is selling a neighboring property, which through crop production raises about $35,000 annually for the Boys Ranch. The diocese is asking the ranch, which has experienced a decline in contributions since the allegations arose, to contribute $300,000 to the bankruptcy settlement pot.
Dan Kuhlmann, the new director of the ranch, fears the lawsuits and bankruptcy could result in the closure of Morning Star, one of the last boys' homes in the region.
"I understand the need for compensation to victims," said Kuhlmann, a tall man, with dark, thoughtful eyes. "But these are hurting kids. I might have to throw them back out on the street. Would people be comfortable with that?"
Kuhlmann collected his thoughts, and tried to put the bankruptcy in some sort of spiritual context.
"I'm a person of faith," he said. "My feeling is that the spirit moves us in many directions for many different reasons and oftentimes we don't know the reason. He offers challenges for us to better ourselves. And maybe that's what this all is, some kind of purgatory."
He paused.
"I pray daily, and I ask myself, 'How is this going to strengthen my relationship with my God? How is this going to strengthen our relationship as a community with our God?' I'm sure it will somehow. I just don't have the insight into how. No one does, I guess."
Many Spokane priests, accepting the changing reality of their ministry, are beginning to tackle some of the same questions. According to the minutes of a recent pastoral retreat, priests offered these ponderings:
"Maybe this is an opportunity to look at our vision as a diocese to say, 'This is an opportunity, not a ransom.' "
"What do we want? What needs should we advance? Who do we want the church to serve? For instance, I'm not sure we're meeting the needs of young people."
"How do we accomplish the ministry of Jesus Christ? Are we dissatisfied with our present results? Then how can we do it better? It's not about money; it's about the mission."
And, finally, victims continue to live in suspension.
"In some ways, it was easier for me to keep it all secret than to come forward," said victim Randy Coston. "My only financial concern was that Cheryl Corrigan and her three kids be provided for. And there are many days I think of Tim and I know that for me this was all about creating a safer environment for our kids. And as all this drags on and on, I worry that we've all lost sight of that somehow."
Michael Newall is a freelance writer living in Philadelphia.