New York Priest's Sex-Abuse Trial Begins, in Pennsylvania

By Andy Newman
New York Times
November 14, 2006

http://www.nytimes.com/2006/11/14/nyregion/14abuse.html?_r=2&ref=nyregion&oref=slogin&oref=slogin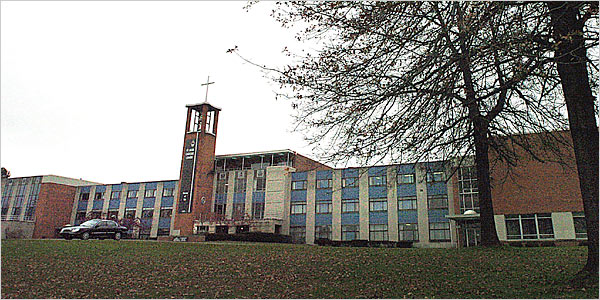 The administrative headquarters of the Diocese of Erie, Pa., where the trial of Monsignor Kavanagh was moved, at the request of Cardinal Edward M. Egan of the New York Archdiocese.
Photo by Dan Cappellazzo for The New York Times


Mill Creek Township, Pa., Nov. 13 — In a small room in a long, boxy building perched on a hill, 441 miles from New York City, the trial is unfolding behind closed doors.

On one side is a prosecuting canon lawyer from the Roman Catholic Archdiocese of New York. On the other is a canon lawyer for Msgr. Charles M. Kavanagh, once the archdiocese's chief fund-raiser. Monsignor Kavanagh may be in the room, too.

Somewhere in the middle is the family of Daniel Donohue, who has accused Monsignor Kavanagh of committing sexual abuse by pressing against him while wearing only underwear 25 years ago when Mr. Donohue was a high school senior.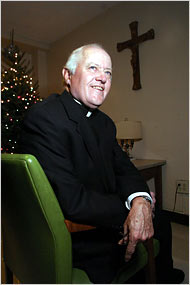 Msgr. Charles M. Kavanagh is undergoing a full church trial.
Photo by Chester Higgins Jr./The New York Times


Monsignor Kavanagh, 69, is the most prominent priest from the New York Archdiocese to be swept up in the church sexual abuse scandal of recent years. He is also the first priest from the archdiocese in recent memory to undergo a full church trial. It began Monday morning in the administrative headquarters of the Diocese of Erie, just outside Erie city limits in Mill Creek.

The Vatican moved the trial out of New York at the request of Cardinal Edward M. Egan of the New York Archdiocese in order to maintain privacy, said the cardinal's spokesman, Joseph Zwilling.

"It's not intended to be a media event," Mr. Zwilling said. "It's intended to be an opportunity for the church to review the facts and to reach a conclusion, and we did not believe that the possibility of having intensive media coverage would be conducive to that."

If Mr. Donohue, now 42, had his way, the trial would be held in open court for the world to see. Since he is the complaining witness, he does not control such decisions, but he is scheduled to testify on Friday. A canonical trial is conducted according to canon law.

Typically, it goes something like this: The prosecutor — known formally as the promoter of justice — and the defending canon lawyer give opening statements. Both sides present witnesses, but unlike those in a secular court, these witnesses are questioned by three judges, not by the partisan lawyers. Then both sides present their closing arguments in written briefs. This whole process can take a few weeks.

The judges' deliberations can take months, said Msgr. William Varvaro, the promoter of justice in the Brooklyn Diocese.

"My own guess would be that they would be able to come to a decision by February or March, or maybe even by Christmastime," he said. The verdict, which need not be unanimous, can be appealed to Rome, potentially leading to another trial.

The trial began with testimony from Mr. Donohue's parents, his sister Eugenie Moffitt, and his brother Brendan Donohue, according to Daniel Donohue.

The spokesman for the Erie Diocese, Msgr. Thomas J. McSweeney, would say only that the trial was being conducted in a small room with windows, and that one of the three judging priests was from the Erie Diocese.

Mr. Zwilling could not even confirm that the trial was going on.

None of the people who filed into the small room on Monday spoke to reporters.

Of the 30 or so priests from the New York Archdiocese who have been accused of sexual abuse, 10 have been either defrocked or sentenced to a life of penance by the Vatican, and most of the rest await the Vatican's ruling, Mr. Zwilling said.

Monsignor Kavanagh, who has fought an unusual public battle with Cardinal Egan since he was accused and suspended in 2002, angrily insists he is innocent. He said in a letter to Mr. Donohue's parents that while his relationship with their son was close, affectionate and physical, it was not sexual.

Monsignor Kavanagh has many supporters, some quite powerful in their own right. He was granted a trial by the Vatican in January.

Monsignor Kavanagh and Daniel Donohue met around 1978, when the monsignor was rector of Cathedral Preparatory Seminary in Manhattan and Daniel Donohue was a 14-year-old freshman basketball star who hoped to become a priest himself.

Mentor and student became close friends. Both say they shared hugs and held hands. Monsignor Kavanagh has written that he and Mr. Donohue declared their love for each other. Mr. Donohue said that Monsignor Kavanagh touched him sexually.

Mr. Donohue has said that he and the priest shared a two-bed hotel room at an anti-abortion rally in Washington. In the morning, the priest, wearing only underwear, climbed into Mr. Donohue's bed and pressed himself against him, Mr. Donohue said.

Mr. Donohue eventually dropped out of seminary. He is now married, with four children, and manages a restaurant in Portland, Ore.

Monsignor Kavanagh went on to become rector of St. Raymond's Church in the Bronx, one of the city's biggest parishes. In 1994, he was appointed vicar of development — the archdiocese's chief fund-raiser — and held both posts until his suspension in 2002.

In 2004, after fighting the sex-abuse charges for two years, Monsignor Kavanagh took the rare step of publicly criticizing the cardinal. He accused him of threatening him and of denying him full access to his disciplinary file.

Circumstances have brought the two sides to the headquarters of the Erie Diocese. It is a long-armed three-story building of brick and blue tile with a square bell tower topped by a skinny silver cross. Out front is a statue of Mary praying, surrounded by rose bushes bare to their hips.

In the small room, the trial went on all morning.

By lunchtime, a three-member press contingent had gathered in front of the building.

The participants left by the back door and drove out into the graying afternoon.