Stop Abuse by Priests, Victims Ask
Identifying Molesters Key to Preventing Attacks, They Say

By Beth Miller
News Journal [Baltimore MD]
November 15, 2006

http://www.delawareonline.com/apps/pbcs.dll/article?AID=/20061115/NEWS/611150384/-1/NEWS01

Child sexual abuse by priests continues today because predatory priests have been transferred quietly around the United States and the world, into communities unaware of the dangers they pose to children.

That is the message of victims of clergy sexual abuse and advocates who protested the suppression of those priests' names this week during the U.S. Conference of Catholic Bishops annual meeting in Baltimore.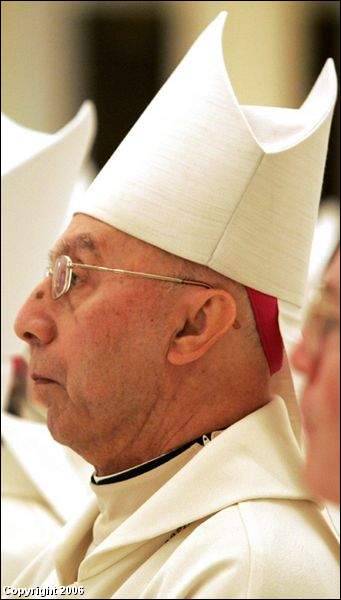 Bishop Michael A. Saltarelli is attending the meeting in Baltimore.


Diocese of Wilmington Bishop Michael A. Saltarelli, who is attending the conference, is among the bishops who have guarded the names of suspected predatory priests. The Wilmington diocese has acknowledged credible allegations against at least 30 former priests. Pressed to release the names last year by The News Journal, diocesan officials said they saw no compelling reason to do so.

The recent case of the Rev. Francis G. DeLuca, 77, may force them to reconsider.

On Tuesday, diocesan spokesman Robert G. Krebs said Saltarelli would comment further in Thursday's edition of The Dialog, the diocese's weekly newspaper.

In 1993, the Diocese of Wilmington allowed DeLuca to retire to his hometown, Syracuse, N.Y., when allegations of child sexual abuse surfaced. He was forbidden to participate in public ministry, but his offenses were never publicly acknowledged -- until his arrest last month on similar charges. He was arrested after a Syracuse 18-year-old told his parents DeLuca had been abusing him for at least the past five years.

During the Baltimore protests, Barbara Blaine, president of the Survivors Network for those Abused by Priests, mentioned DeLuca's case as evidence that predatory priests should be named.

"Regardless of why predators go elsewhere -- whether they're sent by superiors or go on their own -- the result is the same: Innocent kids and vulnerable adults are put in harm's way."

Syracuse police say DeLuca confessed to them. The day after the arrest, Saltarelli sent a request to Pope Benedict XVI that DeLuca be stripped of his priesthood.

DeLuca's first pretrial conference, scheduled for Monday in Syracuse, was postponed until Dec. 11, Assistant District Attorney Kari Armstrong said.

Mike Schulte, formerly of Newport, is among at least four people Wilmington diocese officials say have made credible allegations against DeLuca. Another, who has asked that his name not be released, believes there may be hundreds of DeLuca abuse victims who, like him, are unable for various reasons to come forward publicly.

Schulte, who recently moved to Virginia, said he is glad for DeLuca -- that he confessed to the crimes in Syracuse. He's glad for the Syracuse boy, whose abuse has been acknowledged and is being addressed in the New York criminal court system. He's glad for the boy's family, who can better understand the struggles of the young man.

Schulte has never heard such a confession. He never heard a prosecutor express indignation on his behalf.

"What I'm looking for on a personal level -- there was never anybody with credibility who has said, 'Mike, we're sorry,' " Schulte said. "I think I could forgive him if he could tell me in honesty, 'I'm so sorry.' "

Priest as predator

Schulte said DeLuca first molested him in the 1960s during a trip to Philadelphia.

Schulte said DeLuca took him to see the movie "King of Kings," then took him to dinner. They shared a hotel room, which had two beds, but Schulte said he awoke facedown on his bed with the priest on top of him.

He believes the priest put a sedative in his drink so that he would be unconscious. Schulte said he had a similar blackout during a subsequent trip with the priest to Virginia, where the hotel room had only one bed.

Schulte didn't tell his parents what happened until about three years later, when he saw DeLuca with another boy and feared the priest was doing the same thing to him. His parents called church officials.

His allegations were investigated by the Rev. Douglas Dempster, who retired in 1994 and now lives in Marydel, Md. Dempster was a close friend and colleague of DeLuca's at St. John the Beloved parish when Schulte's abuses occurred. Schulte said Dempster met with him privately, then told him and his family never to speak of the matter to anyone. The Schultes believed church officials would handle DeLuca in a way that would prevent further abuse.

Instead, as was the pattern before stricter regulations were adopted in 2002, DeLuca was transferred around the diocese until 1993, when Schulte told his new wife, Gail, what had happened to him. She urged him to go back to church officials. This time the church offered counseling, Schulte said, and asked how much money he wanted. Schulte said he didn't want money, he wanted only to be sure DeLuca was not still molesting boys.

Later that year, DeLuca moved home to Syracuse, retiring from the priesthood.

DeLuca was a fine priest, said Lou Angeli, 55, of Wilmington, who was an altar boy for him while at St. John the Beloved. Angeli said DeLuca was a good preacher and popular with the altar boys.

Despite DeLuca's popularity, though, Angeli said altar boys warned each other that he would try to "grab you" during trips he took to Manhattan with about 10 boys each year. The trips included Broadway shows, good food and beer if they wanted it, Angeli said. He now suspects they also included horrors for some kids.

Though Angeli said he was never abused by DeLuca, he and others felt sorry for any boy who had to share DeLuca's hotel room during the weekend trips.

"It was creepy and weird -- or however 12-year-olds think," said Angeli. "But we just thought it was a rite of passage. ... We would just pass the information down to the next group."

Tracking pedophile priests

No information about DeLuca was passed along to subsequent congregations, though.

Unlike criminally prosecuted sex offenders, whose names appear on publicly accessible registries, many priests have never faced charges -- either because their crimes have been hidden by church authorities or because the statute of limitations has expired.

Efforts to extend the civil statute of limitations in Delaware failed in the General Assembly last spring, but may be revived in January.

Members of the Survivors Network for those Abused by Priests (SNAP) and the lay group known as Voice of the Faithful called on the nation's bishops this week to disclose the names of all priests who have credible allegations against them.

Blaine, SNAP's president, acknowledged the stronger reporting requirements adopted by the bishops in 2002. Bishops then agreed to notify other dioceses of any priests living in their community who had credible allegations against them. Saltarelli notified the Syracuse diocese of DeLuca's residence there in 2003 -- 10 years after his move.

"When pedophile priests move, it's less likely they'll get therapy, less likely they'll be investigated and prosecuted, and more likely they'll be among families who are unaware of the crimes they have committed," Blaine said. "They owe it to the public, the police, and the parishioners to disclose the whereabouts of admitted, proven and credibly accused child-molesting clerics."

Contact Beth Miller at 324-2784 or bmiller@delawareonline.com.