Ex-Priest's Death Could Affect Suits
Accused Abuser Dies While Vacationing in Cancun, Mexico

By Jean Torkelson
Rocky Mountain News [Colorado]
November 17, 2006

http://www.rockymountainnews.com/drmn/local/article/0,1299,DRMN_15_5149918,00.html

The death of accused sex abuser and ex-priest Harold Robert White while he was vacationing with a Denver priest opens up fresh leads in pending lawsuits, an attorney suing the archdiocese said Thursday.

White, 73, died Tuesday of an apparent heart attack while vacationing in Cancun, Mexico, with the Rev. Ed Poehlmann, pastor at Presentation of Our Lady Parish in Denver, according to another priest.

In the 1990s, Poehlmann was pastor of a Minturn parish that was one of White's last assignments before leaving the active ministry. Since then, White has been accused of sexually abusing children from the 1960s on. He was defrocked in 2004.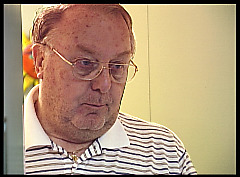 Harold Robert White was defrocked in 2004 after allegations came to light.




"I was shocked to learn (White) was vacationing not only with a priest, but a priest who apparently was his immediate superior on his last assignment," said Jeff Herman, an attorney involved in 19 of the 30 lawsuits filed against either White or Leonard Abercrombie, a priest who died in 1994.

Herman said he now plans to subpoena Poehlmann as well as the Rev. Patrick Kennedy, who said he had known White since the 1950s.

"White has already admitted to abusing kids," Herman said, referring to various statements White had made indicating that he was sorry for things in his past.

"You'd hope that at this point active priests in Denver would be offended by what he did. I understand the concept of forgiveness, and I'm not saying they can't forgive him, but they can choose not to socialize or take vacations with the guy. There have to be consequences."

Poehlmann could not be reached for comment.

Kennedy, 78, said Thursday that Poehlmann was still in Mexico handling arrangements for bringing back the body.

Kennedy said he became reacquainted with White when they ended up in the same retirement community. He last saw White about 10 days ago when he invited White and others over for dinner. He said White complained of not feeling well and left early.

Kennedy said rumors had circulated about White for years, and sometimes White would allude to the allegations.

"He accepted responsibility for some of them," Kennedy said. "For some of them he said, 'That's not true.' I know it troubled him very much, but every sinner has said as much. As Paul said (in scripture), 'I don't know why I do the things I do.' "

Kennedy praised Poehlmann for sticking by the disgraced priest. "There's a (prayer) group that religiously supported him, and they have not abandoned him, to their credit."

"Other people left him and he was out there on his own," Kennedy added. "He was very grateful anytime I'd invite him to supper."

One of the plaintiffs who accused White of sexually abusing him as a child said Thursday he was shocked by the death but did not believe it would affect his lawsuit.

Tom Koldeway, now 45 and living in Alaska, said White befriended his family when he was their pastor in Loveland in the 1970s.

"He did it by the book," Koldeway said. "He made himself totally friendly and trustworthy to my family. Over the years things progressed.

"The very first occasion (of abuse), I was 9. I was totally perplexed. 'What was that?' I thought. But he knew exactly what he was doing."

Koldeway said he and his brother have both filed lawsuits alleging abuse by White, but their real complaint is with the Denver archdiocese.

"My whole beef was not with White personally but with how the Catholic Church conducts its business," Koldeway said. "I want to see their documents. It's incredible what they can get away with."

The Archdiocese of Denver was informed of White's death but will respect the privacy requested by the family, said spokeswoman Jeanette DeMelo.