Two Priests Lived Quiet Lives after Allegations
Paul Calamari and Gerard Smit, Removed from Ministry, Have Worked As Teachers

By Mike Chalmers
News Journal [Wilmington DE]
November 19, 2006

http://www.delawareonline.com/apps/pbcs.dll/article?AID=/20061119/NEWS/611190335/-1/NEWS01

Two priests identified for the first time last week as accused child molesters apparently had tried to put the allegations behind them and slip quietly into private life.

Gerard Smit, 82, and Paul Calamari, 52, both were ordained in Louisiana but had worked in the Catholic Diocese of Wilmington, diocesan officials said.

The diocese named them and 18 diocesan priests Thursday, saying there had been substantiated allegations of child sexual abuse against them. The diocese has not released the specific allegations against them or any of the other priests.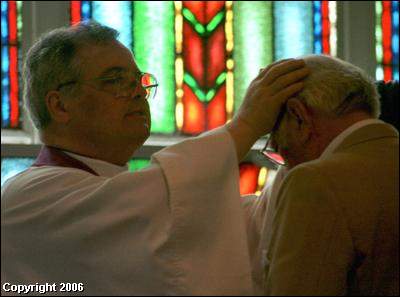 The Rev. Paul Calamari places his hand on the head of a member of the congregation during a 2000 service at Holy Cross Church.
Photo by News Journal file/CARLA VARISCO



Smit, who lives in a Bear apartment, refused to comment Friday on the allegations or the diocese's decision to name him publicly. Calamari, of Harrisburg, could not be reached for comment.

Smit was ordained in 1950 in the Diocese of Lake Charles. He was assigned to Immaculate Conception Church in Elkton, Md., in 1987 and removed from ministry in 1996.

Since then, Smit has volunteered his time teaching spirituality courses at the University of Delaware's Academy of Lifelong Learning and with the Interfaith Lay Academy, based at St. Paul's United Methodist Church in Brandywine Hundred.

The UD Academy is made up of volunteer instructors who offer courses on history, computers, art and other topics to adults age 50 and older. Instructors are not employees or contracted workers with the university, so there is no intention to ask Smit to resign, said Jim Broomall, assistant provost for professional and continuing studies.

Broomall said the university has not received any comments from Smit's current or past students about this week's disclosures of his past. Smit teaches spirituality courses on Tuesday and Wednesday mornings.

Smit's biographical sketch in the Academy of Lifelong Learning's course catalog said he retired after 14 years as a monk in the Netherlands and "many years of service in pastoral ministry in the United States."

Smit's Web site, which includes pictures of him and materials from his courses, said he has been teaching at the UD Academy since 1998. The site includes many references to Native American spiritualities and Christian mysticism.

"From the start, I had one purpose for my teaching in mind: 'to make people think for themselves,' or rather to teach people to 'dare' to think for themselves," Smit wrote on the site.

Calamari was ordained in 1980 in the Archdiocese of New Orleans. He came to Delaware in 1997 and worked in Hockessin, Dover and New Castle before being removed from ministry in 2003.

Until Thursday, the day his name was released by the Wilmington diocese, Calamari worked as a field supervisor for Pennsylvania State University's Center for Survey Research near Harrisburg. Biographical information about him on the center's Web site included his bachelor's and master's degrees in theology from St. Mary's Seminary in Baltimore but did not mention his time as an ordained priest.

The university's Web site also said he was a member of the National Education Association and had worked as a teacher, principal and system-wide administrator for the New Orleans Public Schools and the Archdiocese of New Orleans School System. Officials from those organizations could not provide information about Calamari on Friday.

University spokesman Steve Hevner said Friday morning that Calamari no longer worked for the university, and Calamari's biographical information was removed from the center's Web site by 1 p.m. Friday.

Calamari still works for the Pennsylvania Department of Corrections, spokeswoman Susan McNaughton said Friday. Since May 2005, he has been a part-time adult basic education teacher at the department's maximum security prison in Camp Hill, near Harrisburg, she said.

At least one of the priests named Thursday has remained active in church business, working as a liturgy consultant for a publishing house run by the Archdiocese of Chicago since 2002.

In 2001, the diocese removed Kenneth J. Martin, 61, from ministry after he pleaded guilty to sexual abuse of a Towson, Md., boy in the 1970s, before he was ordained.

Martin worked mostly out of his New Jersey residence but occasionally lived at the home of Cardinal Francis George, head of the Chicago archdiocese. The cardinal's home is near a Catholic elementary school, and the arrangement angered sex-abuse victims. In 2003, the archdiocese said Martin would stop living at the house.

E-mail: mchalmers@delawareonline.com