'Father Doug's' Secret Shocks Neighbors
Retired Priest Among Those Accused of Sex Abuse

By Beth Miller and Rachael Jackson
News Journal [Marydel MD]
November 19, 2006

http://www.delawareonline.com/apps/pbcs.dll/article?AID=/20061119/NEWS/611190340/-1/NEWS01

Many in the sleepy town of Marydel, Md. -- population 143 -- love the soft-spoken retired priest who lives on Main Street.

"Father Doug," as residents call him, has been a trusted friend, a helping hand and a comforting presence.

"To look and talk to him, you'd never know," said Perry Manning, 43, as she made a ham and cheese sub at the Main Street Market on Friday.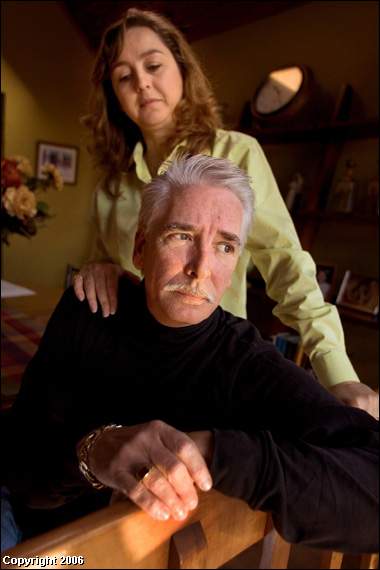 "The blackness that comes over you during a period of molestation takes a long time to go away," said Tom Ward, with wife Yolanda.
Photo by The News Journal/ROBERT CRAIG



Now they do.

They know why the Rev. Douglas W. Dempster retired from the ministry early. They know why he moved back to their little town on the Delaware line, where he lives in a corner house with his cocker spaniel, Tillie.

They have known Dempster for a long time. He had served Immaculate Conception parish there for 13 years earlier in his ministry. And he has been back for 13 years since his retirement in 1993.

But Thursday, Marydel learned the rest of the story -- from Bishop Michael A. Saltarelli of the Catholic Diocese of Wilmington. Dempster was one of 20 priests Saltarelli says have "admitted, corroborated or otherwise substantiated"

allegations of child sexual abuse against them. He was removed from public ministry, the diocese said, allowed to retire to Marydel and forbidden from representing himself publicly as a priest.

Because the statute of limitations had run out, Dempster was never charged or convicted of child sexual abuse.

Is he guilty? Ask Dempster, and he will repeat this sentence: "If anything happened, it's been taken care of."

Saltarelli left little room for "if" in the Thursday announcement.

But now the parents of the children in the area know what the church knew. Those parents can take whatever precautions they feel prudent. Or they can trust that Dempster won't do to their children what Tom Ward of Newark says Dempster did to him from the time he was 9 or 10 until about 17.

Decades of pain

Pat and Jack Ward were devout Catholics who had helped build St. John the Beloved Church in the Milltown area of New Castle County. Dempster was assigned to the parish in 1962, the same year he was ordained.

He joined other priests for dinner at the Wards' Hyde Park home.

"Dempster just about lived at our house," Tom Ward, now 54, who was an altar boy at the time.

But Dempster's friendliness took an ugly turn one evening when the priest told Tom's parents he would tuck the boy into bed.

First the priest started to rub his back. Then his hands moved to the boy's genitals.

Tom didn't know what was happening. It was 40 years before clergy sexual abuse would become a national scandal and long before anyone knew how pedophiles worked their way into innocent lives.

No one in the house knew and Tom would not find the voice to tell them until years after Dempster had moved on to other parishes.

For Tom, the words of a song came to his rescue as he endured the priest's molestation, and the same words returned as the priest continued and intensified it with other forms of sexual assault.

"Somewhere over the rainbow, way up high, there's a land that I heard of once in a lullaby."

The song gave Tom's mind an escape route from something he could not understand.

"The blackness that comes over you during a period of molestation takes a long time to go away," he said.

It would be another 30 years before he would connect Dempster's lust to his own damaged emotions and patterns of deceitfulness, hostility and alienation.

What Ward didn't know was that he was not the only boy experiencing that kind of betrayal.

Mike Schulte of Sherwood Park, told his parents in the 1960s that another priest at St. John the Beloved -- the Rev. Francis G. DeLuca -- had molested him during trips to Philadelphia and Richmond, Va.

Schulte's parents went to church officials.

The church sent Dempster to investigate.

Hushed allegations

Schulte, who moved to Virginia last month, remembers a private interview with Dempster in the bomb shelter of his family's Sherwood Park home. Dempster has said he remembers the bomb shelter, but not interviewing Schulte there.

When the discussion was over, Schulte says Dempster told the boy and his parents they were forbidden to mention it. The church would handle the matter.

Robert G. Krebs, spokesman for the Catholic Diocese of Wilmington, said last week that church officials have found no record of allegations against DeLuca until 1993.

That's the year Schulte went back to church officials with his complaint. That's the year the congregation at St. Joseph on the Brandywine was told DeLuca was retiring "for health reasons."

That's the year Tom Ward says he told church officials he had a tape recording of Dempster talking about their sexual activity in a phone call. He says he met with church negotiators, turned over the tape and signed a confidentiality agreement. In exchange, he got a check for $100,000.

It's the year Dempster moved back to Marydel.

Secrets unfold

Syracuse, N.Y., was stunned last month when Dempster's old friend, DeLuca, now 77, was arrested and charged with sexually abusing a teenager there for at least five years. The boy, now 18, told his parents about the former Delaware priest. Syracuse police say DeLuca confessed to them.

When DeLuca's crimes became public, Tom Ward decided it was time for Dempster's name to come out, too. Schulte's abuser, DeLuca, had been investigated by Ward's abuser, Dempster, 40 years ago.

The two priests, their superiors, those who might have wondered why Dempster took young Tom Ward to his one-bedroom rectory room so often, had kept their secrets long enough.

Ward agreed to talk to The News Journal for a possible story last month, and the newspaper visited Dempster in Marydel.

"I did everything I could to protect," Dempster said that day, about two weeks before Saltarelli revealed his list of names. "I tried hard to protect."

Dempster didn't say who or what he was trying to protect with his investigation of DeLuca.

Asked about allegations against himself, Dempster would only say: "If anything happened, it's been taken care of."

Asked about the present, he was firm.

"No such activity is going on," he said with a flash of anger.

Ward said he went back to church officials after speaking to The News Journal and told them he planned to tell his story publicly. He could not live with the fear that others might be harmed because they did not know the truth.

The diocese no longer requires victims to maintain confidentiality when settlements are made, a change in policy that followed the national scandals in 2002.

Ward knew he could tell his story. But he waited two weeks, believing -- correctly -- that Saltarelli might release more names.

Community surprised

Marydel now knows the truth about Dempster, 69. But it came as a shock to many.

Landscaper Ernest Carlisle, 74, of Smyrna, had trouble believing the report. He gave the retired priest high marks.

"I'd say he's a 10," said Carlisle. "He goes around to the hospitals to pray over the people that are real sick. It really surprises me. I'd never believe that out of him."

Orlando Bautista, 32, who lives across Main Street from Dempster, felt the same shock. His 2-year-old daughter, Nicole, was at his feet as he talked, but Bautista is not worried about her safety.

"He's very loved by the people here," Bautista said.

A sign that reads "God bless" is in a front window of Dempster's house. A floodlight sits in front of a stained-glass window. He enjoys tending his garden and walking Tillie through town.

"I'm just doing my best to live a good life," he said. "I've been here for years, watched people grow and cared for them. You talk to people and they say, 'We're praying for you.' "

The church teaches compassion, mercy, forgiveness -- and priests need such graces as much as anyone.

"If people are living a good life, can't they be left alone?" Dempster asked. "Everybody has to find healing."

But the church also teaches about truth, too. Ward's wife, Yolanda, hopes her husband -- and other victims -- will find support as they deal with it.

Tom Ward has dark days and nights. He has stuffed his story into a mental "box" and rarely revisits it, fearing he might slip back into the "black hole" and never return.

"I never understood why I never had an identity," he said.

And he wonders who he might have become had he never been abused.

Ward has not lost his faith in God. For a long time, he couldn't bring himself to enter a church, so he would just sit in the parking lot and pray. But Yolanda has been God's gift to him, he said, helping him to live and love again.

He has found strength in the support of the Rev. John Hynes, pastor of St. Catherine of Siena Church, whom he trusts. He has struggled to connect with support groups for victims. And he does what he can to help others.

But the torment continues. It is not over for Tom Ward. It has not been taken care of.

"I have to make a conscious effort every day to choose between right and wrong," he said, "to get up or stay in bed, to want to be a functioning human being in society or to pull the covers over my head."