Bishop Avoids Charge in Failure to Swiftly Report Abuse Claims
Counseling Instead of Misdemeanor for Delay in Notification

By Jim Doyle
San Francisco Chronicle [California]
November 21, 2006

http://sfgate.com/cgi-bin/article.cgi?f=/c/a/2006/11/21/BAGHLMGU881.DTL

The bishop of the Santa Rosa Catholic Diocese has agreed to undergo a four-month counseling program rather than face misdemeanor charges for failing to immediately notify Sonoma County law enforcement officials about a priest's alleged molestation of underage boys.

Bishop Daniel Walsh plans to enter a "pre-filing diversion" program in lieu of being charged with violating a state law requiring the clergy and others to report evidence of sexual abuse in a timely manner.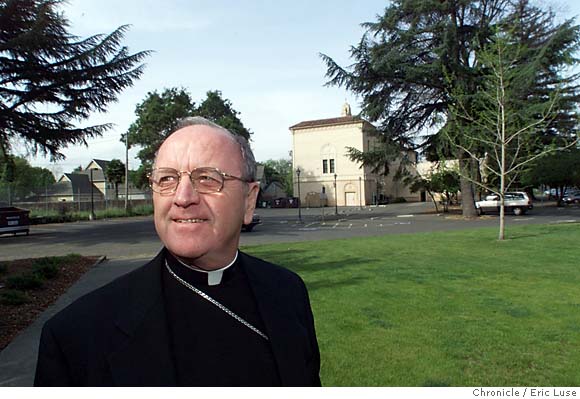 Bishop Daniel Walsh took over the Santa Rosa Diocese pledging a zero-tolerance approach to misconduct.
Photo by The Chronicle file, 2000 / Eric Luse


"He's happy to have the opportunity to go into a diversion program," Deirdre Frontczak, a diocese spokeswoman, said Monday.

"We looked at this matter very closely," said District Attorney Stephan Passalacqua. "Bishop Walsh admitted wrongdoing, has no prior record, and is eligible to enroll in this program."

Walsh had pledged an era of "zero tolerance" of sexual misconduct when he took over the scandal-ridden Santa Rosa Diocese in 2000. Walsh established in-house training for diocese officials on how to handle sex abuse cases and a protocol for notifying authorities of such incidents.

"In these types of cases, there is a sense of urgency that cannot be compromised. There's no excuse for delay," Passalacqua said. "It is clear that Bishop Walsh should have known of his obligations to immediately report the matter involving Francisco Ochoa."

The Rev. Francisco Ochoa-Perez, who is also known as Francisco Xavier Ochoa, had served as an assistant pastor at St. Francis Solano Catholic Church in the town of Sonoma. The 68-year-old priest is believed to have fled to Mexico in early May. Prosecutors filed a criminal complaint in June charging him with 10 felonies involving sexual assaults and lewd conduct with three minors.

The diocese informed the county's Child Protective Services agency three days after Ochoa's alleged confession to Walsh of three incidents of child sexual abuse.

"There's no evidence that any members of the diocese intentionally played a role in helping Ochoa flee the country," Passalacqua said.

Mary Grant, western regional director of the Survivors Network of Those Abused by Priests, said that her group was disappointed by the district attorney's decision not to file charges.

"It's a narrow, legalistic view to say that the bishop is a first-time offender, when you look at decades of church officials collectively covering up these horrific crimes by clergy," Grant said. "It's a light slap on the hand, and it's a slap on the face for every child at risk and every victim who has already been abused by clergy."

In October, eight alleged victims of Ochoa filed a lawsuit in Sonoma County Superior Court, accusing the Diocese of Santa Rosa of failing to protect them as minors from incidents of sexual abuse spanning two decades.

The alleged victims, who are now between 11 and 34 years old, include seven former altar boys and a girl. The incidents occurred in Ochoa's living quarters and the children's homes from 1985 until May of this year, the suit alleges.

In a bulletin to parishioners, Walsh said that Ochoa admitted sexual misconduct with minors on April 27. The bishop apologized for making "an error in judgment" by consulting with the diocese attorney instead of reporting the case promptly to the police.

"The bishop is a priest and is trained to deal with sinners," diocese spokeswoman Frontczak said. "I don't think it crossed the bishop's mind that this priest was a criminal and a flight risk. His first response was not to put him under lock and key."

E-mail Jim Doyle at jdoyle@sfchronicle.com.