Reaction: Catholics Praise Deal; Victim Advocates Angry

By Guy Konver
Press Democrat [California]
November 21, 2006

http://www1.pressdemocrat.com/apps/pbcs.dll/article?AID=/20061121/
NEWS/61121001/1033/NEWS01http://www1.pressdemocrat.com/apps/pbcs.dll/
article?AID=/20061121/NEWS/61121001/1033/NEWS01

Rank-and-file Catholics supported the decision not to prosecute Santa Rosa Bishop Daniel Walsh for allegedly failing to report suspected child abuse, while advocates for victims of sex abuse by priests railed against it.

One critic called it a "sweetheart deal" between the 69-year-old bishop and Sonoma County District Attorney Stephan Passalacqua, while local Catholics called it an acceptable response to a thorny legal and moral issue.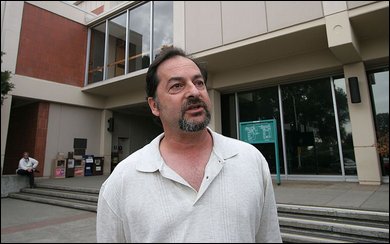 Joey Piscitelli of Survivors Network of those Abused by Priests denounced Passalacqua's decision as a "sweetheart deal" Monday in front of the Sonoma County Courthouse.
Photo by Jeff Kan Lee / PD


"It seems like a reasonable way to pursue a reconciliation, if you will," said John Storm, a retired federal probation officer and member of Holy Spirit Parish in Santa Rosa.

Walsh, who has headed the 167,000-member North Coast diocese since 2000, said Monday he would accept Passalacqua's offer of a four-month counseling program in lieu of prosecution.


WHAT HAPPENED
Santa Rosa Bishop Daniel Walsh was accused of failing to immediately report suspected child sex abuse by the Rev. Francisco Xavier Ochoa of Sonoma, who remains a fugitive.

State law requires a report be made immediately by phone, and in writing within 36 hours of learning of suspected abuse.

Failure to do so is a misdemeanor punishable by $1,000 fine and six months in jail. But suspected first-time offenders with no criminal history must be offered a diversion program, said Sonoma County District Attorney Stephan Passalacqua. He made that offer to Walsh, who accepted it Monday.

The four-month counseling program is run by the California Human Development Corp. Passalacqua said that last year his office referred more than 1,000 cases to the diversion program.

Participants, who pay $350 to participate in the program, initially are evaluated by a case worker to determine what steps are needed to deal with the root causes of the criminal involvement. The participant signs a contract agreeing to complete the program requirements.

Contract requirements under the program are confidential.


It came after a lengthy investigation by the Sheriff's Department and deliberations by the District Attorney's Office over the allegation that Walsh failed to file a timely report of the Rev. Francisco Xavier Ochoa's alleged abuse of children.

"This seems to acknowledge that there was a mistake in judgment" by Walsh, said Cindy Vrooman, a member of St. Leo's Parish in Boyes Hot Springs.

Vrooman, who previously criticized the bishop's handling of the Ochoa case, said she did not expect Walsh to go to jail, "but I didn't want it to be totally ignored, either."

Financier Henry Trione, who joined 12 other civic leaders in signing a letter supporting Walsh in August, called the outcome "a very amicable solution."

He said the decision enables Walsh to get on with managing church affairs. "He's got a full plate," Trione said, adding Walsh has "gotten this diocese back on an even footing."

Storm said he appreciated Passalacqua was in a "tight position" in contemplating prosecution of a misdemeanor that rarely goes to court.

First-time offenders in minor misdemeanors, such as passing bad checks, battery and public intoxication, typically are offered counseling as a diversion from the criminal justice system, defense attorney Nathaniel Raff said.

"It's not outside the realm of what I would expect in a case like this," he said.

Laura Gonzalez, St. Rose Parish council president, said she didn't believe Walsh "intentionally let Ochoa slip away."

"If Walsh had been charged, it would have merely been a way of going after him for the sins of other bishops for other crimes," Gonzalez said. "Fair is fair."

Embroiled in allegations of sexual misconduct by priests since 1994, the Santa Rosa Diocese has paid or promised to pay nearly $20 million to dozens of victims.

Critics cited the diocese's history in faulting Passalacqua's decision.

"We still have serial molesters in Santa Rosa, and we still have people who harbor them and protect them," said Joey Piscitelli of Martinez, a Bay Area leader of Survivors Network of those Abused by Priests, a national support group known as SNAP.

Piscitelli, standing in front of the Sonoma County Courthouse on Monday afternoon, called Passalacqua's decision a "sweetheart deal."

David Clohessy, national director of SNAP, complained that "not a single church official" has faced criminal prosecution in sex abuse cases involving more than 10,000 victims.

Passalacqua's decision "sends a signal that the high and mighty can disregard kids' safety and get by with it," Clohessy said.

Michael Fiumara, a Santa Rosa attorney representing Ochoa's alleged victims, said Walsh "got a little slap on the wrist."

"He said he came here to implement zero tolerance" for child sex abuse, Fiumara said. "He didn't do that. He failed miserably."

On one point, both critics and local Catholics concurred: Ochoa, who is believed to have fled to Mexico, should be brought to justice.

"What I regret is that Ochoa is still on the loose, and I hope he's not near any other boys," said Yvette Fallandy, chairwoman of executive board of the Diocesan Pastoral Council, a lay group that advises the bishop.