Fort Worth Diocese Settles Sex Abuse Suit

Associated Press, carried in WFAA-TV
November 22, 2006

http://www.wfaa.com/sharedcontent/dws/wfaa/latestnews/stories/wfaa061122_mo_priestsuit.15daf637.html

Fort Worth - The Catholic Diocese of Fort Worth has settled a lawsuit filed by 11 men who accused an Arlington priest of sexually abusing them while they were serving as altar boys.

All the terms of Wednesday's settlement will not be revealed. But it includes at least $1 million and requires the diocese to pay for one year of counseling for each of the men, attorney Tahira Khan Merritt said in Wednesday's online edition of the Fort Worth Star-Telegram.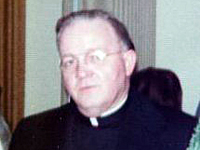 Rev. James Reilly


"I think that the closing of this part of the case will bring some closure to the guys," said Merritt, who represented the men.

The 11 men accused the Rev. James Reilly of fondling and kissing them while serving at St. Maria Goretti Catholic Church in Arlington. Reilly, who led the parish from November 1967 to September 1987 and was an instructor at Holy Trinity Seminary in Irving, died in 1999 from complications of Alzheimer's.

As part of the settlement, the diocese will remove Reilly's name from buildings and plaques at the parish. A trust fund worth about $600,000 that Reilly established for the diocese will be used to pay for counseling the sexual abuse victims of Fort Worth clergy, Merritt said.

Bishop Kevin W. Vann, who took over the diocese's leadership last year, will hold Mass at the parish acknowledging the abuse and apologize to the victims, Merritt said.

Vann said he has been working to coordinate a Mass of Reparation at St. Maria Goretti Church to ask God's forgiveness and to publicly acknowledge the crimes against the victims.

"It is absolutely necessary that we apologize in a public manner for these actions by James Reilly which have brought so much turmoil into the lives of these men," Vann said in a statement Wednesday.

Five of the men live in Tarrant County and the others live in Harris and Travis counties, Virginia and Washington.

Their lawsuit also alleged that Bishop Joseph P. Delaney, who died in 2005, "spirited Reilly out of Texas" in 1987. It contends Delaney had knew Reilly was a sexually predatory cleric.