Man Alleges Priest Abuse As Altar Boy

By Marybel Rodriguez
CBS 4
November 28, 2006

http://cbs4.com/topstories/local_story_332173653.html

(CBS4) Miami An attorney who has specialized in bringing sex abuse lawsuits against the Archdiocese of Miami announced the filing of another suit, involving alleged sexual abuse of a minor by a former Miami priest.

John Kleer, the alleged victim, joined Attorney Jeffrey Herman in making the announcement, claiming he had been sexually assaulted by Father Gustavo Miyares. It claims that Kleer was abused on many occasions in the 80's when he was an altar boy, including at the church rectory,

Unlike many victims who have remained anonymous as they file their lawsuits, Kleer decided to bring his story to the public. He's 39-years-old now, married, and has a 12-year-old daughter.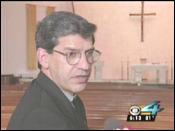 File: Gustavo Miyares
Photo by The CBS



"I can't hide it anymore," said Kleer. "It's destroyed me."

Kleer said he aspired to be a priest as a boy, but Miyares told him these are the things he must do to become a priest.

This is the second day in a row that lawsuits against the Archdiocese of Miami are announced. Monday, a woman who claims a priest forced her to have sex sued the Archdiocese for negligence and vicarious liability. She even claimed she got pregnant from the priest and was asked by him to get an abortion.

Miyares had already admitted to similar allegations brought against him by another victim last month, and has since resigned.