Bishop Apologizes for Priest Abuse but Not for Cover-Ups
Victims Angry over Response of Fort Worth Diocese

By Brooks Egerton
Dallas Morning News
November 29, 2006

http://www.dallasnews.com/sharedcontent/dws/news/localnews/stories/113006dnmetdiocesefolo.391fab9a.html

Fort Worth – Bishop Kevin Vann apologized profusely Wednesday for sexual abuses by priests of the Fort Worth Catholic Diocese, but he repeatedly declined to criticize the cover-ups that left some clergymen in ministry and sometimes enabled them to hurt more people.

"Not being here at the time those decisions were made, I can't say they should have done this or that," said the diocesan leader, who succeeded the late Bishop Joseph Delaney last year.

His remarks, made at a news conference, angered victims of the seven priests whose personnel files were unsealed Tuesday after a 19-month court battle by The Dallas Morning News and Fort Worth Star-Telegram.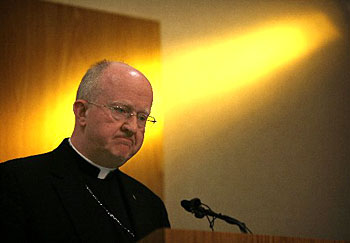 'Not being here at the time those decisions were made, I can't say they should have done this or that,' said Bishop Kevin Vann. He apologized for the sexual abuses by priests that were detailed in documents released Tuesday.
Tom Fox/DMN



The records showed in graphic detail that diocese leaders knew about abuse and concealed it from parishioners, police and the public for two decades.

The records also have drawn interest from Tarrant County prosecutors, who are "reviewing all the publicly available information to make a determination about whether there's anything to investigate," said David Montague, a spokesman for the Tarrant County district attorney's office.

One of the victims, Rick LaChance, said he was disappointed in Bishop Vann.

"What I really, really wanted – No. 1 on my list – was for him to acknowledge what happened, acknowledge it was covered up and apologize for both," said Mr. LaChance. "Instead, it's more of the same.

"When people read this, they're going to say, 'Why? Why? Why is he refusing to apologize for this cover-up?' "

Mr. LaChance and 10 other men who were abused as boys by the Rev. James Reilly won a settlement from the diocese last week totaling more than $1 million.

Mr. LaChance said that one of Bishop Delaney's top aides lied to him years ago when he complained about abuse. "He told me, 'You're the only one,' " Mr. LaChance said.

Documents released Tuesday show that the diocese's former chancellor, the Rev. Robert Wilson, incorrectly told one unidentified Reilly accuser "that we knew of no other similar incidents with minors." In a subsequent memo, Father Wilson wrote that he had forgotten about prior complaints.

A mother who complained about another priest's conduct with her son said diocese officials had lied to her, too.

She said they promised her that the Rev. Philip Magaldi was moving to Florida and would never live or work again in the Fort Worth Diocese. The priest did move there but later returned and has been celebrating Mass at a North Richland Hills retirement home.

"They have betrayed our trust greatly," the woman told The News. "I'm so angry I don't know what to say."

According to the records, the woman complained in 2000 that Father Magaldi approached her 17-year-old son, after the death of the boy's grandfather, and said, "Kiss me. I love you. I've always loved you," then held the boy in a long embrace.

At the time, Bishop Delaney had recently restored Father Magaldi to ministry after abuse complaints.

Another Reilly victim, speaking on the condition that he not be identified, said Wednesday that church leaders are worried about fallout from the records' release.

"Now the wrath of Khan has hit, so to speak," he said. "It's all public now. It is blatant. It's not just us flapping our gums."

The Reilly victims were represented by Dallas lawyer Tahira Khan Merritt. She said that the records reflect "a pattern and practice that is consistent [in Catholic dioceses] nationwide of protecting priests over the safety of children."

At the news conference, Bishop Vann said he has had no contact with law enforcement since the records were released and wasn't sure whether he would voluntarily turn them over to criminal investigators. The copies released under court order to the newspapers were heavily redacted, with many names and dates removed.

Bishop Vann said he was "embarrassed, disheartened, appalled and angered" by the abusers' conduct. The records describe complaints that priests plied minors with alcohol, fondled prepubescent girls, attempted sex with older boys, trolled for kids in chat rooms and even used enemas for sexual gratification.

"This sinful and criminal behavior is extraordinarily painful for those who have suffered abuse," Bishop Vann said, reading from a prepared statement. "As a church, we are united to that pain. Though we cannot experience it at the same level as those who have been directly violated, our unity within the body of Christ makes that pain our own as well."

The bishop said that he was shocked to read in The News that the priest associated with the enemas, Father Magaldi, has continued to celebrate Mass at the North Richland Hills retirement home where he lives, in defiance of orders to cease all ministry.

Father Magaldi told The News on Tuesday that he didn't think he'd done anything wrong, despite numerous accusations spanning many years, and couldn't think of anything he would do differently.

Bishop Vann said he plans to ask the Vatican to permanently remove Father Magaldi from the priesthood. He said he has already begun the same process for the Rev. Rudolf "Rudy" Renteria, who has not responded to interview requests.

The bishop said he was "working to determine the feasibility of monitoring these two individuals," who do not live on church property. He said he did not know what Father Renteria does for a living today.

Bishop Delaney was told in 1981 that Father Renteria had taken a 14-year-old boy to bed and fondled him, the records released Tuesday show. He responded by transferring Father Renteria to a small town near the Oklahoma border and later to Lewisville, where he abused another teenager.

After a stint at a treatment center in Canada, the priest returned to Texas and worked as a hospital chaplain in Dallas. He stayed on duty until 2002, when the first victim's father reminded Bishop Delaney of the 1981 abuse and sought assurances that Father Renteria was no longer in ministry.

Father Renteria "was very contrite about his past offenses, which he admitted freely," Bishop Delaney wrote in a formerly secret memo.

E-mail: begerton@dallasnews.com