Bishop Didn't Want to Know More

Star-Telegram [Fort Worth TX]
November 29, 2006

http://www.dfw.com/mld/dfw/news/16121793.htm
[See related articles on the Fort Worth files, and the accused priests Hanlon, Hoover, Howlett, Magaldi, and Renterķa. See also the documents on which this series is based, with links to assignment records and background information.]

The Rev. James Joseph Reilly

Ordained: Oct. 14, 1945, Dallas-Fort Worth

Died: May 2, 1999

Assignments: Christ the King, Dallas; Sacred Heart, Wichita Falls; St. George, Fort Worth; Sacred Heart, Wichita Falls; Immaculate Conception, Denton; St. John parish and school, Ennis; St. Andrew, Laneri High School, Fort Worth; St. Augustine and Holy Spirit Seminary, Dallas; Holy Spirit Seminary; Our Lady Queen of Peace, Wichita Falls; St. Maria Goretti, Arlington; Holy Trinity Seminary

Monsignor James Reilly drifted out of life in the fog of Alzheimer's disease in 1999, even as painful memories kept his accusers coming forward.

As one man wrote to the diocese in 2000, "It's amazing that, even though he's dead, he still exerts some control in my life."

In court documents, 11 men have said the priest abused them when they were children in his Arlington parish, St. Maria Goretti Catholic Church.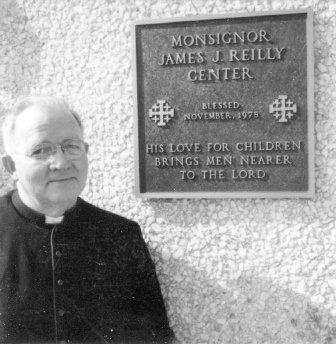 James Joseph Reilly


Several reported their accusations to the diocese. At least one said he was told no one else had made similar allegations.

"I felt alone and ashamed," one man wrote in a sworn statement.

Other accusers have told the Star-Telegram that they learned of other allegations only after Bishop Delaney released the names of accused priests last year.

Last week, the diocese agreed to a settlement with the men who sued. The group will receive at least $1 million, though exact financial terms weren't revealed, at the men's request.

Sidestepping the problems

Diocese files refer to several accusers but indicate that Delaney and other church officials were protective of Reilly and wary of bad publicity.

Delaney deliberately avoided asking questions of at least one accuser. The released files do not show any documented effort to find other possible victims until years after the first allegations surfaced. And the officials worried about increasing costs when dealing with one accuser's counseling bills.

Among the first accusers was a man who wrote Delaney in July 1994 to say he and other young men were sexually harassed and abused by Reilly while serving as altar boys.

Reilly's accuser wrote: "I know for sure that another friend of mine was also abused during the years that we served as altar boys and Eucharistic ministers."

The man, then about 30, said Reilly had abused him when he was about 16, according to an Aug. 26, 1994, note written by the Rev. Joseph Schumacher in the confidential files.

The reason for his letter to the bishop was simple: "... I hope that the correct steps are being taken to help those who were hurt to find healing."

It wasn't the first time Delaney had heard allegations against Reilly, according to an Aug. 9, 1994, letter Delaney wrote to Reilly.

"I'm assuming that what happened was along the lines of the previous case that involved allegations against you a couple of years ago," he wrote.

Delaney didn't ask Reilly what had happened in the new case, and he made it clear that he wasn't going to ask the accuser.

"... I truly don't want to write him for more details since he seems to be willing to let it go by simply informing me," Delaney wrote.

The next day, Delaney wrote to the man and expressed his sorrow about what had happened. Delaney wrote that he had previously heard "an allusion to something having happened in the past, probably similar to what you experienced" involving Reilly.

"Yours is the first concrete report about misconduct with young people," Delaney wrote.

Delaney followed a church policy of sharing the information about an allegation with other bishops, according to the files. Delaney did so with the bishop in Philadelphia, where Reilly was living at the time.

Reilly called Delaney on Aug. 13 and said he had never done anything improper, Delaney wrote in the confidential files. "I shared with him my knowledge of accusations ... without revealing the source, and other unconfirmed suggestions I had heard. He was shocked and denying."

Delaney also assured Reilly that he would help if the aging priest were forced to leave Philadelphia.

Delaney learned in 1997 that Reilly was angling for a church honor through New York Cardinal John O'Connor. Delaney wrote O'Connor and asked him to drop it.

"Because of certain events in the past which have come to light in recent years, I fear that any publicity about Monsignor Reilly receiving any honor or recognition could lead to adverse publicity in this area which would cause him serious personal distress as well as harm to the local church."

Denials of 'similar incidents'

In 1998, another allegation was made against Reilly. A man in his 30s told the Rev. Robert Wilson of the Fort Worth Diocese that Reilly had fondled him when he was 11, according to the files.

Wilson told the man that Reilly was living in a rest home in Philadelphia, was suffering from Alzheimer's and "probably would not be competent to answer."

"I told him of the adult who had complained of a similar incident several years ago ... and of the fact that JR had denied it. ..."

But he told the man that "we knew of no other similar incidents with minors."

Wilson's notes add that he had forgotten at the time about the previous complaint involving a minor. The diocese offered the man counseling, which he accepted.

But 15 months later, Wilson wrote to the man, pointing out that he had been in counseling three months longer than the "normal time that we provide counseling for victims of sexual misconduct."

Wilson said he did not want to discontinue payment for the victim's counseling or medication. But on Oct. 27, Wilson questioned the man about payments, saying the diocese was being treated like an "insurance company."

Angered, the man wrote that he easily could have sought compensation from the diocese:

"... I didn't want anything to do with your money, I just wanted my life back -- the one that was so horrendously taken from me by a Catholic priest, someone I looked up to and trusted. ...

"You cannot ever hope to know the extent of the disfigurement he did to my inner self. He affected every facet of my life, from interacting with my family and friends to having relationships with a significant other."

The man said that the healing process was going slowly but that when he was healed, the diocese would know.

"Until such time, I don't expect to receive any more notes quibbling over a few dollars."

Wilson wrote back, apologizing but saying that by March 31, 2001, "we will bring our relationship to a conclusion." Wilson noted that, by then, the diocese would have exceeded its counseling provisions for sexual abuse victims by a year.

By April 29, 2002, the man wrote to Wilson saying he wanted assurances that the diocese was doing everything it could "to bring to light any past violations by clergy, no matter their present positions in the church."

In response, Wilson wrote that Delaney "has always been up front in dealing with accusations openly and honestly and with expedition. ..."

In May 2002, Delaney met with another man who accused Reilly of kissing and fondling him. The man also told him of two others who said they had "the very same experience with" Reilly.

One of Reilly's accusers, who lives in Tarrant County, told the Star-Telegram on Tuesday that he believes the church has made changes, but only because the weakest people -- victims -- have demanded them.

Of the settlement with the diocese, the man said, "The church did the bare minimum."

"It's ridiculous," he said. "There's no accountability here."