Process to Defrock 2 under Way

By Darren Barbee
Star-Telegram
November 30, 2006

http://www.dfw.com/mld/dfw/news/16130366.htm

Fort Worth -- Fort Worth Bishop Kevin Vann said Wednesday he is seeking to have two priests accused of sexual abuse defrocked.

"We are close to completing a process I began months ago to submit Philip Magaldi's case to the Holy See [in Vatican City] for laicization," Vann said at a press conference. "[Rudolf] Renterķa's case is already in Rome awaiting their decision."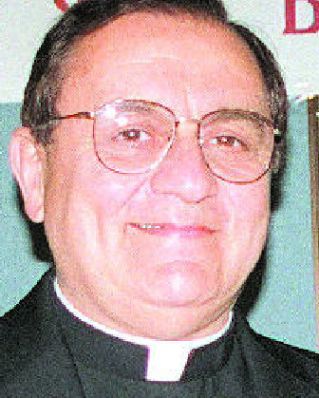 Phillip Magaldi


Vann said he is studying the feasibility of monitoring the two priests while the effort to remove them from the priesthood is pending. He added that such action would only be taken "subject to their individual rights."

Vann's announcement came a day after a state district judge released about 700 pages of documents relating to six priests, including Magaldi and Renterķa, accused of sexually abusing minors.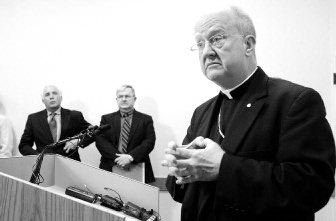 "I deeply regret the damage and struggles that endure to this day because of the abuse of any victim at the hands of a priest," Bishop Kevin Vann said Wednesday in Fort Worth.
Photo by The Star-Telegram / Jeffery Washington


"I want to reiterate today that I am embarrassed, disheartened, appalled, and angered by the behavior described in these files," Vann said.

The files revealed that Vann's predecessor, Bishop Joseph Delaney, and other church leaders intentionally misled the public, their congregations and the priests' accusers. The files, which consist of notes, memos and e-mails, also show that fear of bad publicity and lawsuits often influenced diocese leaders' actions. Delaney died last year. Vann became bishop after most of the accused priests had left the diocese.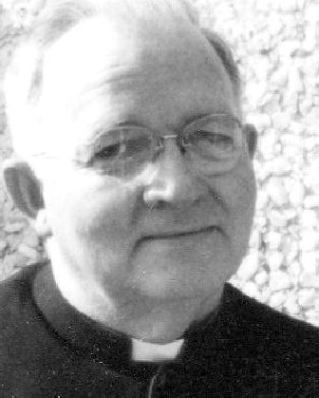 James Reilly


The files include many allegations, some of which date back decades. They include no mention of reports to police or other law enforcement agencies.

A diocese attorney has said the bishop and his subordinates followed the law on reporting abuse. But in Tarrant County, that apparently did not include contacting the district attorney's office.

David Montague, a senior staff lawyer for the Tarrant County district attorney's office, said he was unaware of any allegation of child abuse brought forward by the diocese. Montague said he has worked in or supervised the agency's Crimes Against Children Unit since 1990.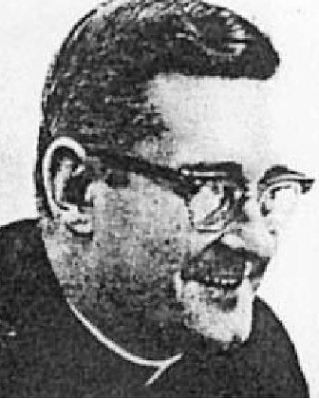 William Hoover


"I'm pretty certain that if any allegations of that nature had been brought to the office, it is very likely that I would have been informed of that situation," Montague said.

Vann wouldn't say at a Wednesday news conference whether he would volunteer the files of accused priests to local law enforcement.

"I would need to think about that," said Vann, noting that the diocese would cooperate with civil authorities if asked.

However, he noted that church policy now requires that any new allegation be reported to authorities.

Delaney was accused of hampering law enforcement in the 1990s. The former sheriff and former district attorney of Eastland County have told the Star-Telegram that they tried to contact the diocese about sex abuse allegations against a priest and were rebuffed.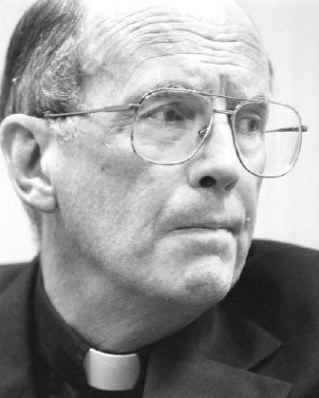 Joseph Delaney


Delaney said in 2005 that he was unaware of law enforcement officers' attempts to contact him.

At the news conference Wednesday, Vann also said he was shocked to learn in published reports that Magaldi claims to be holding services in the assisted living center where he lives. Vann had forbidden Magaldi to do so in August. "I will address this issue with him immediately and directly," Vann said.

Magaldi retired from ministry in April 1999 after two similar allegations of sexual abuse and the threat of bad publicity forced Delaney to remove him.

Magaldi, who couldn't be reached for comment this week, has denied the accusations.

But Magaldi's friend and caregiver, Jerry Koller, said he does not believe the priest has been capable of leading services because he is legally blind, needs help walking and suffers from dementia.

Renterķa was removed from priestly service in 2002 because of allegations that he sexually abused a minor in 1981. A news release issued at the time said Renterķa couldn't confirm or deny the allegation because of the influence of alcohol.

Renterķa could not be reached for comment this week. Vann said the diocese has not been able to reach him to notify him of plans to defrock him.

In 2000, Renterķa was accused of sexually abusing an 18-year-old, and denied it, according to the files.

Defrocking a priest is usually a time-consuming process, said the Rev. Thomas Doyle, a vehement critic of the church who once served as a church lawyer for the Vatican in the United States. He has also testified across the country in sexual abuse lawsuits against Catholic priests and bishops.

A priest can petition for the process, called laicization, Doyle said. Evidence that a priest has sexually abused children or is a legal liability can also lead to defrocking, he said.

Next to excommunication, "defrocking is about the worst thing that could happen" to a priest, Doyle said. But he noted that a defrocked priest can still perform emergency duties, such as saying prayers for a dying person.

The files released Tuesday had been sealed as part of a sexual abuse lawsuit against the diocese that was settled last year. Other priests named in them were the Revs. William Hoover, John Howlett, James Reilly and James Hanlon. Hoover, Reilly and Hanlon are dead.

Howlett lives in Ireland under the supervision of his religious order, according to court documents.

On Wednesday, some Catholics expressed anger and dismay over the contents of the files, which were released by state District Judge Len Wade after months of legal wrangling.

Lisa Kendzior, who lives in Southlake, said she was disgusted and disappointed. She said the files show a violation of trust between leaders and ordinary Catholics.

"It shows me they weren't looking out for us," she said. "My heart aches for those victims that have suffered from the decision that those leaders made that enabled it to happen."

Kendzior, a representative of the Voice of the Faithful National Council, a Catholic advocacy group that pushes for transparency within the church, said Vann's job now is to rebuild trust in the diocese.

At the press conference, Vann again apologized to anyone who has been abused by a priest. "I deeply regret the damage and struggles that endure to this day because of the abuse of any victim at the hands of a priest," he said.

He added: "This sinful and criminal behavior is extraordinarily painful for those who have suffered abuse. As a church, we are united to that pain."

Darren Barbee, 817-390-7126 dbarbee@star-telegram.com