Pedophile Not Listed on Web

By Elizabeth Hardin-Burrola
Gallup Independent
November 30, 2006

http://www.gallupindependent.com/2006/nov/112906ehb_pedophile.html

Gallup — When Navajo County Superior Court Judge Gloria J. Kindig sentenced James M. Burns, a former Catholic priest with the Diocese of Gallup, to prison for two counts of sexual conduct with a minor, she ordered that he be registered as a sex offender.

Anyone who thinks that means Burns is now listed on the Arizona Department of Public Safety's sex offender Web site can think again.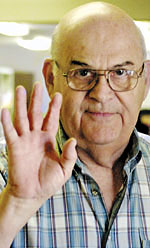 James Mathew Burns, a former Diocese of Gallup priest, is shown in this May 11, 2005 file photo. Even though Navajo County Superior Court Judge Gloria J. Kindig ordered Burns to be registered as a sex offender after he completed his term in prison, Burns is not listed on the Arizona Department of Public Safety's sex offender Web site due to his classification as a Level 1 sex offender.
Photo by The Independent


He's not. And he's not alone in that exemption. Because of Arizona state law, not all convicted sex offenders are listed on the Web site. The state classifies sex offenders with risk assessment scores of Level 1 (Low) to Level 2 (Intermediate) or Level 3 (High), and only sex offenders at the latter two levels require public notification like the Web site listing.

What that means is a person can be living next to a convicted sex offender in Arizona and not know it. And for sex offenders like Burns, past information is hard to obtain without searching police reports and court files, and current information may be withheld from the public.

Protected criminal history

Burns, reportedly living once again in Wickenburg, Ariz., pleaded guilty on Sept. 2, 2004 after a victim brought his allegations of sexual abuse to the Winslow Police Department and Navajo County authorities subsequently filed criminal charges. According to the police report and court documents, Burns sexually abused the victim in the early to mid-1980s while serving as a priest at St. Joseph's parish in Winslow. Prior to working in Winslow, Burns worked in eight different parishes across Northern Arizona, and he served at St. Rose in Blanco, N.M. before he was forced into retirement by the diocese in 1993.

That victim also filed a civil suit against the Diocese of Gallup on Dec. 24, 2003 in Los Angeles Superior Court because some of the abuse allegedly took place in California. That civil case has still not been resolved.

The victim recently contacted The Independent after he unsuccessfully searched for Burns on both state and national sex offender Web sites. He expressed frustration that Burns was not publicly listed as a sex offender and that Burns hadn't served his full 18-month prison sentence.

According to Detective Tim Mason, a DPS spokesperson, when a person is deemed to be a Level 1 sex offender, the person's criminal history is protected, and law enforcement agencies are not allowed to give out that information.

And in fact, no Arizona state official from the Department of Corrections, to the Wickenburg Police Department, to the DPS would confirm that Burns even still lives in Wickenburg.

"Right now the Wickenburg P.D. cannot confirm or deny that Mr. Burns is a registered sex offender here in Wickenburg," was a voice mail message left by Police Chief Tony Melendez in response to inquiries about Burn's current residence.

However, according to the Diocese of Gallup, Burns returned to Wickenburg after his release from prison.

"He's definitely in Wickenburg," said Deacon Timeteo Lujan, the chancellor of the diocese. Monsignor Leo Gomez, who recently retired from the Diocese of Gallup, calls Burns every two or three days to check on him for chancery officials, Lujan said.

Katie Decker, a spokesperson for the Arizona Department of Corrections, said Burns was evaluated and received a Level 1 rating. Decker also explained that Burns only served 11 months of his 18-month prison term because Burns pleaded guilty to crimes that were committed in the 1980s. Because of that, she said, his incarceration was regulated by "old code" laws from the 1980s which allowed inmates to earn one day of "credit" for every two "good days" served in prison, thus shaving off time from their sentence.

Risk level criteria

Wickenburg Detective Owen Black did discuss Arizona's system of monitoring convicted sex offenders although he would not discuss Burns specifically. Black, who monitors convicted sex offenders living in Wickenburg, said Arizona law requires convicted sex offenders to register with their local law enforcement agency, to reregister each time they move, and to renew their driver's license every year. Local law enforcement agencies must maintain information about sex offenders living in their communities, he said.

For Level 1 sex offenders, he explained, the law enforcement agency may share that information with other law enforcement agencies, and it may give notification to the people who share a residence with the sex offender. As odd as that may sound, Black said, sometimes people are unaware they are living with a convicted sex offender.

Public notification is only allowed for Level 2 and Level 3 sex offenders; hence, only those offenders are listed on the Internet Web site.

Using Wickenburg as an example, Black said 11 registered sex offenders currently live in the community. Only three are listed on the state Web site, he explained, leaving the other eight as Level 1 offenders whose identity can't be released to the general public.

There would have to be a change in the law for Level 1 sex offenders in Arizona to be included on the Web site, he added.

According to the DPS Web site, the sex offender's risk level is determined through use of the standardized Arizona Risk Assessment, which evaluates 19 criteria "that are considered to be significant factors contributing to sex offender recidivism." However, the Web site states, "occasionally law enforcement discovers information which can affect an offender's risk level" allowing law enforcement "the discretion to either accept the recommended risk level or complete another risk assessment."

Regarding Burns' clergy abuse history, only one victim has brought criminal allegations against the former priest to law enforcement officials; however, two other men have made public allegations against Burns through interviews with The Independent, and according to a Sept. 16, 2004 e-mail to the newspaper, Lujan stated the diocese's file on Burns contains references to at least seven more alleged victims.

Reporter Elizabeth Hardin-Burrola can be contacted at (505) 863-6811 ext. 218 or ehardinburrola@yahoo.com.