Records Released on Ex-Area Priest
Documents Shed Light on Allegations of Sexual Abuse against Rev. Magaldi

By Judith K. McGinnis
Times Record News [Texas]
December 1, 2006

http://www.timesrecordnews.com/trn/local_news/article/0,1891,TRN_5784_5181633,00.html

After a months-long legal battle, the Fort Worth Catholic Diocese has made public records that shed light on abuse accusations against the Rev. Phillip A. Magaldi, the priest for four Clay and Montague county parishes from 1990-92.

The findings are included in documents concerning the cover-up of sexual abuse by priests during the tenure of Bishop Joseph P. Delaney, who headed the diocese until his death in 2005.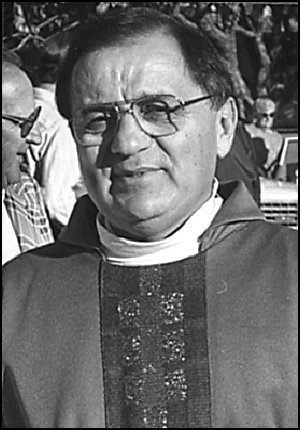 Phillip Magaldi


Not long after coming to serve the Texas parishes in 1990, Magaldi was indicted on charges of stealing $200,000 from his former parish in Providence, R.I., during the late 1980s, according to Times Record News file stories.

Magaldi pleaded guilty to the charges in 1992, was sentenced to two years in prison and stepped down from the Clay and Montague parishes. Stories in the Dallas Morning News at the time reported a judge in the embezzlement case said Magaldi used some of the money for tropical vacations with adolescent boys and once gave a teenager he met in a park enough money to buy a car.

Over the years, the Dallas Morning News and the Fort Worth Star-Telegram pursued disclosure of Fort Worth Diocese documents, none of which had ever been made available to law enforcement officials or parishioners.

The documents, finally released Tuesday, give graphic descriptions from reports made in 1997 while Magaldi was at St. John the Apostle in North Richland Hills, that Magaldi offered dinner and alcohol to an 18-year-old who came to him for confession before groping and kissing the young man and paying him to administer enemas.

The files also show that church investigators found Magaldi "guilty of sexual exploitation" and recommended he be made to do volunteer work. Instead Bishop Delaney left Magaldi at St. John and barred him from supervising altar boys. He was, however, allowed to continue as chaplain of the diocesan Boy Scouts program.

In a press conference Wednesday, Bishop Kevin Vann, current head of the Fort Worth Diocese, repeatedly apologized for sexual abuses by priest from the diocese but declined to criticize the cover-ups that left suspect clergymen in their jobs.

"Not being there at the time those decisions were made, I can't say they should have done this or that," said Vann, who succeeded Delaney last year.

An Associated Press story in 1993 reported Delaney and Magaldi had been friends for 40 years. Delaney told reporters that despite complaints to the Vatican against Magaldi, Delaney stood by him.

The released church records show that in 1998 a Massachusetts man reported that he had been abused by Magaldi in the 1970s while he was a priest in Rhode Island. Even though Delaney told Magaldi he had to be removed from the ministry while the matter was being investigated, Magaldi kept working until the following year when the man threatened a lawsuit.

After a suspension and the death of the accuser, Magaldi returned to part-time ministry until he was accused of misconduct with boys in his new job and was removed again.

Magaldi was then allowed to minister to residents of a retirement home until August, when Vann revoked his priestly powers.

On Tuesday Magaldi told a Morning News reporter he has defied the bishop's orders and continues his work.

"I was shocked to read that Phillip Magaldi has disobeyed by clear directive that he is not allowed to say any public Masses," said Vann. "Furthermore, we are close to completing a process I began months ago to submit Phillip Magaldi's case to the Holy See for laicization (reducing him to lay status)."

In his interview, Magaldi also said he didn't think he had done anything wrong and couldn't think of anything he'd do differently.