Archdiocese to Settle 45 Lawsuits
County Sexual Abuse Cases Affected

By Tom Kisken
Ventura County Star
December 2, 2006

http://www.venturacountystar.com/vcs/county_courses/article/0,1375,VCS_2316_5185598,00.html

Leaders of the Catholic Archdiocese of Los Angeles said Friday that $60 million will be paid to settle 45 clergy sex abuse lawsuits, including cases involving at least six priests who worked in Ventura County.

Though a lawyer representing the victims said the settlement was not finalized and accused church officials of jumping the gun, the settlement would be the fourth largest in the nation since the priest molestation crisis erupted four years ago.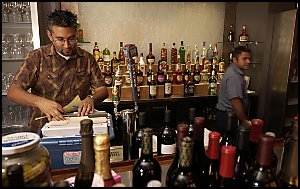 News of the clergy abuse settlement came to Eric Barragan on the day he opened his restaurant, The Grove at the Glen Tavern, in Santa Paula. He said he had no idea how the news would affect him. "I'm hoping for happiness, actually," he said. "I hope it's not anger. I've felt anger for too long."
Photo by Eric Parsons / Star staff




Ray Boucher, liaison lawyer for plaintiffs, said the two parties have agreed in principle to a settlement that will include individual payouts ranging from $250,000 to $3.5 million but still leaves more than 600 sex abuse claims against the church. He said the final settlement barrier involves the process through which personnel records of the priests will be released. He was hopeful it would be cleared early next week but would not guarantee it.

News of the apparent settlement was delivered by journalists and lawyers to victims early Friday morning. Eric Barragan of Santa Paula learned the news as he scrambled to open a new restaurant that same evening, dealing with television and newspaper interviews in addition to last-minute deliveries and new menus.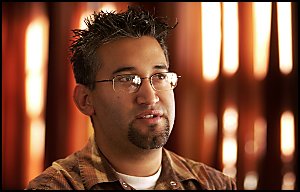 "It's hard to say it's taken this long to get justice, because I don't think it was justice," Eric Barragan, a clergy abuse victim from Santa Paula, said of the $60 million settlement.
Photo by Eric Parsons / Star staff




Saying he didn't even know the exact amount that would come to him and his two brothers, Barragan acknowledged he had no idea how the news would affect him. "I'm hoping for happiness, actually," he said. "I hope it's not anger. I've felt anger for too long."

Personal apology wanted

Barragan and his brothers, Manuel and Edgar, say they went to their parents, then church officials and police more than five years ago saying the Rev. Carlos Rene Rodriguez molested them as children. Rodriguez, once a member of the Vincentian Fathers religious order, was convicted of molesting Eric and Manuel four years ago and is serving an eight-year prison sentence.

"It's hard to say it's taken this long to get justice, because I don't think it was justice," Eric Barragan said of the settlement, noting he wants Cardinal Roger Mahony to be criminally prosecuted and to take moral responsibility.

"Justice is him (Mahony) personally apologizing to our family, to our church in Santa Paula and to every single parish in California where his priests have worked and abused kids," he said.

Mahony, who has consistently defended his efforts to rid the archdiocese of clergy abuse, called the settlement a positive step toward healing and reconciliation.

"At this time, I again offer my personal apology to every victim who has suffered sexual abuse by a priest, religious or deacon in this archdiocese," he said in a written statement. "The sexual abuse of minors is both a sin and a crime, and there is no place in the priesthood for those who have abused children."

Connections to Ventura County

The cases in the settlement, according to Boucher's office, include some but not all the lawsuits against the archdiocese that involve six priests with connections to Ventura County:

• Rodriguez, who met the Barragans when living at St. Mary Seminary in Santa Barbara and working in a marriage encounter program.

• Michael Wempe, who was convicted of one count of molestation earlier this year and served from 1969 to 1987 at St. Rose of Lima in Simi Valley, St. Jude in Westlake Village, Sacred Heart in Ventura and St. Sebastian in Santa Paula.

• George Miller, who served from 1968 to 1971 at San Buenaventura Mission in Ventura and from 1984 to 1996 at Santa Clara Church in Oxnard.

• George Neville Rucker, who served at St. Mary Magdalen in Camarillo from 1959 to 1961.

• Edward Dober, who served at San Buenaventura Mission in Ventura from 1990 to 1993.

• Richard Martini, who served at Santa Clara High School in Oxnard and lived at San Buenaventura Mission in the late 1980s.

Martini and Dober were earlier cleared of wrongdoing in archdiocese investigations of abuse. Boucher said the settlement involved all cases that happened during a period of time when the church had no insurance or was self-insured.

Boucher said the archdiocese would pay most of the $60 million and that the balance would be split by religious orders and their insurance carriers. The settlement of the remaining cases depends on the church's negotiations with their private insurance carriers.

"It's the Berlin Wall and the Wall of China and the Great Sea all in one," he said of the insurance carriers' role.

Court ended a freeze on files

Negotiations on the settlement had gone on for more than a year, blocked by victims demanding the release of personnel files. Church officials say they agreed to allow an independent judge to decide which files can be released.

The settlement comes less than two weeks after a court ended a freeze, meaning pretrial investigations could begin in more than 100 of the lawsuits.

Church spokesman Tod Tamberg said lawyers representing the archdiocese and the plaintiffs shook hands on the settlement Tuesday. They said Boucher knew on Thursday of the church's plans to announce the deal Friday.

However, lawyer Richard Farnell of Newbury Park, who is involved in the settlement, said the church was premature, noting his office hasn't even seen the final draft.

If it is signed, the deal would be the largest in California since the Diocese of Orange agreed to spend $100 million to settle 90 cases in 2004.

The Diocese of Covington, Ky., agreed to a settlement of up to $85 million earlier this year, and the Archdiocese of Boston agreed to an $85 million settlement in 2003.

Don Steier, a Los Angeles lawyer who represents many priests accused of molestation, said the settlement was good news.

"They're as happy as anybody that these things are moving toward resolution," he said. "They want these matters over with just like everybody else does."

Manuel Vega, a victim from Oxnard not involved in the settlement, said the deal didn't make him feel particularly optimistic because so many cases remain.

"It doesn't mean much to me, because I still have to live with what happened every day," he said.