Fliers Don't Fly on Church's Property
Priest Tosses Victims' Network Just before Addressing Service

By Katie Menzer
Dallas Morning News
December 3, 2006

http://www.dallasnews.com/sharedcontent/dws/news/localnews/stories/DN-priestsider_03met.
ART.State.Edition1.3e570e4.html

North Richland Hills – Minutes after asking people to leave his church property for passing out fliers demanding the Fort Worth Catholic Diocese be more open about sexual abuse, the pastor of St. John the Apostle Church apologized to his congregation for not telling police that a fellow priest might be a pedophile.

"I regret not having done that," the Rev. Tim Thompson told his parishioners Saturday night at the St. John's Mass in North Richland Hills. "I ask for forgiveness for that failure."

Since the diocese unsealed the personnel files of seven priests Tuesday after a prolonged court battle, Father Thompson has been criticized for telling church officials but not police of a parishioner's tip that the Rev. Philip Magaldi was trolling chat rooms for minors and had "pedophilic material" on his computer.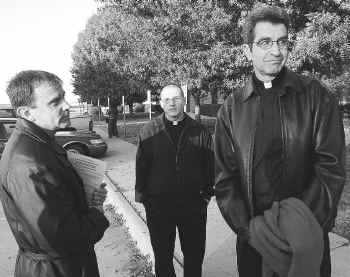 The Rev. Tim Thompson (right) tells Kristopher Galland (left) of Survivors Network of those Abused by Priests to leave the premises as he tries to pass out leaflets.
Photo by Rex C. Curry/Special Contributor


A couple members of an international organization known as SNAP, the Survivors Network of those Abused by Priests, had planned to pass out fliers at Saturday's Mass, but Father Thompson asked them to leave the property.

SNAP members moved to the sidewalk off church grounds, but few parishioners who were headed to the 5 p.m. Mass stopped their cars to accept the fliers.

The fliers called Father Thompson's behavior "potentially criminal" and urged parishioners to demand that Bishop Kevin Vann "stop public relations posturing" and take "real action" to deter secrecy and crime. It also asked sexual abuse victims to get help from independent therapists and not church officials.

"What's happened here is such a glaring example of what's happening all over the country," said Mary Grant, western regional director of SNAP, who came to Fort Worth to pass out the fliers from her home in Long Beach, Calif. "It's sad that we're standing out here on the sidewalk, because the bishop and priests should be thanking their parishioners for coming forward to tell of the sexual abuse."

Before the Mass began, Father Thompson walked to the pulpit and said he wanted to address the issue of the diocese's released documents and the media attention on the church.

"I know we all feel the same sense of humiliation and disgrace at all that took place," he said.

Father Thompson also said that the 2001 tip he had received about Father Magaldi, who is no longer on staff at St. John's, was "third-hand information."

"I reported to the diocese, which is what I thought I should have done," he said.

E-mail: kmenzer@dallasnews.com