Neighbors of Ex-Del. Priest Informed of Abuse Claims
Mixed Reaction in Community to Door-To-Door Campaign

By Beth Miller
News Journal
December 4, 2006

http://www.delawareonline.com/apps/pbcs.dll/article?AID=/20061204/NEWS/612040331/-1/NEWS01

Herdnon, Va. -- On the first day of the Advent season, which Catholic Diocese of Wilmington Bishop Michael A. Saltarelli has dedicated to victims of clergy sexual abuse, the allegations against one former Delaware priest came as hard news to his neighbors in northern Virginia.

A small group of abuse survivors and lay Catholics spent 90 minutes Sunday going door-to-door in Glenbrooke Woods, a community of $600,000 homes where the Rev. Edward Dudzinski lives. When Saltarelli last month released the names of 20 priests with substantiated allegations of sexual abuse against them, Dudzinski's name was on it.

Jim Money, of Herndon; Paul Steidler, of Reston, Va., and Mark Serrano of Loudoun County, Va., wanted the neighbors to know. All are members of the Survivors Network of those Abused by Priests.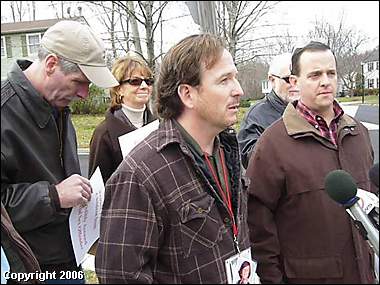 Mark Serrano (center) speaks to reporters outside the Virginia home of a former Delaware priest sued over sexual abuse claims
Photo by The News Journal/Beth Miller


Serrano wears a photograph of himself as a boy, about the age when he was first abused by the same New Jersey priest who abused Steidler.

"We are empowering families with the information that my parents didn't get -- and would have wanted to have," Serrano said. "This is the public safety crisis that the Catholic Church created with the cover-up."

Clergy sexual abuse emerged as a national scandal in 2002, when a pattern of transferring accused priests from parish to parish was revealed first by The Boston Globe and then in dioceses -- including Wilmington's -- around the nation.

The Diocese of Wilmington has addressed the problem in several ways -- removing priests from ministry, offering assistance to abuse victims, adopting new regulations for appropriate behavior with children, and requiring criminal background checks for anyone who works with children.

Living with renters, including boy

Dudzinski, 56, does not show up on any criminal registries, though. The statute of limitations has expired for the crimes he is accused of committing during his ministry.

Dudzinski served at St. Mary Magdalen in Brandywine Hundred and at St. Francis de Sales Church in Salisbury, Md., in the early 1980s. Church officials removed him from public ministry in 1985 after investigating allegations of sexual abuse against him.

He was later sued by Barry Lamb, of Delaware, for abuse Lamb said occurred during trips to Virginia in 1984 and 1985. Court records show Dudzinski invoked his Fifth Amendment rights during a deposition when asked about sleeping arrangements and whether he had sexual activity with the boy.

That kind of information was included in a packet that volunteers distributed in his neighborhood Sunday. They also included Virginia documents that chronicle complaints against Dudzinski when he worked as a counselor for at-risk youth in the 1990s. He later surrendered his counseling license to Virginia authorities after being accused of sleeping in the same bed with minors on at least 10 occasions.

Dudzinski was not home Sunday when the packets were distributed to his neighbors, and to TV crews and journalists who came to record the action. Neither was a 10-year-old boy who shares the rental house.

But two other renters -- including the boy's mother -- were home.

One of the renters, who identified himself as Peter and would not give his last name, said the residents are in a recovery program. He said he was worried about the intrusion the volunteers and news crews represented.

"We all care about the young boy," Peter said. "His mother's here. We considered that. It does not mean that I don't care about children -- but I think this is highly inappropriate. Now the neighbors will have a complete misconception. He's in recovery for his issue and he is not a danger to the community."

The mother of the boy cursed and drove away when the door-to-door effort began. She had hung up the phone when she was first told about Dudzinski's past, Serrano said.

But the truth must be told, said Evelyn Mercantini of Reston, who was distributing the packets with her husband, John. The Mercantinis belong to the Northern Virginia chapter of Voice of the Faithful, a group of lay Catholics who work to support victims of clergy abuse.

"I would want to know," Evelyn Mercantini said. "And if he's in recovery -- why put himself in a position of temptation by living in a house with a 10-year-old boy? I want to make the neighbors aware. Then if they see something suspicious, they can notify the authorities."

Unwelcome to some

Some neighbors were angry about the distribution. One called the police. But others thanked volunteers for informing them. Some wanted more information. And several gathered in the streets and cul-de-sacs to discuss the news.

Across the street from Dudzinski's home, the mother of two boys, 6 and 12 years old, said she had moved in a couple of months earlier and didn't know the neighbors yet.

One 54-year-old neighbor, who would identify himself only as Luigi, said he wasn't wild about the idea at first. But after thinking about it and recalling his own sexual abuse by an uncle, he decided it was a good idea. His family has only been able to talk about it for a few years, he said.

"It's time to have the discussions," Luigi said. "This is an effort to say to those in authority -- do your job. I can't help it that this guy is on the edge of having his civil rights stepped on. He brought it on himself."

Peter said Dudzinski has lived in the neighborhood for eight to 10 years. The house where Dudzinski lives is owned by Matthew and Susan Pernick, of Oakton, Va. Reached at home Sunday evening, Matthew Pernick told The News Journal he knew nothing of the literature distribution at their property. He ended the conversation abruptly after his wife told him to hang up and give no other comment.

Nelson Lamb of Wilmington, father of Barry Lamb, said he supported the effort.

"It's something hopefully that will keep him from abusing other children, especially those close by in the neighborhood," Lamb said Sunday evening.

Saltarelli has asked Pope Benedict XVI to remove the 20 men he named from the priesthood. Many are still waiting, though, for the religious orders to release names.

"The cover-up is what disgusts me," said Steve Brooks, an Arlington, Va., father who is neither a victim nor a Catholic, but went door-to-door to help alert the community. "Lives are ruined. If I can help protect one person, I'll feel like I've been a success."

Contact Beth Miller at 324-2784 or bmiller@delawareonline.com.