Police Look into Abuse Claims

By Darren Barbee
Fort Worth Star-Telegram
December 5, 2006

http://www.dfw.com/mld/dfw/news/local/16167840.htm

North Richland Hills police are investigating an allegation of a February 1994 aggravated sexual assault of a boy younger than 14 that was forwarded to the agency by the Fort Worth Roman Catholic Diocese. The incident is alleged to have occurred at what is now a strip shopping center in the 7000 block of Northeast Loop 820, North Richland Hills police Sgt. Ken Bounds said Monday. Other details concerning the incident -- including information about the suspect -- could not be released, Bounds said.

"We think the detective might be able to resolve the case" soon, Bounds said.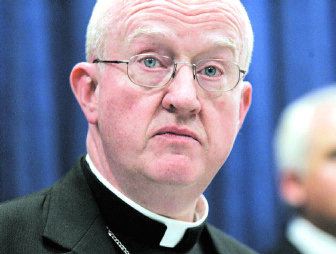 Bishop Kevin Vann declined to name the priest in the 1994 case.


The diocese reported the information to police Nov. 8, Bounds said.

Diocese leaders have said that they forwarded an allegation of sexual abuse of a minor to a local police department within the past month.

They have declined to name the department or the priest involved. Fort Worth Bishop Kevin Vann, leader of the diocese, has said only that the unnamed priest was "one of the seven" previously accused. He was referring to the Revs. William Hoover, John Howlett, James Reilly, James Hanlon, Philip Magaldi, Rudolf Renterķa and Joseph Tu Ngoc Nguyen.

Hoover, Reilly and Hanlon are dead.

Of the remaining clerics, only Magaldi was working in North Richland Hills in 1994. Magaldi served as associate pastor at St. John the Apostle, at 7341 Glenview Drive, from July 1993 until August 1998. At least two of the other accused priests served in the area at that time.Bounds said he was unsure whether a suspect in the case has been contacted by investigators.

Magaldi's friend and caregiver, Jerry Koller, said he doesn't believe that Magaldi is a subject of the investigation because police have contacted neither the priest nor him. Magaldi, who Koller has said suffers from a number of ailments, including dementia, lives in an assisted-living care center.

Another of the accused priests, Hanlon, worked at the church from June 1986 until July 1987. Hanlon died in 1990.

Diocese officials could not be reached for comment Monday evening.

Magaldi was forced to retire from the ministry in April 1999 after he was accused of two instances of sexual misconduct. Magaldi has denied the accusations.

Diocese officials revealed the new allegation against the unnamed priest last week after confidential diocese files were released by a state district judge. The files show that former leaders misled people about the extent of the abuse allegations.

There is no evidence that police were notified of the allegations, which include rape and molestation of children.

Allegations involving abuse of minors as far back as the 1990s could still be criminally prosecuted, David Montague, a senior staff lawyer for the Tarrant County district attorney's office, said Monday. Texas law gives accusers 10 years after their 18th birthdays to take action.

Also on Monday, members of the Survivors Network of those Abused by Priests hand-delivered a letter to the district attorney's office asking it to use its subpoena power to further investigate the material in the files.

Montague has said the files are under review.

With news crews filming, Mary Grant, western regional director of SNAP, told Montague she wants the district attorney to use his "bully pulpit" to ask additional victims to come forward.

Montague responded that investigators would welcome talking to victims but that "we will not conduct an investigation on television."

Darren Barbee, 817-390-7126 dbarbee@star-telegram.com