Priest Convicted of Sex Abuse on Home Detention

WJZ
December 8, 2006

http://wjz.com/topstories/local_story_342122139.html

(WJZ) Baltimore, MD The survivor's network for those abused by priests say the courts have put the comfort of a convicted pedophile above the safety of children.

Ten months ago, Father Jerome Toohey is convicted of sexually abusing Thomas Roberts when he was a student at Calvert Hall College High School. Michael Golds did not file a formal complaint but testified to similar abuse during the trial. Now a Baltimore County judge is placing Toohey on home detention to complete the remaining eight months of his prison sentence.

The judge's decision stuns Golds and Roberts, a CNN Headline News anchor, who risked his career to go public with allegations about Toohey.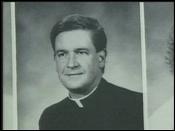 Photo by The CBS



"It's not what I expected to happen today," he said. "I mean, the church system let me down. The judicial system let us all down today."

The judge apparently agreed to home detention after his attorneys argued his life had been threatened by a violent inmate, he spent much of his time in solitary confinement and was not able to see his elderly mother.

Toohey's home detention will force him to wear a monitoring device. His activities are restricted to doctor visits, work and attending church.

"As far as home detention, I don't think that nearly equals the amount of pain that either one of us has been through over the course of the fight, bringing him to justice or attempting to. It's disappointing," Golds said.

Toohey is to be released from state prison Saturday. His home detention begins immediately. Toohey has been removed from ministry but still holds his credentials as a priest.