GR Diocese Removes Priest for Abuse

Wood
December 11, 2006

http://www.woodtv.com/Global/story.asp?S=5797538&nav=0Rce

Grand Rapids - A Catholic priest was permanently removed from all ministry duties after allegations he abused at least one child in the 1970s.

Bishop Walter Hurley this morning released a statement announcing that Fr. Michael McKenna is prohibited from wearing clerical clothes and presenting himself as a priest.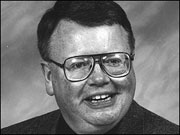 Michael McKenna


McKenna, 60, was given a medical leave nearly four years ago, and during that time, allegations surfaced about the alleged sexual abuse approximately 30 years ago. After a review, the diocese found the allegations believable.

McKenna was ordained in 1973 and was assigned to St. John Vianney in Wyoming. He stayed there for three years, and then was transferred to five different parishes in rapid order. McKenna was a parish priest at Sacred Heart in Muskegon Heights from 1976-77, then spent a month at St. Dominic in Grand Rapids. He spent eight months at St. Francis Xavier in Conklin before moving to Our Lady Consolation in Rockford in 1978. The following year he was transferred to St. Charles in Greenville.

In 1988, McKenna came to St. Mary Magdalen in Kentwood, and stayed until 1994 when he joined St. Mary in Big Rapids. He remained there until he took a sabbatical in 2002, before his medical leave took effect in 2003.

In the statement, Bishop Hurley said, "The diocese is deeply saddened by the misconduct and for the pain it has caused those affected by it. Anyone who has been sexually abused as a minor by a priest, deacon or church employee is encouraged to contact the diocesan Victim Assistance Coordinator at 616-243-0491."