Midwood Rabbi Faces Kiddie Sex Charges - Cops Say Joel Kolko Sexually Assaulted Yeshiva Students

By Thomas Tracy
Kings Courier [New York]
December 14, 2006

http://www.courierlife.net/site/tab2.cfm?newsid=17593614&BRD=2384&PAG=461&dept_id=552848&rfi=6

A Midwood rabbi who had already been accused of being a pedophile was arrested last week for allegedly sexually assaulting a nine-year-old student, officials said.

Joel Kolko, 60, of the 1200 block of East 22nd Street, was charged with four counts of sex abuse and endangering the welfare of a minor on December 7.

The rabbi's arrest has Kolko's past alleged victims believing that no one can run away from their past.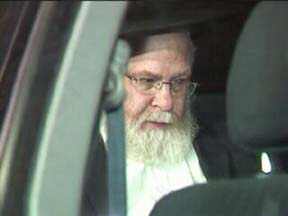 Police arrested Midwood Rabbi Joel Kolko (above) on sex abuse charges last week.



"There is justice in the world," one of the two grown men currently suing Kolko for the alleged horrors he instilled upon them over 20 years ago told the New York Post.

In a lawsuit filed last May, the two victims alleged that they were enrolled in Yeshiva Torah Temimah, 555 Ocean Parkway, in the 1980s, when Kolko sexually abused them.

The complainants charged that when they brought these allegations to Yeshiva Torah Temimah, school officials refused to investigate the allegations.

Attorneys for Yeshiva Torah Temimah claim that the school did not probe the allegations because they were never given enough evidence to warrant an investigation. Kolko, they said, is no longer affiliated with the school.

While it was whispered throughout the school, Kolko's alleged activities were never brought to the police until last week, when a nine-year-old boy came forward, alleging that the rabbi had sexually abused him both in 2002 and in 2003.

Prosecutors said that Kolko was arraigned on sex abuse charges on Friday.

He is currently out on $5,000 bail, officials said.

Attorneys for the two former students allegedly assaulted by Kolko said that the rabbi, as well as Yeshiva Torah Temimah were each facing a $10 million lawsuit.

Both men, who were only identified as John Doe #1 and John Doe #2 in court papers, claimed that when the alleged abuse they suffered at Kolko's hands was reported to the school, yeshiva administrators shot down the complaints, stating that the students "were not actually abused."

Their parents were warned that if they continued with their complaints or had the authorities investigate the complaints, "other children in their families would be expelled from the yeshiva and prevented from attending other yeshivas in the New York area," according to the suit filed by Jeffrey Herman of the Miami-based law firm Herman and Mermelstein.

One of the victims, now 48 and living in Israel, joined Herman as he outlined the alleged abuse during a press conference in front of the yeshiva on Friday afternoon.

John Doe #1 said that as a child he was his family were happy that he was enrolled in Yeshiva Torah Termimah, which was at the time considered "one of the more important and revered institutions" in his community.

Rabbi Lipa Margulies, the leader of Torah Temimah at the time, was one of his neighbors, he said.

Another neighbor was Rabbi Kolko, who would offer to drive the child to school each morning, according to the complaint.

When John Doe #1 was in the seventh grade, Rabbi Kolko took him to school, but would first park down the block from the school, where he would allegedly instruct the child to sit on his lap and hold the steering wheel as he began to "grind his erect penis" against the plaintiff, who also alleged that, on occasion, Kolko would put his hands in his pants to touch the victim's genitals.

John Doe #1 said that this alleged abuse happened on 15 other occasions, both on the way to the school and after school recess at Torah Temimah when Kolko allegedly told John Doe #1 to face a wall while he molested him.

The alleged abuse continued until John Doe #1 graduated from the school and continued on to high school, according to the complaint.

The summer between the seventh and eighth grade posed no relief for the child, who Kolko allegedly abused during a stay at Camp Agudah in upstate New York, according to the complaint.

The lawsuit alleges that Kolko would pull the child out of camp for a "drive around town" where the child was abused.

John Doe #2 suffered the same abuse at the hands of Rabbi Kolko, Herman alleged.

But, when members at Torah Temimah received word that one of their teachers was allegedly abusing students, they immediately put the kibosh on all complaints, the lawsuit states.

"[Yeshiva Torah Temimah] received multiple, credible reports that Rabbi Kolko was sexually abusing other young boys who he came into contact with," Herman states in his suit. "But instead of accepting responsibility or at a minimum conducting a good faith investigation, Rabbi Lipa Margulies with Rabbi Kolko willfully engaged in a campaign of intimidation, concealment and misrepresentations designed to prevent victims from filing civil lawsuits."

Herman admitted that both his clients' complaints come upwards of a decade after the statute of limitations on sexual abuse charges had expired.

The lawsuits against Kolko and Yeshiva Torah Temimah have yet to go to court.