File Leads to Removal of Local Pastor
Document: Pansza Admitted Sexual Abuse of Minor in '70s

By Jessica Langdon
Times Record News [Texas]
December 15, 2006

http://www.timesrecordnews.com/trn/local_news/article/0,1891,TRN_5784_5215238,00.html

Less than four months after Bishop Kevin Vann of Fort Worth installed Father Gilbert Albert Pansza - "Father Gil" - as pastor of Our Lady of Guadalupe Catholic Church in Wichita Falls, Vann removed Pansza from active ministry because of a sexual abuse admission stemming from the 1970s, a release from the Catholic Diocese of Fort Worth said.

Vann wrote that it was his "sad duty" to announce Pansza's removal, but he made the move to correspond with the Charter for the Protection of Children and Young People.

A review of the diocese's files uncovered an admission from Pansza related to an incident involving the sexual abuse of a minor in the 1970s, which was before Pansza entered the seminary, the release said.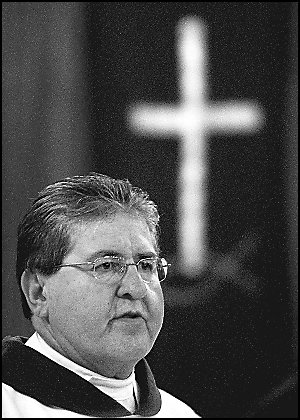 The Rev. Gilbert A. Pansza stands before the church as he is installed as the new pastor of Our Lady of Guadalupe Church in this August file photo.
TRN file photo



"We are taking this action on the basis of our discovery of this information in the files," the document continued. "We have removed Fr. Pansza from active ministry because it is the right thing to do in protecting God's people from any potential harm."

The Diocese of Fort Worth reported that it had not received any accusations against Pansza involving abuse of children since he was ordained as a priest on May 27, 2000.

Pansza served as associate pastor from June 2000 to August 2002 at St. John the Apostle Church in Fort Worth. From August 2002 to June 2006, he was pastor of St. John the Baptizer in Bridgeport, Assumption of the Blessed Mary in Decatur and St. Mary in Jacksboro.

He came to Our Lady of Guadalupe in July and served as pastor until Vann removed him from active ministry Thursday.

The Web site Publicdata.com showed no criminal history or sex offender records under Pansza's name.

The release from the Diocese of Fort Worth said it had turned over the information it had on the situation to legal authorities.

"This is a sad time both for me personally and in the history of our local Church," Vann said. "It is distressing to remove a priest, but this needed to be done."

The announcement stunned several parishioners, who discussed the situation Thursday evening, upset at the removal of a man they see as dedicated to his faith and the parish.

"This parish reaches out to Father Gil, and we hope that the principle of forgiveness is not forgotten by the Catholic Church," one said, speaking on the condition of anonymity.

"Why is it that they say what he did was in the early '70s, and then he was allowed to go to seminary and become a priest? That's a question we have," one said.

Pansza took on his role at Our Lady of Guadalupe when Father Hector Medina left during the summer. Before going into the ministry, Pansza worked for more than two decades for the Department of Defense, an August Times Record News article reported. It described a longtime desire to be a priest, but one that didn't become a reality for many years. At one point Pansza married a "wonderful woman," thinking marriage and parenthood might be in his future. The couple decided marriage wasn't for them a few years later, and they divorced. Pansza holds a bachelor's degree from the University of the Incarnate Word in San Antonio. He earned a master's degree in divinity.

He did not return a phone call Thursday from the TRN.

Vann said he had asked leaders in the diocese to review all priests' personnel files.

Reporter Jessica Langdon can be reached at (940) 763-7530 or by e-mail at langdonj(at)TimesRecordNews.com.