Capuchins Name Priest Accused of Sex Abuse
Man Says Rev. Daleo Molested Him As Youth

By Beth Miller
News Journal [Delaware]
December 15, 2006

http://www.delawareonline.com/apps/pbcs.dll/article?AID=/20061215/NEWS/612150361/1006/NEWS

Sean Dougherty went to a parish school in the Catholic Diocese of Wilmington. His family attended church at Holy Child Catholic Church and his mother, Barbara, worked in the diocesan chancery office for a while.

But the priest Dougherty says abused him when he was an eighth-grader at St. Mary Magdalen School was not a diocesan priest. The Rev. Paul Daleo was a member of a religious order, the Capuchin Franciscans, so his name didn't appear last month when the diocese released the names of 20 priests with substantiated allegations of sexual abuse against them. Bishop Michael A. Saltarelli left the release of the names of seven religious-order priests up to their orders.

When Dougherty saw the list, he called the Capuchins and the diocese. Release Daleo's name, he urged them. Then he called The News Journal.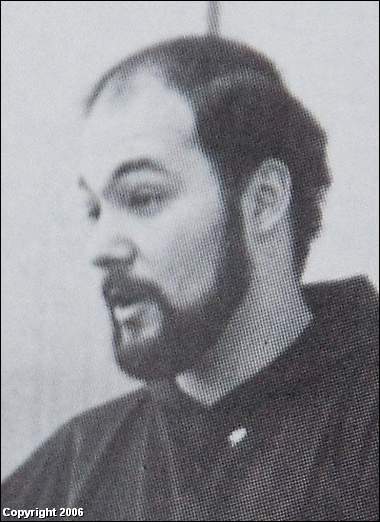 The Rev. Paul Daleo was "very charismatic with the kids" as a part-time teacher, a brother who knew him recalls.



"I'm not going to be silent anymore," he said.

The Capuchins then became the first religious order in Delaware to acknowledge substantiated allegations against one of their priests.

After Dougherty's calls, they confirmed two confidential settlements with men who say they were sexually abused by Daleo -- Dougherty, now 40, and another man, now 38, who spoke with The News Journal but asked not to be identified.

Daleo, now 56 and living in Jersey City, N.J., declined to comment.

But the Rev. John LoSasso, provincial for the Province of the Stigmata Capuchin Franciscans from 1990-96, said Daleo was "remorseful" when officials first confronted him with allegations in 1993. He was removed from ministry that year, sent to a treatment facility and then assigned an office job in Union City, N.J., LoSasso said.

In 2003, Daleo left the order's friary in Union City, unwilling to live by new restrictions adopted by U.S. bishops after the scandal of clergy sexual abuse emerged nationally, said the Rev. Brian Tomlinson, the order's new provincial. Because of Daleo's departure, the order has taken steps toward separating the priest from the order, Tomlinson said.

Ministering to poor

The Capuchin Franciscans are beloved for their ministry to the poor and the disenfranchised.

The Rev. Ronald Giannone, "Brother Ronald" as he is called, is probably the best-known Capuchin in this area. Giannone is executive director of the Ministry of Caring and founder of the Emmanuel Dining Room kitchens that feed the homeless and hungry in Wilmington.

Giannone knew Barbara Dougherty, who died in 2000. She had helped a lot in the early years of the dining room and attended Mass at the Franciscans' monastery off Silverside Road.

Daleo also lived at the friary at that time. He worked part-time as a chaplain and teacher at St. Edmond's Academy and served as director of religious education at St. John the Beloved parish near Pike Creek.

But Giannone was not aware of allegations that Daleo was molesting boys, he said, and he does not believe anyone else suspected anything, either.

"He had a reputation as a pied piper at St. Edmond's -- very charismatic with the kids," Giannone said. "If we knew, we should have been hung."

Giannone said he did not know until LoSasso disclosed the reason for a confidential financial settlement in the mid-90s. Daleo, who had been removed from parish ministry by then, was in the room with the other friars when the announcement was made.

"He was extremely articulate with his pen and his voice. He was a good preacher. And he was outspoken. Either you loved him or you didn't love him. But after this, he was sheepish, different, broken."

The order was broken, too, LoSasso said.

"What gave me the greatest sadness is that both [victims'] families were close to our community," LoSasso said. "They were such beautiful families. We cannot even imagine what a parent goes through when they realize what happened. These young men's lives were terribly disrupted. It hurts the order when we think that a member would do the unthinkable."

Giannone said he was stunned by the recent disclosures that Daleo was one of more than 20 priests accused in the diocese.

"This has been an awful epiphany," he said. "I thought these were isolated incidents, like Paul Daleo. But pedophiles are clever. They go into the whole family."

Daleo definitely did that, Sean Dougherty's family said.

Cursed at priest

Tina Dougherty Mattera still remembers what her brother did Friday, May 9, 1980, the day he was confirmed at St. Mary Magdalen.

Confirmation is a once-in-a-lifetime event for Catholics, a sacrament that marks the soul as Christian. But it wasn't the confirmation that was so memorable. It was what Sean Dougherty did during the party later at the family's Brandywine Hundred home.

Daleo, who stood beside Dougherty at the ceremony, confirming his faith, reached out to tickle him at the party, Mattera recalled. That wasn't surprising, either. "Father Paul" was often tickling, kissing, giving out bear hugs.

But this time, Dougherty pulled away, cursed the priest and ran upstairs.

These guys had been as close as brothers for more than a year, she said. They called each other "Big Brother" and "Little Brother." What was up with Sean?

Dougherty enjoyed a lot of time with the priest. He felt comfortable with him and believed he was one of Daleo's best friends. He thought it was a little odd, though, when Daleo took him and several other boys to see "American Gigolo," an R-rated movie.

Shortly before Dougherty's confirmation, Daleo invited him to sleep over at the friary.

After that night, Dougherty told his parents that he wasn't going to hang out with the priest anymore -- that he kissed him too much. His mother believed her son had misinterpreted Daleo's expressions of affection.

Daleo stopped visiting as often but he continued to send Sean cards for his birthday, Christmas, Easter, Valentine's Day.

Dougherty's life took a sharp turn for the worse. The boy who once had whistled through his days, the fun-loving kid who was such a good hitter on St. Mary Magdalen's baseball team, that kid started using drugs. He got into trouble at Salesianum and transferred to Concord High School. For years to come, he would get drunk, struggle with relationships and sometimes question his sexuality.

It was not until he was in his mid-20s that Dougherty mustered the strength to tell his parents what happened at the friary that night. He told them how Daleo had taken his clothes while he was showering and given him a pair of too-large pajamas, how Daleo had come down to the floor where he was lying next to the priest's bed, how he got on top of the boy, kissing him, telling him how much he loved him and grinding his body into the boy's. Dougherty said he asked Daleo to stop, but the priest continued. He said he doesn't remember what else happened that night.

LoSasso said friars are not permitted to have guests stay overnight in their rooms. Before guests can stay overnight, he said, the superior of the house must grant permission and the priest must reserve a guest room.

When he found out about that night, Bill Dougherty told his son he would find someone to break the priest's kneecaps. He wanted to kill Daleo for what he had done to his boy, he said.

Barbara Dougherty took the news especially hard. She had been one of Daleo's biggest supporters. Now, she was seeing his friendship with the family in a different light. Now, she wondered if the priest really was tutoring her son all those nights, when she would return home from choir practice and find him in Sean's bedroom.

In a pair of 1994 letters to LoSasso and the order, she recounted how she had defended Daleo when he was accused of "funny business with the altar boys," when he was banned from several parishes, including her own, when controversy swirled because of things he said during sex education classes at St. Edmond's. School officials say they have no record of any problems with Daleo.

Barbara Dougherty had believed he was misunderstood, that people didn't like his liberal views or his outspoken style. She had helped him get teaching jobs, and had urged her pastor -- in vain -- to let him serve at Holy Child. She had defended him to other parents when they refused to let their sons attend his classes.

Could not forgive

Now, she was crushed and consumed with guilt for opening so many doors -- including her own family's -- to the priest.

"Don't tell me God forgives him and so must we -- I will never forgive him," she wrote to LoSasso.

Unlike some victims of clergy abuse, Sean Dougherty said he never lost his faith in Jesus. It was his faith in human authorities -- church and civil -- that died. "There was not a man around to protect the children," he said.

Several years after telling his parents, Dougherty confronted Daleo on the telephone. He said the priest apologized if he had ever done anything to hurt him. He said the priest told him he had problems getting too close to people, violating their personal space. It was his way of being affectionate, he said, and he was dealing with it.

By then, another young man had come to the Capuchins with allegations against Daleo. Capuchin officials confronted the priest, LoSasso said, and sent him to a residential facility for treatment.

"In any conversation I had with him -- when I had to remove him or sent him for treatment -- I sensed he was deeply remorseful about what happened," LoSasso said. "After he went to treatment, he was a little bit more in tune with the effects of what happened."

Dougherty said he met with LoSasso and other Capuchins in 1994 at Emmanuel Dining Room. He said he was met with compassion and an offer to help.

He had much more trouble finding a lawyer. He called at least a dozen in Wilmington, he said. None would take the case. Finally, a friend of his mother's suggested a young lawyer in Illinois, Joseph G. Klest. Dougherty was one of Klest's first priest-abuse victims. Klest has represented more than 100 since then.

Dougherty signed a confidentiality agreement and the Capuchins settled the matter in 1995 for $100,000.

The Capuchins settled with the other man in 1996.

The damage remains for both men and their families.

And Sean Dougherty believes the public should know the rest of the story.

"We're all supposed to be in this together," he said. "We're all brothers and sisters. There are many people in the community that he has touched personally -- in good and bad ways. It's going to be hard for some of them to believe he was a monster.

"But I'm not going to be silent anymore."

Contact Beth Miller at 324-2784 or bmiller@delawareonline.com.