Pastor Accused of Sexual Misconduct Will Retire
Denton: Last Month, He Apologized to Woman to End Her Lawsuit

By Donna Fielder
Denton Record-Chronicle
December 20, 2006

http://www.dentonrc.com/sharedcontent/dws/drc/localnews/stories/122106dnmetreynolds.2bd318c9.html

Denton – The pastor of a Denton Baptist church accused in a lawsuit of past sexual abuse of a 14-year-old female member of his congregation has announced his retirement, writing that remaining as pastor "is not the right thing to do."

Dr. Larry Reynolds, 59, pastor of Southmont Baptist Church in Denton, wrote his congregation that he will retire effective Dec. 31.

Many members of the church, one of the largest in Denton, received the letters Wednesday.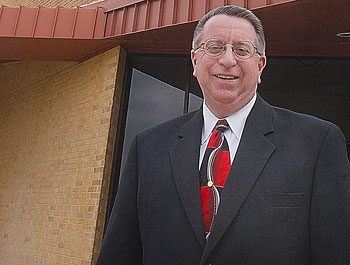 Dr. Larry Reynolds plans to retire Dec. 31 as pastor of Southmont Baptist Church in Denton. Many members of the church received a letter from him on Wednesday
Photo by DRC


Dr. Reynolds declined to comment when reached by telephone Wednesday.

"The letter says everything I want it to say," he said.

Dr. Reynolds publicly apologized to a woman last month as part of a settlement agreement to end a lawsuit she filed alleging that he began sexually molesting her when she was 14.

Dr. Reynolds told a group of members at a church Thanksgiving dinner Nov. 19 that 20 years ago, he made a "terrible mistake" and that his "lapse in judgment" harmed the woman who filed the suit. The woman is now 37 and lives in Houston.

He asked forgiveness from the woman, the church and God.

The woman's suit against Dr. Reynolds was detailed in the Denton Record-Chronicle and The Dallas Morning News on Sunday.

Members meet

A members-only meeting was held Sunday night at the church, and a meeting had been scheduled for Wednesday night to discuss his employment with the church.

"I want to make clear at the very outset of this letter that this decision was mine and mine alone," Dr. Reynolds said in the letter.

"Carol [Dr. Reynolds' wife] and I feel very loved and affirmed by the Southmont family, and we know that I could continue as your pastor indefinitely. However, in the light of the events of recent days, I simply do not feel that is the right thing to do."

Dr. Reynolds wrote that he has been pastor of the church for 28 years and that he wants to avoid a spirit of bitterness, rancor, division or strife in the church.

Also Online

Link: Read Dr. Reynolds' letter to the congregation (.pdf)

Link: Statement from the Baptist General Convention of Texas (.pdf)

"I know that some will interpret my leaving as a tacit admission of all the allegations made against me. It is not; but I realize I cannot help what some choose to believe," the letter stated.

In the lawsuit filed in June, the Houston woman also sued the church, the Denton Baptist Association, the Baptist General Convention of Texas and the Southern Baptist Convention.

Catherine Herrington, the woman's attorney, said Wednesday that neither she nor her client would comment on the resignation.

Money award

Her client signed a confidentiality agreement in the settlement, which included a monetary award.

"Whatever brought Dr. Reynolds to his decision, it is my sincere hope that both families will feel loved and affirmed by this body of believers and that now true healing can begin," said Southmont member Stacy Martin.

R.B. Tanner, a Southmont deacon, and his wife, Joan, issued a written statement.

"We have known Dr. Larry Reynolds for a quarter of a century and have always known him as a man of integrity, honor and Godliness," the Tanners wrote.

"It is inconceivable that only one side of the story has been printed. Larry Reynolds chose to abide by the confidentiality provision, which the other side clearly did not.

"Larry will be greatly missed when he retires from the Southmont Baptist Church. He has been a true pastor to his flock in every sense of the word," the couple wrote.

Gary Loudermilk, executive director of the Denton Baptist Association, said Wednesday that each Baptist church is autonomous and the association has no control over individual churches.

"We will work with Southmont Baptist Church with anything they may need," Mr. Loudermilk said.

Other ministers

The woman's lawsuit asked the state convention to make public a list of Baptist ministers who either have confessed, been convicted or had substantial evidence presented that they had an improper sexual relationship.

The convention will respond with a yes or no to written inquiries from churches about whether a particular minister is included in the files.

The files contain cases of marital infidelity as well as cases of sexual abuse of children. No details are provided.

In response to a request for comment about the pastor's retirement, the Baptist General Convention of Texas stated that the association is concerned about the increasing number of incidents of clergy sexual misconduct and that the convention wants to be proactive in increasing awareness of the issue and helping churches learn how to screen potential ministers.

The list is "confidential," – not "secret," according to the statement.

"This process in no way protects perpetrators," the statement continued.

"Information regarding those who have been convicted of sexual misconduct is published as public information via other sources."

Staff writers Peggy Heinkel-Wolfe and Monty Miller Jr. of the Denton Record-Chronicle contributed to this story.

E-mail dfielder@dentonrc.com