Ex-Clergyman Pleads Guilty to Child Sex Abuse
'Brother Tony' Gets 5 Years in Prison for Molestation

TheBostonChannel.com
December 21, 2006

http://www.thebostonchannel.com/news/10582792/detail.html

Boston -- A former clergyman was sentenced to prison Thursday after pleading guilty to child sex abuse charges.

NewsCenter 5's Steve Lacy reported that Edward Anthony Holmes, 65, known as Brother Tony at the Congregation of Sacred Hearts of Jesus and Mary in Jamaica Plain, pleaded guilty to a 17-count indictment in connection with the sexual abuse of two boys when they were between the ages of 10 and 14 and 9 and 15, respectively. He was sentenced to five years in prison.

The abuse took place at the Nazareth Child Care Center in Jamaica Plain between 1976 and 1983, Suffolk County District Attorney Daniel F. Conley said. The center has since closed.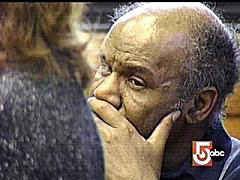 Former Clergyman Sentenced



Holmes pleaded guilty to six counts of rape of a child, five counts of indecent assault and battery on a child under 14 and five counts of indecent assault and battery on a person 14 or older for the rapes and assaults. He also pleaded guilty to a single count of posing a child in a state of nudity for dozens of photographs Holmes possessed of himself engaged in sexual activity with a still-unidentified teenage male.

The victims did not come forward until 2003. Conley said his office was able to charge Holmes nearly 30 years after the crimes were committed because the clock on the 15-year statute of limitations in effect at the time of the offenses stopped when he moved out of state in 1990.

Holmes will begin his prison term on Jan 8.