Priest Accused of Molestation

By Patrick Ferrell
Herald News
December 22, 2006

http://www.suburbanchicagonews.com/heraldnews/news/182912,4_1_JO22_ABUSE_S1.article

Joliet -- A 76-year-old Catholic priest with a sordid past was arraigned Thursday on charges he allegedly had sexual contact with two teenage boys in 1996 and 1999.

Louis Rogge, 76, from the Carmelite Order, posted $4,000 bail and is free on bond. He was indicted by a grand jury this week on four counts of aggravated criminal sexual abuse.

Rogge lives at the St. Elias Priory. He has been out of the public ministry since 2002, when the issue of sexual abuse by priests became a national scandal.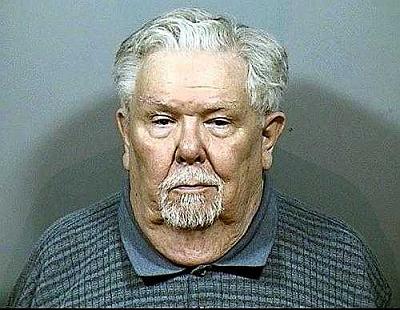 Rogge
Photo by Sun Times New Group


At the time, the U.S. bishops issued an order to remove from ministry any priest that has had credible allegations of abuse lodged against him. And thus, Rogge was removed and assigned to duties as an archivist at the Carmelites' libraries, according to Father John Welch, Provincial of the Carmelites of the Most Pure Heart of Mary in Darien.

In 1974, Rogge pleaded guilty to charges of child molestation in Athens, Ga. In 1976, after serving probation, and "based on the professional advice available at the time," he was placed back into public ministry, Welch said.

Prosecutors: 2 boys abused

Prosecutors said the first of the latest incidents in which Rogge is charged occurred during the summer of 1996; the second occurred in 1999. Both boys were 15 when they were allegedly abused.

Rogge was apparently a friend of both families and served as a spiritual advisor for the boys.

This is the first case of sexual abuse involving a Catholic priest to be charged in Will County since the priest sex abuse scandal arose.

"Priests and other clergy members hold positions of the highest level of respect and trust in our community. They must be held strictly accountable when that trust is violated," State's Attorney James Glasgow said in a statement.

"We teach our children to hold priests in the highest regard, and that, combined with a child's inherently trusting nature, makes their victimization truly a moral outrage."

Welch said the Carmelites "were certainly saddened by the developments and the charges brought forth." The group has offered counseling to both alleged victims, he said.

Diocese "had no dealings"

Since Rogge is from the Carmelite Order, the Diocese of Joliet did not oversee him at any time, spokesman Tom Kerber said Thursday.

"That's not to say we don't feel sorry for the people who have been hurt," Kerber said. "Nobody likes to see somebody else injured, but we have not had any dealings with Father Rogge."

According to Welch, from 1976 to 1984, Rogge was a theology instructor at Loyola University Chicago. In 1984, he became an administrator at the Carmelite Institute in Rome, where he served until 1992.

For about a year, Rogge trained to become a hospital minister. Then, from 1994 until 2002, he was part of a group of Carmelite priests that spoke and ministered at various churches throughout the country on an invitation basis, Welch said.

For a short time, probably in the mid 1970s, Rogge worked at Joliet Catholic High School, but Welch did not have more specific information available about that job.

At one point in the late 1990s, Rogge was affiliated with the Knights of Columbus Council No. 4400 in Joliet, where he served as a chaplain.

A Knights of Columbus member, who did not want his name used, said, "I just knew (Rogge) as a chaplain, and ... did not really associate with him."

Still, the member said, the charges "surprise me. I never heard anything derogatory said against him."

State laws helped charges

The state's attorney's office was able to charge the cases thanks to recent changes in state laws dealing with statutes of limitations.

While the statutes never expired, the statute on the first case was only months away from expiring in 2002. In August of that year, the state legislature rewrote the rules dealing with sex cases, thus granting prosecutors more time.

"Our authority to prosecute this case is a miracle of sorts," Glasgow said in the statement. "It was a critical change in the law that enabled us to file these charges."

Under current law, prosecutors may file sexual abuse charges up to 20 years after the victim reaches the age of 18.

The four counts that Rogge face are class 2 felonies that carry a prison sentence of three to seven years, if he is convicted.

Reporter Patrick Ferrell can be reached at (815) 729-6037 or pferrell@scn1.com