Diocese to Pay $750,000
Case over Sex Abuse by Tulare Priest Settled

By Pablo Lopez
Fresno Bee [Fresno CA]
December 22, 2006

http://www.fresnobee.com/263/story/20194.html

The Roman Catholic Diocese of Fresno said Thursday that it has agreed to pay $750,000 to settle a lawsuit by a former parishioner who was sexually abused by a priest at St. Rita's parish in Tulare in the 1960s.

As part of the settlement, Bishop John Steinbock also apologized publicly to a man he said was molested by Monsignor Joseph Pacheco, who died in 1992 at age 60. The victim, now 54, lives in Southern California.

Steinbock also apologized for statements made by Monsignor John Harguindeguy, who publicly said in 2003 that the victim made false allegations. Since then, Steinbock said, the diocese has learned that Pacheco sexually abused several boys.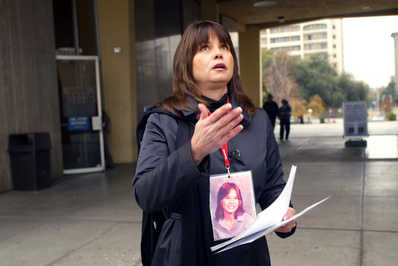 Mary Grant, regional director of Survivors Network of those Abused by Priests, calls for the suspension of Father Eric Swearingen at Holy Spirit Church in Fresno. Grant wears a photo of herself at 14 when she was abused by a priest
Photo by Diana Baldrica/The Fresno Bee


Steinbock's announcement came a day after a mistrial was declared in Fresno County Superior Court in another molestation suit brought against the diocese.

A jury voted 9-3 that Father Eric Swearingen had molested former altar boy Juan Rocha 20 years ago, but could not decide whether church officials were responsible.

To reach a verdict, at least nine of the 12 jurors had to agree on as many as four questions.

Both sides said they will retry the civil case in April.

Rocha sued the diocese, accusing Swearingen of molesting him at Our Lady of Guadalupe parish in Bakersfield and at St. Alphonsus parish in southwest Fresno when Rocha was between 12 and 15 years old.

During the trial, Swearingen testified that he never molested Rocha, but allowed him to stay temporarily in the two rectories.

Steinbock said Thursday that he firmly believes Swearingen is innocent and will spend whatever it takes in legal costs to prove it. The bishop also said Swearingen passed a lie detector test and reiterated earlier observations that Rocha's allegations were investigated by authorities in Fresno and Kern counties, but no criminal charges were filed against the priest. The bishop said the settlement with Pacheco's victim proves that the diocese takes sex abuse allegations seriously.

When Rocha's allegations emerged in 2002, Steinbock said, notices were published in church bulletins at parishes where Swearingen worked. But no one else has complained, Steinbock said.

A different outcome occurred when allegations against Pacheco were published in church bulletins, because several victims came forward, Steinbock said.

The victim's lawyer, Owen Campbell, said Thursday that an investigation revealed that Pacheco invited his client and other eighth-grade boys to spend the weekend with him at St. Rita's parish. He said church officials at another Tulare parish knew boys were staying overnight in the St. Rita's rectory, but never stopped Pacheco.

Steinbock, however, said Thursday that the diocese had no knowledge that the molestations were occurring. He said lawyers advised him not to comment further about Pacheco's actions.

Campbell called Pacheco "a serial pedophile" because evidence revealed there were at least a dozen victims, but only his client chose to sue the diocese.

The settlement was reached in Fresno County Superior Court while witnesses testified in Swearingen's civil trial. Both sides kept it secret to prevent a mistrial in the other case.

Campbell asked that his client remain anonymous because he is a sex abuse victim.

He said his client's case is similar to Rocha's because they were raised in the Roman Catholic Church and are former altar boys.

Each of them stayed nights at church rectories and the priests gave them gifts and trips.

Campbell said his client was upset and angry after Harguindeguy "called him a liar" once he filed his suit in 2003.

The bishop's apology means a lot because it vindicates his client's claim and gives other victims the courage to come forward, Campbell said.

Mary Grant, 43, director for the western region of Survivors Network of those Abused by Priests, told a similar story Thursday outside the Fresno courthouse, where she held a news conference on Rocha's behalf.

Grant called the mistrial a moral victory for Rocha because of the jury's 9-3 vote that Swearingen molested Rocha.

"It was a legal finding by an unbiased jury," she said. "Parishioners should take notice and demand the removal of Swearingen from the priesthood."

Though Steinbock admitted the diocese erred in the Pacheco case, he said Swearingen is innocent of molestation charges.

"The Catholic Church is doing a great deal now to protect children under its care and to reach out to victims of sexual abuse of priests. But doing this cannot be done in such a manner as to punish innocent priests," Steinbock said.

The reporter can be reached at plopez@fresnobee.com or (559) 441-6434.