Catholic Priest Accused of Child Molestation Committed in 1990s

Pravda [Joliet IL]
December 22, 2006

http://english.pravda.ru/news/society/22-12-2006/86066-child_molestation-0

Catholic priest convicted in the 1970s of child molestation was charged with sexual abuse on suspicion that he fondled two teenage brothers in the 1990s.

The Rev. Louis Rogge, 76, was indicted on Thursday on four counts of aggravated criminal sexual abuse. The first boy was abused in 1996, when he was 15, and the second in 1999, when he also was 15, said Charles Pelkie, spokesman for State's Attorney James Glasgow.

In 1974, Rogge pleaded guilty to child molestation in Athens, Georgia, and was sentenced to six years' probation, according to Glasgow's office.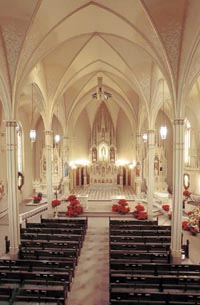 Sexual abuse carries a prison sentence of 3 to 7 years



Rogge was removed from public ministry in 2002 when the church learned about his sexual molestation conviction, said John Welch, the provincial of the order's Chicago-area headquarters. He has not been allowed to work with minors or appear in public in clerical dress since then, and is living under supervision in a Carmelite community, he said.

The order notified the Joliet Diocese and the state's attorney's office when the family came forward with the new allegations, Welch said.

Messages were left with the diocese and an attorney representing Rogge after business hours Thursday, The Associated Press reports.

"We're obviously very saddened by the charges brought forward today against Father Louis Rogge," Welch said. "We take all of these allegations very seriously, and we've been cooperating with the civil authorities fully in all of these matters."

Aggravated criminal sexual abuse carries a possible prison sentence of three to seven years. Rogge posted $4,000 (€3,035) bail. A pretrial hearing is set for Jan. 19.