Priest: I Won't Go on List of Sex Offenders
Child Porn Law Discrepancy Basis of Dispute

By Gary Craig
Democrat & Chronicle [Rochester NY]
January 23, 2007

http://www.democratandchronicle.com/apps/pbcs.dll/article?AID=/20070123/NEWS01/701230333/1002/NEWS

A Catholic priest now jailed for possessing computerized images of child pornography contends he should not be on New York's sex offender registry when he is freed from federal prison in March.

In court papers filed in state Supreme Court last week, the Rev. Michael Volino challenged any attempt by New York's Board of Examiners of Sex Offenders to register him as a sex offender.

The board determines whether a convicted sex offender is eligible for the registry and what level of risk the offender poses to the public.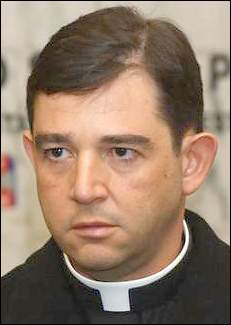 The Rev. Michael Volino, a Catholic priest jailed for possessing computerized images of child pornography, contends he should not be on New York's sex offender registry.
Photo by The Day in Photos



In May 2005, Volino pleaded guilty to possessing more than three images of child pornography. Prosecutors said that Volino actually had about 600 images of child pornography on a computer at the Catholic Diocese of Rochester.

Officials at the diocese first discovered the pornography and reported it to federal authorities.

In December 2005, a federal judge sentenced Volino to 15 months in prison.

He is imprisoned at the low-level security Allenwood Federal Correctional Institution in Allenwood, Pa.

Volino, 42, is scheduled to be released within the next two months, according to federal Bureau of Prisons records.



What's at stake
The public's right to know about registered sex offenders — and the right of offenders, who have served prison time, to fair treatment under the law.


There was no evidence that Volino ever committed any sexual acts against children.

A distinction

Volino's challenge to the possibility he'll be placed on the sex offender registry isn't based on the question of whether he is a risk to society.



What's next
A hearing on the Rev. Michael's Volino's argument that he should not be registered as a sex offender is set for 2 p.m. Feb. 8 before state Supreme Court Justice Harold Galloway.


Instead, the legal argument hinges on a distinction between state and federal child pornography statutes.

In 2002, the New York law dictating who would be on the state sex offender registry was altered to ensure it included people convicted of federal child pornography crimes, according to Mark Bonaquist, a spokesman for the state Division of Criminal Justice Services.

Told of Volino's federal conviction for child pornography, Bonaquist said, "That would clearly fall within the scope of the (New York) statute."

But Volino's lawyer, Michael DiPrima, maintains that a discrepancy between the federal and state child pornography statutes should keep Volino — and others convicted of the same federal crime — off the New York registry.

For an offender to be eligible for the registry, the state law requires a conviction on a federal child pornography offense to have "substantially the same" elements as the comparable New York crime.

The state statute defines child pornography as images of children or teens younger than 16, while federal law sets the age at less than 18.

The Court of Appeals, New York's highest court, last week agreed to hear a case based on the same legal issue. That court's choice to hear the case possibly shows that the Court of Appeals judges think the issue needs to be resolved, DiPrima said.

"I don't believe there's any way one can determine which way it's going," he said.

When arrested, Volino was a priest at St. John the Evangelist Church of Greece, 2400 W. Ridge Road.

Diocese officials acknowledged in 2005 that Volino three years earlier had undergone behavioral evaluations at a clinic for priests who suffer from addictions — including alcohol, drugs or pedophilia.

However, officials stressed, Volino underwent therapy because of questions about "maturity" and not because of any allegations of sexual misconduct.

"Upon his arrest in 2005, Rev. Michael Volino was placed on administrative leave immediately, which prevents him from performing any public ministry," Doug Mandelaro, spokesman for the Diocese of Rochester, said Friday. "He will remain on administrative leave after his release from prison until his status is determined by a process of internal review locally and at the Holy See in Rome.

"Rev. Volino would have the right under the Church's Canon Law to petition for redress if he did not agree with the final determination of his status," Mandelaro said in a statement, adding that "the Diocese of Rochester will cooperate in every way with the conditions of Rev. Volino's parole."

After his release, Volino will be on federal probation for a decade.

While on probation, he cannot be unsupervised with anyone younger than 18 and cannot work as a priest at a parish with a school or work as a priest involved with minors.

The probation rules also state that he must register as a sex offender but notes that the requirement is "pursuant to the laws in the state where he resides."

E-mail: GCRAIG@DemocratandChronicle.com