SNAP Seeks Action on Van Wert Priest
Families Should Be Notified, Group Says

By Clyde Hughes
Toledo Blade [Ohio]
January 30, 2007

http://toledoblade.com/apps/pbcs.dll/article?AID=/20070130/NEWS17/701300336/-1/NEWS

The co-director of a Toledo organization that assists victims of sexual abuse by priests urged the Diocese of Toledo yesterday to take further steps to distance itself from a priest removed from public ministry in 2003.

Claudia Vercellotti of SNAP, the Survivors Network of those Abused by Priests, along with Jon Schoonmaker, who has accused the Rev. Joseph Schmelzer of sexually touching him, delivered a letter to diocesan offices at 1933 Spielbusch Ave. that made a number of demands involving the priest.

Parishioners at St. Mary of the Assumption Church in Van Wert, Ohio, where Father Schmelzer was pastor, were read a letter last weekend stating that he resigned his position at the request of Toledo Bishop Leonard Blair.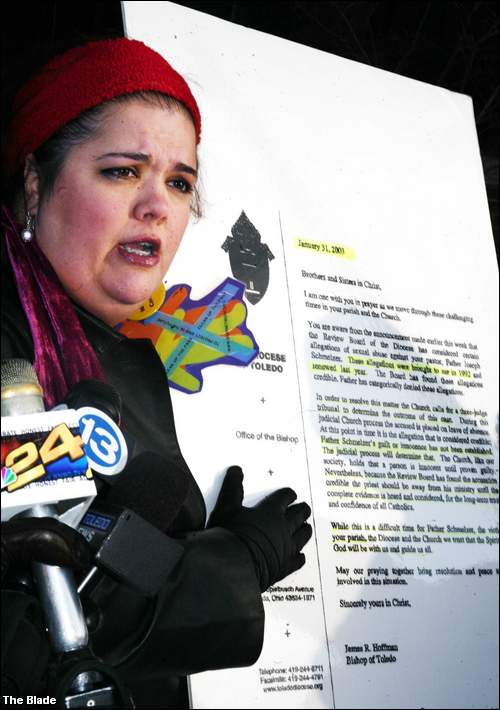 Claudia Vercellotti, co-director of the Survivors Network of those Abused by Priests, displays during a news conference a letter delivered to officials of the Catholic Diocese of Toledo asking that it further distance itself from a priest who was removed from public ministry in 2003.
Photo by THE BLADE/HERRAL LONG



Mr. Schoonmaker said he notified the diocese in 1992 that when he was 16, about nine years earlier, Father Schmelzer began touching him sexually.

The priest was barred from public ministry in 2003 after a Diocesan Board of Review found that Mr. Schoonmaker's allegations were credible, according to a statement released yesterday afternoon by the diocese.

Father Schmelzer appealed to the Vatican, but Sally Oberski, a spokesman for the diocese, said Bishop Blair recently received a communication from the Vatican affirming the priest's removal.

Ms. Oberski said Father Schmelzer is still technically the pastor at St. Mary of the Assumption, but is on administrative leave of absence and has had no role in parish affairs since he was removed from public ministry.

Mr. Schoonmaker said he was angered that the diocese would allow a priest who has credible sexual abuse charges against him to resign.

"That's misleading to the public," said Mr. Schoonmaker during a brief news conference before he and Ms. Vercellotti delivered their letter.

"If I'm a member to the public and see that he resigned, I'm not going to be concerned. I won't ask my children 'when you knew Father Schmelzer, were you ever compromised?' The diocese has a responsibility to speak to the communities and say he was removed because of the sexual crimes he committed against Jon Schoonmaker."

SNAP's letter asked Bishop Blair to inform the families at each parish where allegations against Father Schmelzer were found credible, and urge them to go to law enforcement with any other information against the priest.

The letter also asks for an apology from the diocese's chancellor, the Rev. Michael Billian, for what they believed were actions to mislead the public and discredit Mr. Schoonmaker.

They also asked the diocese to release any other documents connecting Father Schmelzer with other abuse cases and the amount of financial support the priest has received from the diocese since the allegation first came to light.

The diocese in its statement said it will follow established rules through its "To Protect and To Heal" program to communicate with people and families who had past contact with Father Schmelzer.

The statement said the diocese continues to urge anyone to report any suspected or actual sexual abuse of a minor to local authorities and Toledo diocesan case manager Frank DiLallo.

Contact Clyde Hughes at: chughes@theblade.com or 419-724-6095.