Sins of Thy Neighbor

By Trish Van Pilsum
My Fox Twin Cities [Minnesota]
February 1, 2007

http://www.myfoxtwincities.com/myfox/pages/News/Detail?contentId=2249675&version=4&locale=EN
-US&layoutCode=TSTY&pageId=3.1.1

If a sex offender had been convicted of a crime, the information usually comes to light. That isn't the case with many priests, even though they've had many victims.

Tom Adamson's past is about to catch up with him. Priest and pedophile, his case was one of the first to break open the Catholic Church sex abuse scandal in Minnesota.

For the past two decades he has been quietly hiding his past in Wisconsin.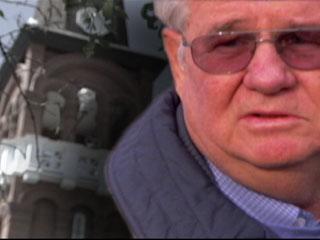 Tom Adamson



One would think that a man whose worst transgressions have already been laid bare would have learned that when you keep secrets, you do so at your own peril.

But Tom Adamson's credentials have hinged for two decades on a deception.

He's living a lie.

Adamson works as a part-time activities assistant at Oakwood Villa nursing home. They did not know that Adamson's previous work history reads like a well-worn roadmap leading right to the heart of the Catholic sexual abuse scandal.

Before it was over, more than two dozen men would claim that Father Tom Adamson had sexually abused or attempted to abuse them when they were boys.

Jack Klein is one of them, and he doesn't want it to happen to anybody else.

According to court records, the church repeatedly moved Adamson from parish to parish in places like Adrian, Rochester, St. Bonifacious, St. Paul Park, Columbia Heights and Apple Valley, with occasional stops at treatment. That pattern continued until the whole mess blew up publicly. Now, Adamson says he isn't able to perform mass at all.

According to the Winona diocese, where Adamson was first ordained, he's had a permanent leave of absence since 1984 and is no longer a resident of Minnesota, which is exactly what bothers people like Jack Klein.

"They're hiding a pedophile priest with this kind of background," Klein said.

Altoona, Wisconsin, just outside Eau Claire is where Tom Adamson has been hiding, or at least hiding his background from some of those who know him. He told at least one neighbor he used to be a school principal, leaving out the part about being a priest.

When a FOX 9 undercover producer approached Adamson last summer, he said he wasn't a former priest from Minnesota.

The church denies hiding Adamson, who continues to draw a monthly stipend. Attorney Jeff Anderson says there are nearly two dozen former Minnesota priests who have been accused of sexual abuse who are now out living on their own.

"They are serial offenders," Anderson said. "Compulsive, serial offenders unable to control their sexual impulses."

Because they weren't convicted of criminal charges, they aren't supervised by probation agents, don't fall under the sex offender notification program and can't be committed in civil court as sexual predators.

"They will always pose a great risk to the vulnerable and the unwary," Anderson said.

Lee Krautkremer lives in a quiet neighborhood in north Minneapolis. He says his neighbors are aware of his background – that they have talked about it and there are no children in the neighborhood.

Gil Gustafson had an attraction to adolescent boys.

"I believe I am powerless over my sexual addiction," he said.

He's on leave, and he also has gotten a stipend from the church -- $2,600 a month, according to Gustafson.

The archdiocese of St. Paul and Minneapolis says a number of metro-area priests, with their permission, are monitored by the church and a retired probation officer. It adds all clergy abusers or suspected abusers have been made "known" to the public.

But that does not include Tom Adamson, who was with the Winona diocese. A spokeswoman won't say whether the church is specifically watching him.

Adamson said he received some "good therapy," but there are documented cases of fallen priests getting in trouble again.

Prosecutors convicted a former Chicago priest, on child pornography charges in 2003.

In October, police charged a retired reverend with sexually abusing an underage boy in Syracuse, New York.

And currently, an 81-year old priest is accused of molesting a mentally handicapped man near Boston.

There have been no new charges or complaints against any Minnesota priest, including Tom Adamson.

"Since this first blew up on Ash Wednesday, 1984, I've never been alone with a minor since then in any setting," Adamson said.

It's true that in all the time the FOX 9 Investigators watched him, Adamson maintained a predictable routine: a stop for coffee, time alone in a church, a walk around the mall, than on to work, never including contact with young people.

So what would make Survivors Network of those Abused by Priests (SNAP) target Tom Adamson?

Three weeks ago, SNAP dropped leaflets in Adamson's neighborhood and asked to see Adamson's bosses at the nursing home. Remember, neither Adamson nor his bishop had disclosed his history to them.

And with that, Adamson's job at the nursing home ended.

SNAP believes the church should be supervising people like Adamson and warning future employers.

"Typically, pedophilia is not treatable, according to medical experts," SNAP board member Pete Isley said. "I asked him if he's in treatment now. He said no."

Treatment or not, Adamson still seems to want to minimize what he's done.

Adamson: "Someone who resisted I certainly wouldn't have forced him."

Reporter: So the kids you had sexual contact with you believe consented?

A: "Oh yeah."

R: Can a 12-year-old consent to sexual contact?

A: "I didn't have contact with a 12-year-old."

R: What was the youngest do you think? 13 or 14.? Can a 13 or 14-year-old consent to have sex?

A: "Well, I realize that now."

If Adamson really hasn't recognized the pain he's caused, he's about to meet it face to face, with a confrontation from Jack Klein…