Priest at Local Parish Charged with Disturbing the Peace

KMOV [St. Louis MO]
February 2, 2007

http://www.kmov.com/topstories/stories/KMOV_LOCALNEWS_070202_PRIESTPEACE.46359139.html

St. Louis Archdiocese is promising disciplinary action against a priest accused of disturbing the peace.

A city police report states that the priest grabbed a woman after getting upset over a demonstration outside a church.

Sunday morning Barbara Dorris was handing out flyers on the sidewalk outside St. Ambrose Catholic Church on the Hill, leafleting is something Dorris has been doing since 1992 with other members of SNAP, the Survivors Network of those Abused by Priests.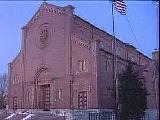 St. Ambrose Catholic Church
Photo by KMOV


Sunday's flyer expressed concerns about two priests who served briefly at St. Ambrose. Dorris says Father Andrew Pinsent spun her around and stole her leaflets.

St. Louis Police say Father Pinsent told them he went outside and approached Dorris, turned her around, and took the flyers out of her hand because he was upset that someone can do this on Sunday just before Sunday Mass."

Father Richard Hanneke, the Archdiocese's Vicar of Priests, says Pinsent serves part-time at St. Ambrose and will be disciplined.

St. Louis police issued Father Pinsent a municipal summons. That's the equivalent of a traffic ticket and usually carries a cash fine.

The priest is from England and is a student at St. Louis University.

The Archdiocese says it's providing him with legal and spiritual help.